Bracketology: NCAA tournament projection as of January 22, 2019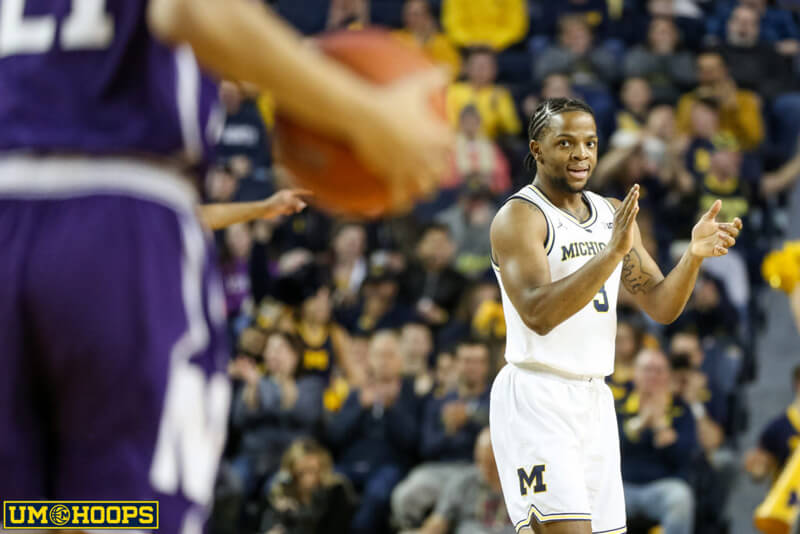 Believe it or not, Selection Sunday is less than eight weeks away, and most teams have close to 20 games under their belt. With that as backdrop, there are a few notable teams with underwhelming profiles that are worth highlighting:
· Virginia Tech – The Hokies entered Monday's game at North Carolina in the Top Ten of the NET, but they've now lost to Virginia and UNC by a combined 43 points. Still, both of those were road games, so the losses don't really hurt. The potential issue, however, is that Virginia Tech has just two quad 1 victories, with both coming on neutral floors against Purdue and Washington, while the Hokies have also suffered a road loss to a struggling Penn State club. The ACC will provide plenty of opportunities for quality wins from here on out, but for now the ranking doesn't match the achievement for the Hokies.
· Auburn – After coming up short at home against Kentucky, the Tigers now sit at 0-4 in quad 1 games. They do have five quad 2 victories through Sunday's games, but even the best of those (home wins over Washington and Murray State and a neutral court win over Arizona) aren't against teams anywhere near lock status.
· North Carolina State – The Wolfpack's lone quad 1 win came against the aforementioned Auburn squad, but outside of that, NC State's best victories have come against Pitt at home, on a neutral court against Penn State, and on the road against Notre Dame. Last week's loss to Wake Forest certainly doesn't help matters nor does a dreadful non-conference strength of schedule, but the league is ripe with quad 1 and 2 chances. They just need to take advantage.
· TCU – Jamie Dixon's club has lost all four of its games against teams in the Top 50 of the NET. Home wins against Baylor and Fresno State are really the only wins of note, and it will be interesting to how TCU performs following the transfer of injured guard Jaylen Fisher.
Before looking at the one seeds, I wanted to give a quick reminder about how the NCAA selection committee classifies wins based on the new NET Rating.
A breakdown of the four tiers:
· Tier 1: Home vs. teams ranked 1-30 / Neutral vs. teams ranked 1-50 / Road vs. teams ranked 1-75
· Tier 2: Home vs. teams ranked 31-75 / Neutral vs. teams ranked 51-100 / Road vs. teams ranked 76-135
· Tier 3: Home vs. teams ranked 76-160 / Neutral vs. teams ranked 101-200 / Road vs. teams ranked 136-240
· Tier 4: Home vs. teams ranked 161-351 / Neutral vs. teams ranked 201-351 / Road vs. teams ranked 241-351
One Seeds
Following losses by both Michigan and Virginia over the weekend, things have tightened up considerably when it comes to the top seeds with five teams setting themselves apart for the four coveted spots.
· Virginia – The Cavaliers entered Monday ranked atop the NET. They have four quad 1 wins (including three against the Top 20), five quad 2 wins, and their only loss came at Duke by two points. A neutral court win over Wisconsin and a road win at surging Maryland will carry weight with the committee.
· Duke – Saturday's win over Virginia is one of five quad 1 triumphs on Duke's profile, which also features three quad 2 victories. The loss to Syracuse isn't great, but the committee will certainly give consideration to the fact that Duke played the majority of that game without two of its best players. The Blue Devils ranked second in the NET through Sunday's games.
· Tennessee – The Vols' lone loss came in overtime against Kansas in Brooklyn, and a 4-1 mark in quad 1 games is solid. Tennessee ranked fourth in the NET coming into the week, while their six combined wins against quads 1 and 2 are the lowest among this group.
· Michigan State – After steamrolling nearly all of their opponents during a 12-game winning streak, the Spartans ascended to fifth in the NET through Sunday's games, then promptly beat down Maryland on Monday night. Coming into that game, MSU had seven quad 1 victories with their only losses coming in the season opener against Kansas in the Champions Classic and in overtime at Louisville.
· Michigan – Coming into Monday's games, the Wolverines were lowest rated team of the bunch, checking in at sixth in the NET. They boast a 4-1 mark in quad 1 games with the top two victories both coming at home against North Carolina and Purdue, and they have racked up five quad 2 wins as well, although the home win against Indiana is the only one against a team in the at-large picture.
In the end, there was very little separation between these five. Michigan ended up being the odd team out, as the committee tends to value road/neutral wins, and the Wolverines have just one of note (Villanova). Conversely, Virginia has two Top 20 road/neutral wins, Duke has three neutral court wins against the Top 25, Tennessee has a pair of Top 20 neutral court victories, and Michigan State has three true wins over teams in the Top 40 of the NET.
The Bracket
The projections below are based on all games played through January 21, 2019. Following the bracket, I included a few thoughts on the last four in and first four out.
| | | |
| --- | --- | --- |
| SOUTH (LOUISVILLE) | | WEST (ANAHEIM) |
| Columbia – March 22/24 | | Columbus – March 22/24 |
| 1) Tennessee | | 1) Michigan St. |
| 16) Norfolk St. / Robert Morris | | 16) Weber St. |
| 8) NC State | | 8) Kansas St. |
| 9) Minnesota | | 9) Syracuse |
| | | |
| Salt Lake City – March 21/23 | | San Jose – March 22/24 |
| 5) Iowa | | 5) Buffalo |
| 12) Wofford | | 12) Murray St. |
| 4) Virginia Tech | | 4) Louisville |
| 13) Yale | | 13) North Texas |
| | | |
| Jacksonville – March 21/23 | | Tulsa – March 22/24 |
| 6) Purdue | | 6) Wisconsin |
| 11) Washington | | 11) Butler / VCU |
| 3) North Carolina | | 3) Texas Tech |
| 14) Georgia St. | | 14) Radford |
| | | |
| Tulsa – March 22/24 | | Salt Lake City – March 21/23 |
| 7) Mississippi | | 7) Nebraska |
| 10) Seton Hall | | 10) Cincinnati |
| 2) Kansas | | 2) Gonzaga |
| 15) South Dakota St. | | 15) UC Santa Barbara |
| | | |
| EAST (WASHINGTON, DC) | | MIDWEST (KANSAS CITY) |
| Columbia – March 22/24 | | Hartford – March 21/23 |
| 1) Duke | | 1) Virginia |
| 16) Rider | | 16) Prairie View A&M / Sam Houston St. |
| 8) Mississippi St. | | 8) Indiana |
| 9) Ohio St. | | 9) St. John's |
| | | |
| Des Moines – March 21/23 | | San Jose – March 22/24 |
| 5) Oklahoma | | 5) Villanova |
| 12) Lipscomb | | 12) Saint Louis |
| 4) Marquette | | 4) Nevada |
| 13) Vermont | | 13) Hofstra |
| | | |
| Des Moines – March 21/23 | | Hartford – March 21/23 |
| 6) Iowa St. | | 6) LSU |
| 11) Arizona St. | | 11) Baylor / Temple |
| 3) Houston | | 3) Maryland |
| 14) Loyola Chicago | | 14) Northern Kentucky |
| | | |
| Columbus – March 22/24 | | Jacksonville – March 21/23 |
| 7) Auburn | | 7) Florida St. |
| 10) TCU | | 10) Texas |
| 2) Michigan | | 2) Kentucky |
| 15) Grand Canyon | | 15) Bucknell |
Last Four In:
Baylor – The Bears have made a huge jump in recent weeks thanks to home wins over Iowa State and Texas Tech. Even before Monday's victory at West Virginia, Baylor owned four quad 1 wins, which virtually any bubble team will struggle to beat. That said, home losses to Texas Southern and Stephen F. Austin and even a road loss at struggling Wichita State will offset those top-end wins to some extent.
Butler – Last week was a bounce back spot for the Bulldogs, who won at DePaul then knocked off St. John's at home. Butler's 1-4 mark in true road games doesn't help matters and a home loss to Georgetown currently falls in quad 3.
VCU – I'm still not convinced the A-10 can get two bids, but the Rams ranked second in non-conference strength of schedule through Sunday's games, which should at least get the committee's attention. VCU has a quad 1 win at Texas plus a neutral court victory over Temple, but a home loss to Charleston is a notable blemish. The Rams took care of business at home against Dayton last week, and they just need to keep winning with the next six games coming against sub-100 KenPom teams.
Temple – A home loss to Penn pushed the Owls onto the cut line. They own a win over Houston, but outside of that, the best victories have come on a neutral court against Davidson and on the road at Missouri, both of which came by just two points. The next three games are critical with home dates against Memphis and Cincinnati and a road trip to Houston on the docket.
First Four Out:
Central Florida – The Knights fell on the road at Wichita State last week, and through Sunday's games, zero of their 14 victories have come in quad 1 games. Home wins over fellow bubblers Temple and Alabama are helpful, but they have just one true road win on the season. Throw in a home loss to Florida Atlantic, and there is clearly work to do.
Alabama – This is one of the more interesting cases. The Crimson Tide have a quad 1 win over Kentucky and a 6-0 mark in quad 2 games, although Murray State and Arizona are the only victims that are even near the at-large discussion. Ultimately a 1-3 record in quad 3 games was what kept them out. The next four games will be pivotal with home dates with Ole Miss and Mississippi State and road trips to Baylor and Auburn.
Pittsburgh – The Panthers have yet to win a true road game, but they do have home wins over Louisville and Florida State to go with a neutral court victory over Saint Louis. A road loss at West Virginia isn't aging well, and an early season slip-up against Niagara is locked in as a quad 4 loss. The Panthers host Duke on Tuesday before they hit the road for games at Louisville and Clemson.
Arizona – Last week's home loss to Oregon snapped a six-game winning streak for the Wildcats. Through Sunday's games, they are just 4-5 in quad 1 and 2 games with losses to fellow bubblers Alabama and Baylor. Arizona's only notable win came in Maui against a depleted Iowa State team, and it's also the team's lone victory over a team in the Top 70 of the NET. The Wildcats play their next three games on the road against USC, UCLA, and Arizona State.
Conference Breakdown:
Big Ten (10): Indiana, Iowa, Maryland, Michigan, Michigan State, Minnesota, Nebraska, Ohio State, Purdue, Wisconsin
ACC (8): Duke, Florida State, Louisville, North Carolina, North Carolina State, Syracuse, Virginia, Virginia Tech
Big 12 (8): Baylor, Iowa State, Kansas, Kansas State, Oklahoma, TCU, Texas, Texas Tech
SEC (6): Auburn, Kentucky, LSU, Mississippi, Mississippi State, Tennessee
Big East (5): Butler, Marquette, St. John's, Seton Hall, Villanova
American (3): Cincinnati, Houston, Temple
Pac-12 (2): Arizona State, Washington
Atlantic 10 (2): Saint Louis, VCU
America East: Vermont
Atlantic Sun: Lipscomb
Big Sky: Weber State
Big South: Radford
Big West: UC Santa Barbara
Colonial: Hofstra
Conference USA: North Texas
Horizon: Northern Kentucky
Ivy: Yale
MAAC: Rider
MAC: Buffalo
MEAC: Norfolk State
Missouri Valley: Loyola Chicago
Mountain West: Nevada
Northeast: Robert Morris
Ohio Valley: Murray State
Patriot: Bucknell
Southern: Wofford
Southland: Sam Houston State
SWAC: Prairie View A&M
Summit: South Dakota State
Sun Belt: Georgia State
WAC: Grand Canyon
West Coast: Gonzaga
Follow Andy on Twitter (@andybottoms) for more thoughts on college hoops and to receive an update whenever new brackets are posted.
Filed to: 2018-2019 bracketology