The Inside the Hall Mailbag: January 11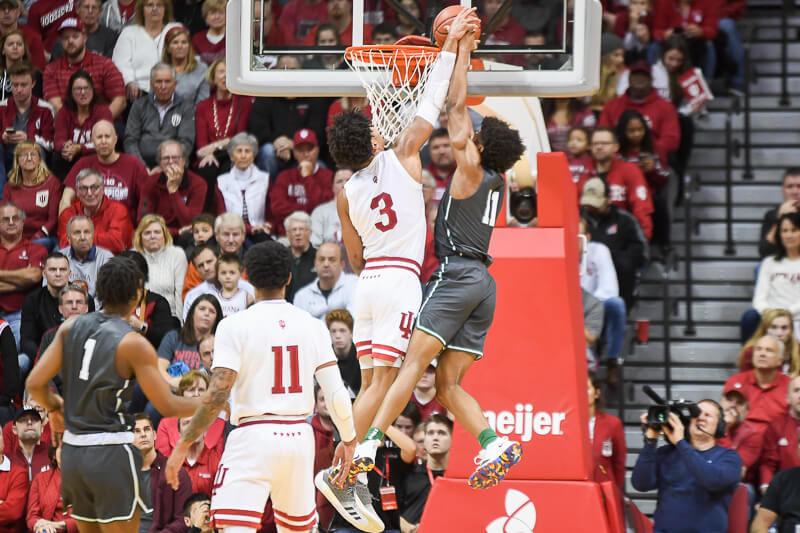 The Inside the Hall Mailbag is a collection of questions tweeted to us via Twitter (@insidethehall), via email, submitted on our premium forum and sent to us via our Facebook page. Submit your questions and we'll answer as many as we can.
@ItSjEnKiNs on Twitter writes: After seeing the first quarter of the season, which BIG teams do you feel were most overrated and underrated preseason?
If I am going to answer this question, I feel like a baseline needs to be established for what we are going to use for "preseason". So I'll go with my preseason Big Ten order of finish prediction, which is below:
1. Michigan
2. Michigan State
3. Indiana
4. Wisconsin
5. Nebraska
6. Purdue
7. Ohio State
8. Maryland
9. Iowa
10. Penn State
11. Minnesota
12. Northwestern
13. Illinois
14. Rutgers
I'm feeling good about the top two at this point, but beyond that, there is plenty left to be decided.
Maryland was underrated in my preseason Big Ten poll as the Terps are off to a strong 4-1 start in league play. Minnesota (2-2) is also in the underrated category as of today. So far, Penn State (0-5) qualifies as overrated.
Nationally, I would say Ohio State was underrated in the preseason and may even be underrated in my preseason Big Ten poll. Purdue may have been overrated nationally in the preseason as well, but I still feel like the Boilermakers have a strong chance to make the NCAA tournament. I have a hard time placing Indiana in either category at this point because of all of the injuries. I still don't feel like we have a clear picture of what this team is because all of the players who have missed time this season.
TampaHoosier on the premium forum writes: I would love for someone to ask Archie (post game or any media availability) if he is ready to call Jerome and/or Race's injuries "season ending" yet. Is that an appropriate question to ask a coach? Do you think you would get an answer or "coach speak"?
I don't think it is an inappropriate question, but I just don't think it is going to yield any information beyond what has already been released. I believe he would say that both guys remain indefinitely.
This isn't an Archie Miller decision not to release more information on injuries. It was this way under the previous coaching staff and it is this way in many programs across college sports.
Beyond fans and people who gamble wanting to know what is going on, there's really nothing to be gained by IU releasing more information. I totally understand wanting more information and trust me, those of us who cover the team on a day to day basis would love to provide it, but this is just the way it is. And it's not exclusive to IU. This goes on everywhere in college sports.
@clearcreekdavid on Twitter writes: Since Race (Thompson) only played four minutes, is there a possibility of a medical redshirt being granted? We all know how compassionate and reasonable the NCAA typically is …
He's already used a redshirt season, so if he is granted another season of eligibility, it would have to come via medical hardship waiver, I believe.
Given that Thompson only appeared in one regular season game, if he doesn't play again this season, my guess is that he would have a solid chance to get granted a sixth year if he requested it.
The NCAA eligibility window is you get five years to complete your four seasons of play, so this is why a medical hardship waiver would need to be requested if Thompson wanted to get this season of eligibility back.
IULore on the premium forum writes: If IU can get Rob (Phinisee) and De'Ron (Davis) back healthy, is there any realistic chance, in your opinion, of winning the Big Ten regular season title?
I think Michigan will win the Big Ten regular season title and will do so outright. I've felt this way since the fall and see no reason to back off of it now with the Wolverines sitting at No. 2 in the AP poll with a 16-0 record.
So, no, I don't think there is a realistic chance that Indiana wins the Big Ten regular season title. The Hoosiers have a chance to finish in the top three or four, but I think Michigan wins the league with Michigan State right behind the Wolverines.
@XUdad on Twitter writes: Any update on the Keion Brooks Jr. recruitment? Timetable for decision?
Brooks Jr. is very much in "decision making mode" from everything I've gathered, but he has also had a rigorous travel schedule in recent weeks at La Lumiere.
I don't believe there is a firm timetable for a decision and given that he can't sign a National Letter of Intent until April, I am not sure why there would be a rush from his side of things.
That said, I would be surprised if his recruitment lasts until the spring. It definitely feels like this recruitment is in its later stages. He's already taken official visits and unless he is going to take one to Michigan State, I believe those are now complete.
Currently, Indiana is the heavy favorite for Brooks in the 247Sports Crystal Ball.
Maedhros on the premium forum writes: During his introductory pressers, Archie warned it would take three to four years to get his system implemented, and expressed a desire to get old and stay old. The past two seasons we've witnessed young players struggle to varying degrees as they learn their role and what is expected of them at each moment. At the same time, Archie has clearly targeted high-end talent on the recruiting trail, offering almost exclusively top 50 kids in the 2019 class, and hopefully soon landing his third of the three five-star prospects within the state. Indiana will need that level of talent to compete on the national stage and return to the Final Four, yet players of that caliber such as Romeo, Trayce and Keion aren't likely to stick around three or four years to learn Archie's system. Is there a tension there, and how you see Archie squaring that circle?
As much as Indiana fans probably don't want to hear this, the Hoosiers probably are a few years away from winning big nationally. The addition of Romeo Langford was obviously huge, but IU is still in the building stages and probably isn't going to be able to parlay his presence into a Final Four appearance.
I do agree with Miller that Indiana needs to get old and stay old and I believe many of the pieces in the last few recruiting classes can make that happen. Guys like Al Durham Jr., Justin Smith and Rob Phinisee are likely four year players who will continue to improve and be important as upperclassmen.
The addition of Trayce Jackson-Davis, who is unlikely to be a one-year player and the potential to add a guy like Brooks Jr., could set IU up for a really big season in 2020-21. That season could have a roster with Durham Jr. and Smith as seniors, Phinisee as a junior, Jackson-Davis and a hopefully healthy Jerome Hunter. If Brooks Jr. commits, the ceiling is even higher.
IU will be an NCAA tournament team this season and will likely be there again next year, but I do think that 2020-21 season is, at this point, setting up to be special on paper.
iugradmark on the premium forum writes: Do you believe Archie will get his first signature win of his IU career this year?
Would beating Michigan or Michigan State at home qualify? If so, I think he will get a signature win this season.
I think to qualify a win as being "signature", it needs to come over a top 10 team if played at home. Those are the only two teams on the schedule that could fit the bill.
Beating a ranked team on the road could also qualify, depending on the circumstance.
Filed to: Inside the Hall Mailbag, Twitter Mailbag