Miller updates injury situation ahead of trip to Maryland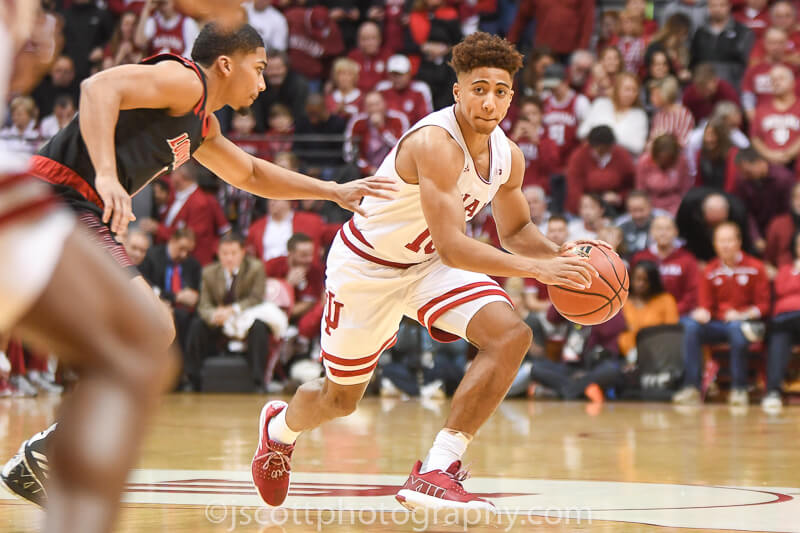 Injuries have been a season long theme for Indiana.
The Hoosiers have been without several key players, including Rob Phinisee, Jerome Hunter, Race Thompson and De'Ron Davis, for various periods of time this season.
In his Thursday press conference, Archie Miller gave updates on the status of Phinisee, Jake Forrester and Davis ahead of Friday's game against Maryland.
Here's the latest on each player:
Phinisee (last played on Dec. 19 vs. Central Arkansas)
Miller was asked if Phinisee is on track to play against Maryland and here was his full response:
"As of right now, he's not. He's continuing to, I guess, get further along some of the stuff that he's doing on a daily basis. He hasn't had any setbacks. I'm encouraged to watch him participate more in practice, but he has not been cleared to do anything full contact yet, and he'll have another day today where hopefully we can get him moving in the right direction. But as of right now, there's no indication he'll play for us on Friday."
Davis (last played against Illinois on Jan. 3, missed the Michigan game)
"De'Ron is still struggling a little bit with his mobility. His ankle is sore. He's sort of in and out of practice, and some things he can do, some things he can't do. I'm hopeful he'll be available to play on Friday, but if he can't, Cliff Moore has got to get in there and got, (Evan) Fitzner has got to give us more right now, and we have to find ways to get those guys more involved early in the game."
Forrester (has not dressed the last two games)
"Jake coming off his ankle — he still isn't doing real well right now in terms of being out for practice. I wish he was available because we could use another body right now just in terms of the size that we're going to be dealing with. But it is what it is."
On the team's overall health situation right now and how it has impacted practice:
"It's tough. I mean, practice is where we — like every coach, you want to have a great environment in practice. It's where you get better. The ability to work hard every day prepares you to play in the game. You just can't play in the games.
"It's been difficult on us just to be able to continue to kind of balance the reps and sort of rest, recovery versus the actual ability to have to prepare to play in the game.
"We've sort of bounced around it here and there, and we've had very few days where we've had our full allotment, so I think our guys on the team are used to it, and we have to back our time up a little bit, as well. Can't go as long. But every coach in the country is dealing with guys in and out of practice every day at this time of year. It's very rare that you don't have something going on on a daily basis. You just have to adjust to it and move around it."
Filed to: Deron Davis, Jake Forrester, Robert Phinisee