What to expect: Maryland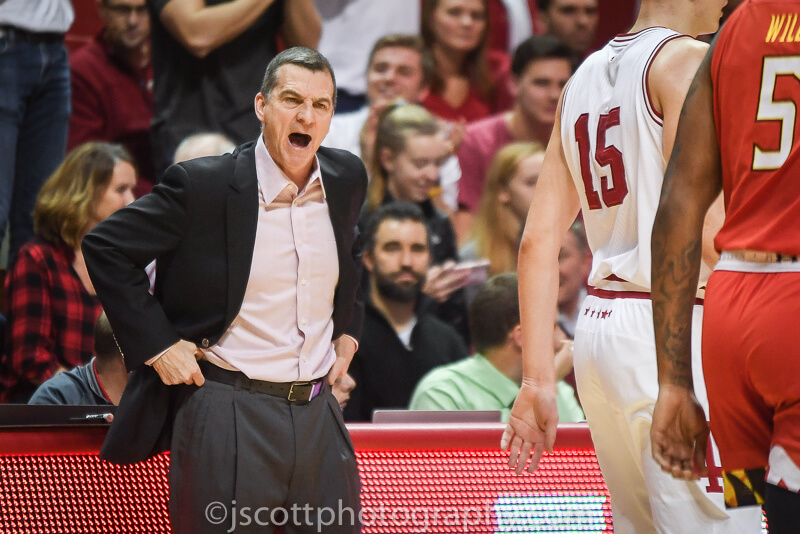 Indiana is on the road again Friday night as the Hoosiers travel to College Park to take on Maryland. The Terrapins are 13-3 overall and 4-1 in Big Ten play.
The game will tip at 7 p.m. ET on FS1 with Tim Brando and Donny Marshall on the call:
Indiana's seven-game winning streak was snapped on Sunday in Ann Arbor and the road doesn't get any easier for the Hoosiers in their lone game this week.
Maryland, which is coming off an impressive 82-67 win at Minnesota on Tuesday night, has won four straight and has one of the Big Ten's best collections of young talent.
The Hoosiers and Terps have had some hard fought battles since Maryland joined the league back in 2015. The teams have split their six meetings and Indiana has lost by a combined five points in its two previous trips to the XFinity Center.
MEET THE TERPS
Maryland was dealt a significant blow last spring when Kevin Huerter opted to keep his name in the NBA draft following his sophomore season, but the Terps still have one of the most talented rosters in the league.
Junior point guard Anthony Cowan is the team's leading scorer (17.2 ppg) and playmaker (4.4 apg) and when he plays at an elite level, the Terps are hard to beat.
The 6-foot-1 Cowan is a 36 percent career 3-point shooter, but is at his best offensively as the ball handler in the pick-and-roll and in transition. According to Synergy, Cowan grades out in the 72nd percentile nationally as the ball handler in pick-and-roll (.87 PPP) and in the 81st percentile in transition (1.27 PPP).
Cowan is currently fifth in the Big Ten in assist rate (28.1 percent) and is drawing 5.5 fouls per 40 minutes, which ranks 12th in conference games.
He's joined in the lineup by freshman guard Eric Ayala, who is shooting 48 percent on 3s. The 6-foot-5 Ayala is deadly in spot-up situations, according to Synergy. His 1.3 points per possession on spot-up opportunities ranks in the 93rd percentile nationally.
Sophomore wing Darryl Morsell is known primarily for his defensive ability, but is a very good finisher despite below average 3-point shooting numbers. Morsell is shooting 56.7 percent on 2s, but just 17.4 percent on 3s. He averages 8.5 points per game, which is sixth on the team.
A pair of freshmen, Aaron Wiggins and Serrel Smith, get the majority of the backup minutes on the wing. Wiggins is a 41 percent 3-point shooter, but Smith is hitting just 28.9 percent from distance. Wiggins is Maryland's second best spot-up shooter as he sits at 1.1 points per possession in those situations.
The Terrapin frontcourt is anchored by sophomore Bruno Fernando and freshman Jalen Smith, a McDonald's All-American.
Fernando is a physical specimen for which few teams have an answer. He's 6-foot-10, 240 pounds and skilled. His 14.2 points are second on the team and he's the Big Ten's best rebounder. Through five league games, Fernando ranks first in the league in offensive rebounding percentage and second in defensive rebounding percentage.
Fernando is shooting 66.4 percent from the field and is scoring .92 points per possession on post ups and 1.52 points per possession on offensive rebound opportunities, per Synergy. He's also a solid free throw shooter (72.2 percent).
Smith is also 6-foot-10, but not nearly as physically imposing. He moves more like a wing than a traditional big man and his 13 points per game are third on the team. He's also second on the team in rebounding at 6.9 per game. Smith is making 63.4 percent of his 2s in Big Ten.
TEMPO-FREE PREVIEW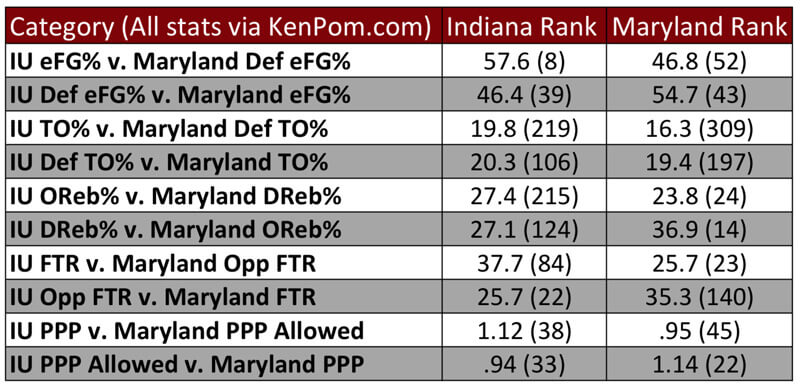 Maryland's size is clearly the biggest concern for Indiana entering the game and the availability of De'Ron Davis looms large as the Hoosiers will have a hard time covering Fernando with just Juwan Morgan.
The Terps are relentless on the offensive glass, ranking 14th nationally in offensive rebounding percentage. Fernando himself is capable of changing games with his ability to crash the glass and Maryland also ranks 24th in defensive rebounding percentage.
Maryland doesn't force many turnovers and can be turnover prone because of its youth and decision making, so a performance similar to what the Hoosiers produced in Ann Arbor (season low 11.9 turnover percentage) is a clear key.
WHAT IT COMES DOWN TO
Maryland opened as a 5-point favorite in Vegas and the KenPom line concurs as his ratings favor the Terps by five with just a 35 percent chance of an IU victory. The Sagarin ratings also favor Maryland, but only by 1.5 points.
The Terps are coming into this game riding high with confidence after road wins at Rutgers and Minnesota and a 4-1 conference mark.
Maryland does have two home losses already this season (Virginia and Seton Hall), but on paper, this appears to be a difficult matchup for a shorthanded Indiana team. Rob Phinisee appears unlikely to play and on Thursday, Archie Miller said the program is "hopeful" it will have Davis available in College Park.
Indiana has been starting slow all season, so it bears watching how the Hoosiers come out on Friday after Miller's comments on toughness following the Michigan loss on Sunday. Another slow start could again prove too much to overcome against a team with a dominant frontline player and a dynamic playmaker like Cowan.
Filed to: Maryland Terrapins