The Minute After: Michigan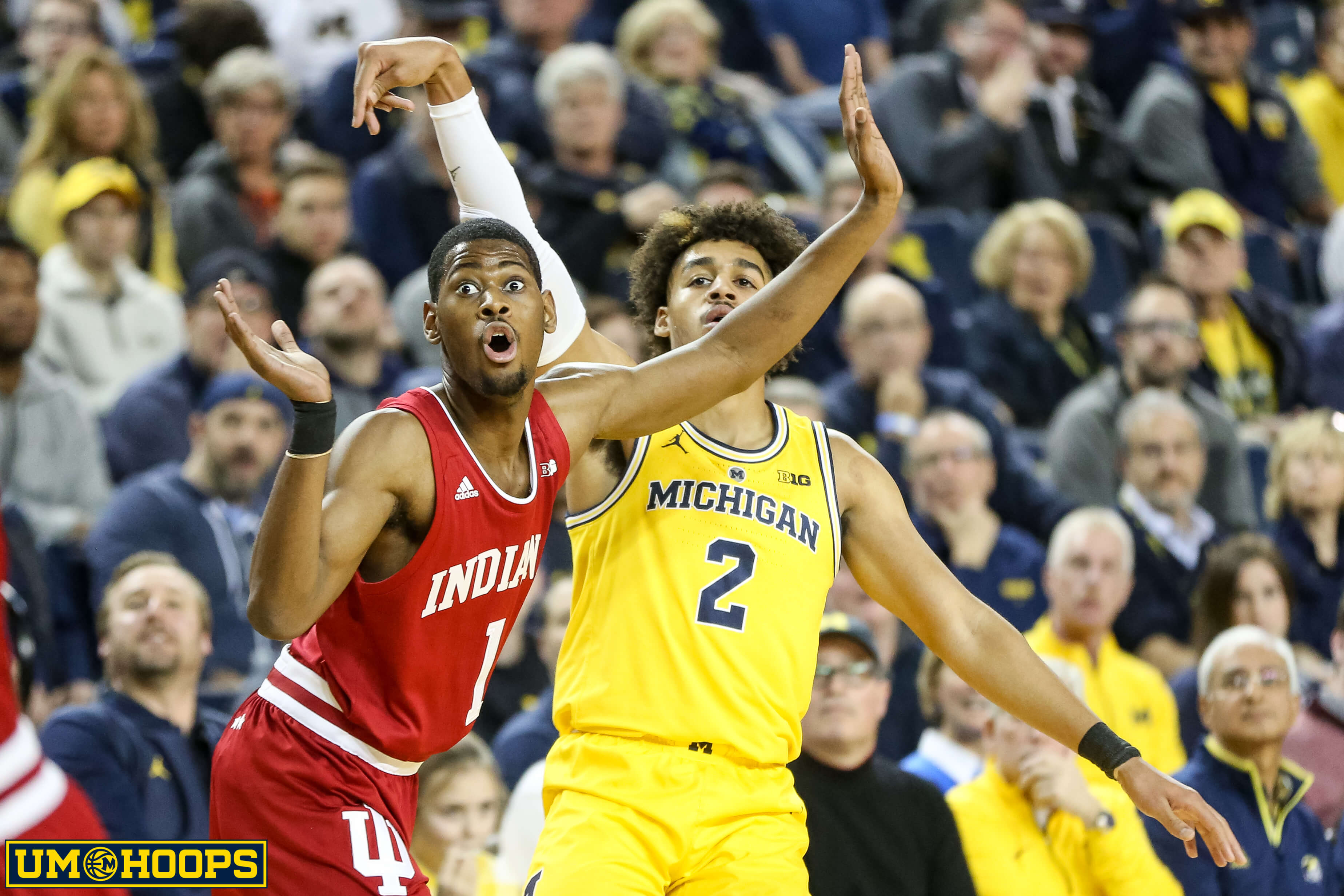 Thoughts on a 74-63 loss to the Wolverines:
The margin for error against this terrific Michigan team — especially in Ann Arbor — is not big. And in some ways, the Hoosiers responded to the challenge. In a season where turnovers have been an issue, Indiana was great with the ball at the Crisler Center in front of a hostile crowd. The Hoosiers turned it over just twice in the second half and seven times the entire game, good for a season-low turnover percentage of 12.
Michigan entered the contest with the third best defense in the country, per KenPom, excellent at keeping its opponents off the line and not allowing second chances in addition to strong on-ball perimeter work and stout 2-point field goal defense. But Indiana's offense fared pretty well against it. The Hoosiers posted 1.075 points per possession, which was the second most Michigan has allowed an opponent all season after South Carolina's 1.092 back on Dec. 8.
And so while the rough start was maddening, it shouldn't completely overshadow Indiana's offensive performance nor its low turnovers. Nor should it take away from an impressive second half where Indiana showed great poise and resolve, outscoring Michigan 34-30 on the back of a more locked-in defense and a Herculean offensive effort from Juwan Morgan.
And yet …
In a season full of poor starts, a problem that's arguably the defining characteristic of this team in a season full of them, it's hard to hold it in balance against all the good Indiana showed in this one. Because no matter how good a second half you play, and Indiana played a very good one, trying to dig your way out of a 19-point hole against a team this elite is a monumental task. The Hoosiers kept coming over the final 20 minutes, but it was still mostly a double-digit lead for the Wolverines, although the Hoosiers did have it down to seven for a little bit about midway through the half.
The Wolverines were able to build their big lead thanks to an early offensive explosion from Jordan Poole and Charles Matthews. The duo combined for 28 of Michigan's 44 first half points on 11-of-16 shooting, including 4-of-5 from distance. And while the Hoosiers only had five first half turnovers, Michigan turned those into 11 points, capitalizing incredibly well off Indiana's miscues.
In a game you went in worried about Devonte Green's ability to keep it together against Michigan's defense, the Long Island native proved the doubters wrong, as he didn't record a turnover. He also added nine points on 4-of-9 shooting. Despite working through some early foul trouble — and some poor early shooting in Morgan's case — Indiana's dynamic duo of Romeo Langford and Morgan combined for 42 of Indiana's 63 points on 14-of-33 shooting.
While it's true the Hoosiers scored the second most points per possession against the Wolverines so far this season, that was bested by Michigan, as their 1.263 points per possession were the most scored on Indiana this year.
In the end, this was a Pomeroy-projected eight-point loss for the Hoosiers that ended up being just a touch more than that at 11. A win wasn't expected. And Indiana did some good things in this one. But its rough start looms large. Will another one Friday night at Maryland set them back once more?
(Photo credit: UMHoops)
Filed to: Michigan Wolverines