6-Banner Sunday: A new gold jersey recipient and recruiting/NBA roundup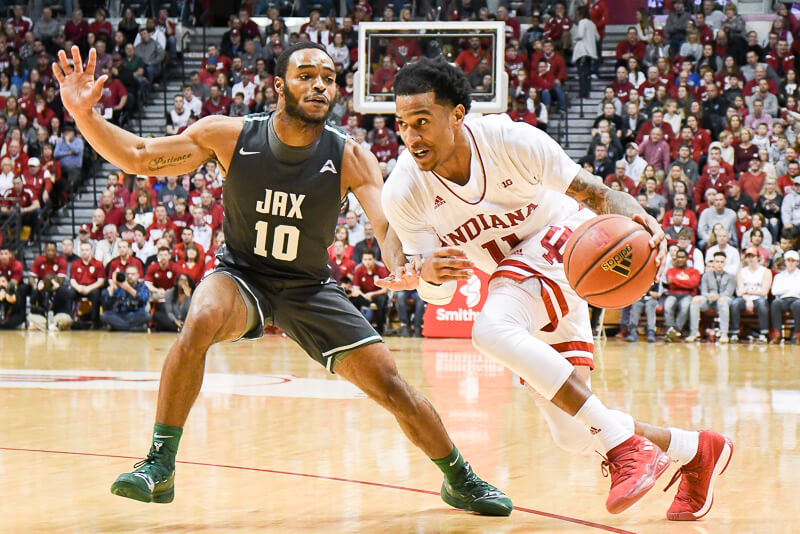 6-Banner Sunday is Inside the Hall's weekly newsletter in partnership with The Assembly Call. More than 6,000 Indiana fans receive the newsletter each week. In addition to appearing each week on the site, you can also opt to receive 6-Banner Sunday by email. A form to subscribe via email is available at the bottom of this week's 6-Banner Sunday.
Welcome to another edition of 6-Banner Sunday, a joint production between The Assembly Call and Inside the Hall where we highlight the six most essential IU basketball stories of the past week.
The new year is just days away, and not long after the calendar turns over Indiana will resume its season after an 11-day break from action.
Without actual basketball to satiate the hoops appetite of IU fans and media alike, we have only spare social media posts and theoretical analysis to provide a basketball fix. This has made for a long, uneventful stretch in the schedule … and we will all be a little bit more sane once Indiana hosts Illinois on January 3.
Still, prolonged downtime and the advent of a new year offers an opportunity for reflection and appreciation of the last one, as well as anticipation for what might be in 2019. For Indiana, that is an exciting prospect, as the Hoosiers could be primed to make real noise in the Big Ten this season.
Without further ado, here is the final 6-Banner Sunday of 2018.
In this week's edition:
• Green earns gold jersey
• Looking ahead to 2019
• Closing the book on 2018
• Draft projections for Langford and Morgan
• Recruiting roundup
• Hoosiers in the NBA
Banner #1
Green earns gold jersey
The most recent gold jersey, which Archie Miller hands out to the team's most outstanding practice player, went to Devonte Green, per IU basketball's Instagram story on Friday.
This is the first time Green has earned the honor this season, joining Juwan Morgan, Romeo Langford, and Jerome Hunter as players who have worn it this season.
Green has averaged a career-high 8.1 points and 3.7 assists through nine games this season, and he stepped up significantly in Robert Phinisee's absence over the last two contests, including his 19 points, nine rebounds, six assists, and four steals against Central Arkansas.
IU hasn't played a game since December 22, and the team had several days off from practice so players could go home for Christmas. But practices resumed recently, with Big Ten play set to resume next Thursday.
Wyandotte Safety Solutions is your one-stop shop for safety training and safety products. WSS offers CPR & First Aid training, fall protection, and lift training. We also sell PPE, AEDs, and First Aid supplies.
We are an Indiana company serving Indiana and all of North America. Check out our website for more information: ptsarcflash.com.
Banner #2
Looking ahead to 2019
On this week's Assembly Call Radio, Jerod Morris and Galen Clavio discussed how IU stacks up against the rest of the nation's best, then they dove into expectations for conference play, talked about Romeo Langford's early stamp on the program, and projected how the rotation might look when – an if – IU gets fully healthy.
Also addressed on the show: Keion Brooks' recruitment and the importance of Green and Justin Smith, and how to calibrate expectations for IU moving forward. They also answered questions from the listeners, including a quick explanation of the quadrant system and what "KenPom" is.
Banner #3
Closing the book on 2018
In the spirit of closure and posterity, Jerod Morris and Alex Bozich of Podcast on the Brink took a look back at some of the most significant occurrences within the Indiana basketball program over the last year.
They also discussed IU's most recent wins over Central Arkansas and Jacksonville, the most notable numbers from the last year of IU hoops, the evolution of Juwan Morgan, and what to expect from Romeo Langford in the new year.
Additionally, they touched on the Big Ten's improvement as a whole, the development of key recruits and signees like Keion Brooks and Armaan Franklin, and the latest on Race Thompson and Jerome Hunter.
Subscribe to every episode of Podcast on the Brink here.
Banner #4
Draft projections for Langford & Morgan
While the NBA Draft is over six months away, the buzz and evaluation that comes with it never fades from the public domain. And given that Romeo Langford will almost certainly be a lottery pick, talk of IU players' NBA outlooks will only escalate in the coming months.
While Langford has fallen in most projections, Juwan Morgan has climbed up some draft boards after a strong start to his senior season. Langford still sits in the mid-to-late lottery range while Morgan remains a late second-round prospect.
With several outlets having published their final mock drafts of 2018 in recent days, it's worth surveying expert opinions on Langford and Morgan heading into the turn of the calendar.
Sam Vecenie of The Athletic currently has Langford 10th on his board, a drop from fifth at the start of the season, and Morgan 55th, up from 73rd. (For a more in-depth look at IU's prospects, listen to Vecenie's chat with Inside the Hall and The Assembly Call's Ben Ladner on Podcast on the Brink earlier this season.)
Jeremy Woo at Sports Illustrated has Langford fifth in his rankings, citing the guard's smooth scoring instincts and ability to create offense. Morgan does not appear in the top 60. Bleacher Report's Jonathan Wasserman has Langford ranked 12th in his most recent mock draft, with Morgan not appearing in the first round.
The flaws in Langford and Morgan's games are as obvious as their shared weakness of a questionable jump shot. Langford has struggled mightily from deep this season as Morgan, while hitting at a high rate this year, has proven inconsistent as a shooter over his career.
Langford is younger, with a knack for getting to the basket and finishing at a high rate. He has been a more polished and engaged defender than he was in high school, and has solid instincts on both sides of the ball. But his jumper is a real concern, as is his ability to create separation against elite defenders.
Morgan, meanwhile, can do a little bit of everything. He excels as both a passer and as a scorer, can defend multiple positions, and rebounds at a high level. But he'll likely never be the sort of player that will justify a star's usage at the NBA level, and in a more complementary role, will have to knock down open shots to stick. Still, he'd be worth a shot in the early part of the second round.
Banner #5
Recruiting roundup
Indiana's 2019 recruiting class figures to be a strong one, and Armaan Franklin and Trayce Jackson-Davis are having strong seasons to back up their standing as two of the nation's best high school players.
Franklin is averaging 22.9 points and 7.5 rebounds per game on 39 percent 3-point shooting, leading Cathedral to a strong record out of the gates. Yesterday, Cathedral won the Bob Wettig Tournament by defeating Zionsville 80-78 in double overtime. He was named MVP of the tournament, with his play being described as "fantastic."
Jackson-Davis and Center Grove are off to a strong start as well. Last night, Jackson-Davis became Center Grove's all-time leading scorer.
Meanwhile, Keion Brooks could be the last domino to fall and is expected to announce his decision "soon," according to his recent Instagram post. Brooks is considering Michigan State, UCLA, Purdue, Kentucky, North Carolina, and Indiana.
Banner #6
Hoosiers in the NBA
Victor Oladipo has struggled as a scorer this season despite having the best rebounding and facilitating season of his career.
The sixth-year guard is averaging 19.5 points, but is doing so on alarmingly low efficiency for a first option. Among players with a usage rate over 25 percent that play at least 25 minutes per game, Oladipo's true shooting percentage (which takes into account the value of free throws and three-pointers) ranks 10th-worst, and his 2-point percentage has dipped back under 50 after a career-high mark last season. He is shooting only 41 percent on mid-range jumpers in Indiana's mid-range-heavy offense, and just 39 percent on floaters. Both marks must improve for him to return to peak feathery levels.
OG Anunoby has begun to come around offensively after a dreadful start. The second-year forward is shooting nearly 47 percent from deep over his last nine games for a banged-up Raptors team, and head coach Nick Nurse appears to be trying to play Anunoby more minutes with the starters, where his role simplifies on offense.
A threatening Anunoby is a huge asset for Toronto, whose opponents will dare Anunoby and Pascal Siakam, two dynamic defenders, to shoot in the playoffs. Anunoby does not provide quite the creativity and verve off the dribble as Siakam does, but if he can knock down open shots and attack closeouts, Toronto won't need much else around Kawhi Leonard and Kyle Lowry.
While the Rockets have begun to stabilize and creep back toward the top of the standings (mostly behind James Harden's brilliance), Eric Gordon continues to struggle. Being pulled in and out of the starting lineup, Gordon has not been able to find any consistency on offense. Still, Houston scores at an elite rate with him on the floor, a suggestion that his gravity as a shooter is opening up lanes for Harden and his supporting cast. Gordon will continue to fire away, and Houston can only hope that his shots will start dropping.
Noah Vonleh continues to pleasantly surprise in New York. Averaging 8.6 points and 8.6 rebounds while shooting 39 percent from three, Vonleh is a supremely versatile defender, a quality he displayed on Christmas against Giannis Antetokounmpo. I long maintained that there was an NBA player somewhere in Vonleh, even if it rarely showed in Portland. Now, with more opportunity available to him on an awful team, it's good to see Vonleh finally thriving.
Cody Zeller has continued a rock-solid season in Charlotte, posting nine points and six rebounds per game while shooting 56 percent from the field. He remains a positively impactful player, even if it doesn't always show in the box score. The Hornets nearly always outscore opponents with Zeller on the floor, and his unselfish, physical game helps keep Charlotte running on both ends of the floor.
Ask Zeller to carry an offense or anchor a top-five defense, and you'll be left wanting. Ask him to play a vital role on either end of the floor, and you'll rarely be let down.
Yogi Ferrell has been a present, if inconsistent, part of Sacramento's rotation, trading off minutes with Frank Mason and a young cast of guards. He has struggled to find a steady rhythm himself, but helps provide it for the rest of the team while he's on the floor.
And finally, Thomas Bryant has improbably emerged as the starting center for the Washington Wizards and has filled the position well, averaging 7.6 points and 4.5 boards in 16 minutes per game. In the highlight of his pro career to date, Bryant posted 31 points and 13 rebounds on 14-of-14 (!!!) from the field. Only four players in NBA history have ever scored 30 points and grabbed 13 boards without missing a shot: Wilt Chamberlain (five times!), Walt Bellamy, Dwight Howard, and Bryant. (Yes, that is true.) I must say, I did not see that coming.
And with that, the joy of hanging Banner #6 is now one week closer.
Thanks for your continued support for The Assembly Call and Inside the Hall. We'll be back next weekend with a new roundup.
Now go enjoy yourself a 6-banner Sunday. If you'd like to receive this newsletter in your inbox each Sunday, please enter your email address below:
Filed to: