Five takeaways from Indiana's win over Jacksonville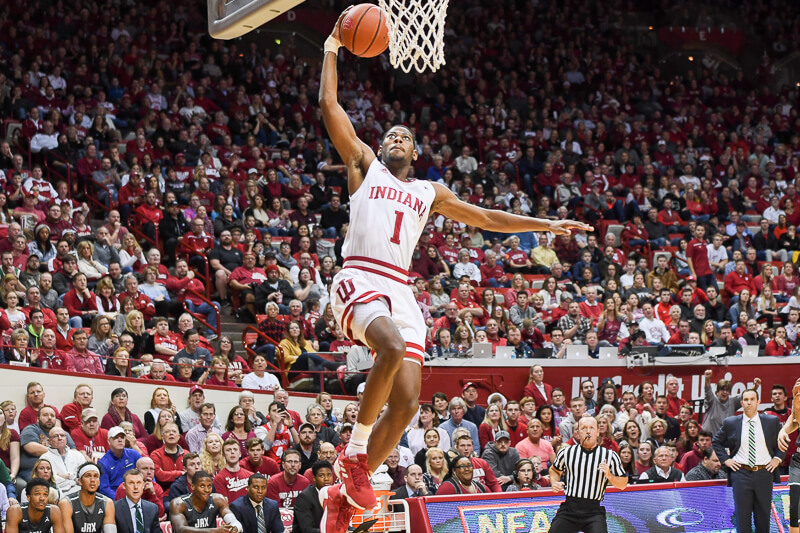 Indiana won its sixth straight game on Saturday evening as the Hoosiers cruised past Jacksonville, 94-64. It was the last non-conference game for Indiana and its final contest before Big Ten play resumes on Jan. 3 against Illinois.
Here's a look at five takeaways from the win over the Dolphins:
• Juwan Morgan claims a spot in IU history: Indiana senior Juwan Morgan hit the 1,000 career points plateau earlier this month, which is a significant accomplishment.
On Saturday, however, Morgan put together a performance that puts him in the IU record book with just one other Hoosier.
Morgan's triple-double – 10 points, 10 rebounds and 10 assists – was just the second in IU history and the first since Steve Downing accomplished the feat in 1971. IU's versatile senior leader also had three blocks and two steals in 30 minutes.
Morgan took just five shots in the game and four other Hoosiers outscored him, but he was easily the most impactful player on the court.
"He is not greedy by any stretch," Archie Miller said. "He doesn't have any stretches in the season where he complains, I'm not shooting. He just plays. It's good to see. He's getting as much done as any player in college basketball for our team."
• Durham's career night: Perhaps it was a sign of things to come when I walked into Simon Skjodt Assembly Hall at 4:25 yesterday afternoon and Al Durham Jr. was already on the court getting shots up.
Jacksonville hadn't even arrived at the arena and Durham was on the floor splashing 3s from around the perimeter in front of the IU bench.
After a freshman season in which he shot just 28.6 percent on 3s, Durham has improved his perimeter shot. After last night's 3-for-5 performance from deep, he's shooting 41 percent on 39 attempts.
Durham finished with 18 points against Jacksonville, a career-high, and continues to solidify himself as one of the most important players on the roster.
"He's worked hard at it. He's a stronger player, more confidence," Miller said. "He's a year older. Al really loves the game. He works on it. He's the guy that's in before practice, after practice, shoot around. He spends a ton of time."
• Progress continues with turnover issue: Slowly but surely, Indiana is beginning to do a better job of taking care of the ball.
Saturday's performance wasn't perfect, but the Hoosiers had 12 turnovers for a turnover percentage of just 16. As of Sunday morning, Indiana's turnover percentage of 20.1 ranked 237th nationally. Entering the Louisville game, Indiana was 276th nationally in turnover percentage at 21.3 percent.
Still, Archie Miller sees plenty of room for improvement moving forward.
"We have to get a lot better offensively, as we've stated here in the last couple weeks, taking care of the ball," he said. "You're going to see a lot of different styles in the Big Ten. One of the things you have to do is make sure you're getting a good shot, not turning it over. We're going to look at some things offensively where we can tidy it up, clean it up."
• Hoosiers share the ball for 21 assists: Jacksonville was an overmatched opponent, but Indiana put together an encouraging offensive performance because of its unselfishness.
Indiana had 21 assists on 35 made field goals and five players finished in double figures.
"I would say it's just been a point of emphasis in practice," Morgan explained. "The ball moves faster than anybody on the court. I think finding open guys as quick as possible, advance pass, things like that, it really gives people confidence. Confidence is contagious."
• Indiana's non-conference resume is now set: Non-conference play is now complete and Indiana went 9-2 outside of league play.
The Hoosiers picked up a trio of solid wins – Marquette, Louisville and Butler – and have a solid foundation heading into the remainder of Big Ten play.
As of Sunday, Indiana is top 25 in most of the computer ratings, including the new NCAA NET metric. Given the strength of the Big Ten this season and the vast opportunity to pick up quality wins, the Hoosiers are in a solid position to return to the NCAA tournament with a favorable seed in 2019.
Filed to: Aljami Durham, Jacksonville Dolphins, Juwan Morgan