The Minute After: Central Arkansas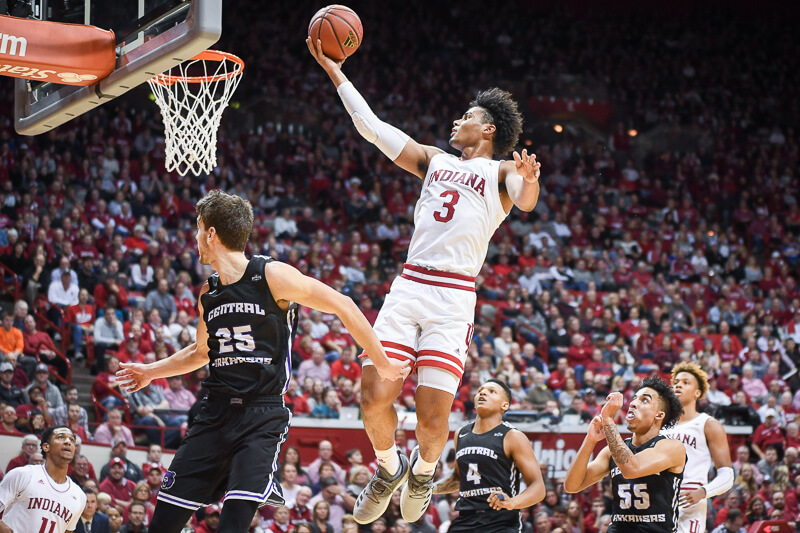 Thoughts on an 86-53 win against the Bears:
This one started with Indiana's normal trappings, too many turnovers leading to a deficit. But as the Hoosiers cleaned things up as the first half went along, it became apparent that their streak of oh so close games would finally end tonight. Instead, a good old-fashioned non-conference stomping was in order.
The Hoosiers carried a 16-point advantage into halftime. The lead ballooned to as much as 38 points in the second half before settling at a 33-point victory. Indiana was able to build its lead in each half thanks to some serious scoring droughts from the Bears. Central Arkansas got stuck on 19 points from the 14:32 to 5:07 mark in the first half, nearly nine and a half minutes of game action, allowing Indiana to throw a 19-0 run on the Bears. What was a five-point deficit for the Hoosiers became a 14-point lead. In the second half, Indiana tossed a 22-0 run on the Bears to put the game away for good.
Robert Phinisee got kneed in the head a bit before the halfway point of the first half, and he never returned to the contest. In fact, he didn't even come out of the locker room in the second half. (Postgame, Archie Miller announced that Phinisee is in concussion protocol.) So this was a game Devonte Green got a lot of run, 29 minutes in all, and he really delivered. In what was his most complete contest of the season, the junior posted 19 points, nine rebounds, six assists, four steals and a block. All of those numbers are season highs. He had just two turnovers. Green was particularly strong from distance this evening, hitting 6-of-10 from deep. All of his made baskets came from beyond the arc.
Justin Smith had a strong first half, going a perfect 5-for-5 from the field for 10 points. Most encouraging for Smith were the two buckets he finished in transition. He used his body well and didn't barrel into the defender — something he's struggled with at times this season.
Romeo Langford added his second double-double of the season with his 18 points and 11 rebounds. He was a perfect 4-of-4 from the line. The freshman was locked in and seemed to play with a little more determination in this one. Langford also missed a difficult dunk from the right side that would have brought the house down. He was the only Hoosier that played more than 30 minutes tonight, some wondering why he got back into the game late after Archie Miller had cleared the bench.
Evan Fitzner hit his first 3-pointer since the Northwestern game on Dec. 1. Jake Forrester made the most of his time this evening, scoring eight points in seven minutes. The Hoosiers held the Bears to an effective field goal percentage of just 37 percent, as they mustered a paltry .70 points per possession.
Despite its sluggish start, Indiana turned the ball over on just 16.3 percent of its possessions this evening, its third lowest percentage of the season. This was also Indiana's third best offensive game of the season from an efficiency standpoint, as it racked up 1.18 points per possession.
Indiana took care of business tonight. And if things go to form on Saturday with another comfortable win, Indiana will have a very solid resume in the books before conference play ramps up again after the new year.
Filed to: Central Arkansas Bears