What to expect: Butler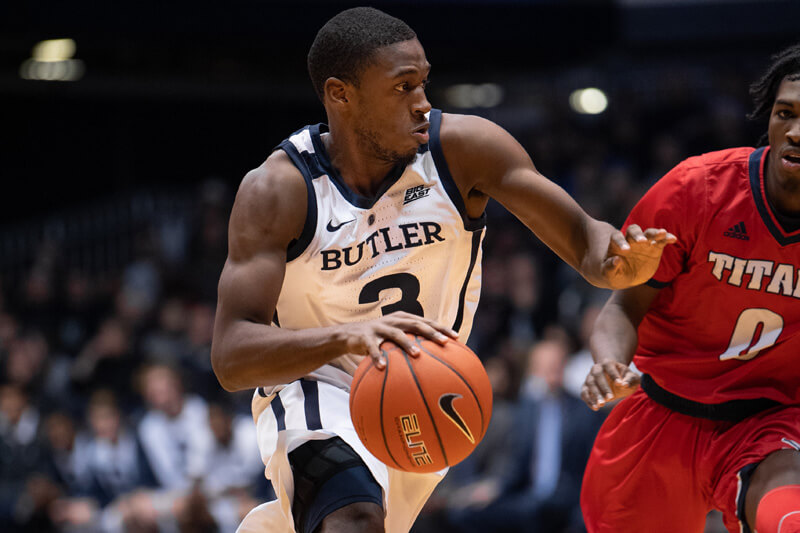 Indiana will look to push its winning streak to four games on Saturday as the Hoosiers take on Butler in the Crossroads Classic at Bankers Life Fieldhouse. The Bulldogs are 7-2 overall and are coming off of a 95-68 win over Northern Illinois.
The game will be broadcast at approximately 3:45 p.m. ET on CBS with Brad Nessler, Bill Raftery and Jamie Erdahl on the call:
Although the program hasn't returned to the heights of back-to-back national championship game appearances in 2010 and 2011, Butler basketball remains in a strong position.
The departure of Brad Stevens for the Boston Celtics resulted in a brief downturn under Brandon Miller, but things quickly rebounded under the leadership of Chris Holtmann. And the Bulldogs appear to have another promising young coach at the helm in LaVall Jordan, who is in his second year on the sidelines in Hinkle Fieldhouse.
Butler owns a 5-2 record in the Crossroads Classic – the best mark of any team in the event through seven years – and will look for its third win in four tries over the Hoosiers on Saturday.
MEET THE BULLDOGS
Butler is a perimeter-driven team as each of its three leading scorers are guards or wings. The backcourt is captained by senior Paul Jorgensen and junior Kamar Baldwin, one of the best two way guards in the country.
The 6-foot-2 Jorgensen, who played two seasons at George Washington before transferring to Butler, is the team's leading scorer at 17.1 points per game. He's shooting 43.1 percent on 3s through seven games and has the 19th lowest turnover rate in the country (5.3 percent).
According to Synergy Sports, Jorgensen is excellent in spot up situations. He's scoring 1.42 points per possession on spot up shots, which ranks in the 95th percentile nationally.
Baldwin is just 6-foot-1 but can play much bigger because of his 6-foot-6 wingspan. He added significant bulk in the offseason – he's now listed at 195 pounds after previously being listed at 170 – and is second on the team in scoring at 16.6 points per game.
Baldwin is shooting just 41.9 percent from the field goal over seven games, but leads the Bulldogs with an assist rate of 27.2 percent.
Sophomore guard Aaron Thompson has been starting alongside Baldwin and Jorgensen and has been a little more turnover prone than Jordan would like. Thompson's turnover percentage of 27.2 is higher than his assist rate (26.6), but he's doing a solid job finishing on 2s (61.3 percent).
Junior guard Henry Baddley is in the rotation off the bench and is a capable 3-point shooter (35.7 percent). Baddley is fifth on the team in scoring at 7.1 points per game.
Junior Sean McDermott is the Butler starter at the four and is coming off a huge game against Northern Illinois. A career 41.5 percent 3-point shooter, McDermott tied a career-high with seven 3s in the win over the Huskies and is third on the team in the scoring at 12.1 points per game. Like Jorgensen, McDermott thrives in spot up situations, according to Synergy. He's scoring 1.21 points per possession on spot ups, which ranks in the 85th percentile national.
Duke transfer Jordan Tucker, a former IU recruiting target, is now eligible and is expected to play for the first time in a Butler uniform on Saturday. A former top 50 recruit, Tucker barely saw the floor in half of a season in Durham before opting to transfer. He was a prolific scorer and shooter on the Nike Elite Youth Basketball League (EYBL) circuit, but hasn't played in a meaningful college game yet.
In the post, senior Nate Fowler is Butler's anchor with Joey Brunk providing solid backup minutes. The 6-foot-10 Fowler has proven capable of stretching the floor throughout his career, but has yet to make a 3-pointer this season (0-for-7). He's shooting just 44.7 percent from the floor. Brunk has been great at drawing fouls and scoring efficiently at the rim. He's taken 40 free throws in seven games and is hitting 70 percent. He's also leading the country in 2-point field goal percentage at 83.3.
TEMPO-FREE PREVIEW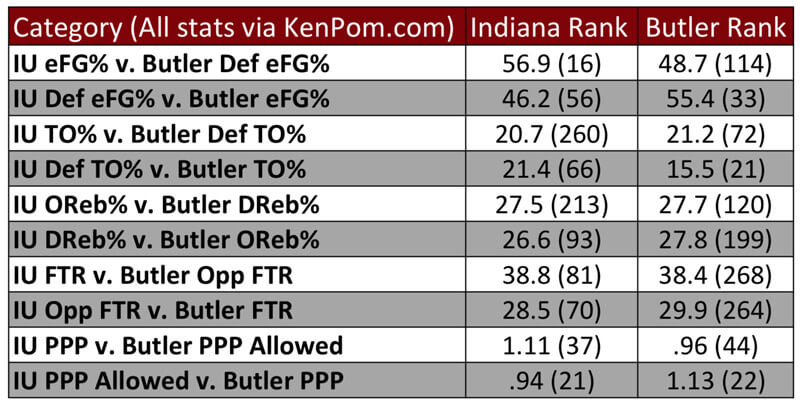 Butler's offense ranks in the top 25 nationally on the strength of its solid shooting numbers and ability to take care of the ball. The Bulldogs are only turning it over on 15.5 percent of their possessions, which ranks 21st nationally. Butler is also playing a deliberate pace (307th fastest nationally), so careless giveaways by Indiana could be magnified as the Bulldogs are likely to keep this game in the halfcourt as much as possible.
Butler's biggest weakness is its low free throw rate and its tendency to put opponents on the line. Indiana, however, has been a poor free throw shooting team all season, so it remains to be seen if the Hoosiers can take any advantage from the stripe. Indiana is also going to need to do a good job of guarding the 3-pointer as Butler is generating 37.3 percent of its points from beyond the arc, according to Pomeroy.
WHAT IT COMES DOWN TO
The Pomeroy projection is Indiana by one and the Sagarin ratings favor the Hoosiers by about three. Indiana has played a ton of close games this season already and Saturday is projected to be another tightly contested game.
It will be interesting to see how Butler chooses to guard Romeo Langford as the Bulldogs are starting 6-foot-1, 6-foot-2 and 6-foot-2 on the perimeter. Baldwin's length might make the most sense, but Butler can't afford to get him into any early foul trouble.
The Hoosiers may also have an advantage in the post if they choose to play Juwan Morgan and De'Ron Davis together at times. Butler ranks just 113th nationally in defensive 2-point field goal percentage, so look for Indiana to try to establish things inside early and often.
Indiana already has four quality wins on its resume, but a win over Butler on a neutral court would go a long way in solidifying its non-conference resume with Big Ten play resuming in a little less than three weeks.
(Photo Credit: ButlerSports.com)
Filed to: Butler Bulldogs, Crossroads Classic