IU set to host Louisville for Saturday matinee in Bloomington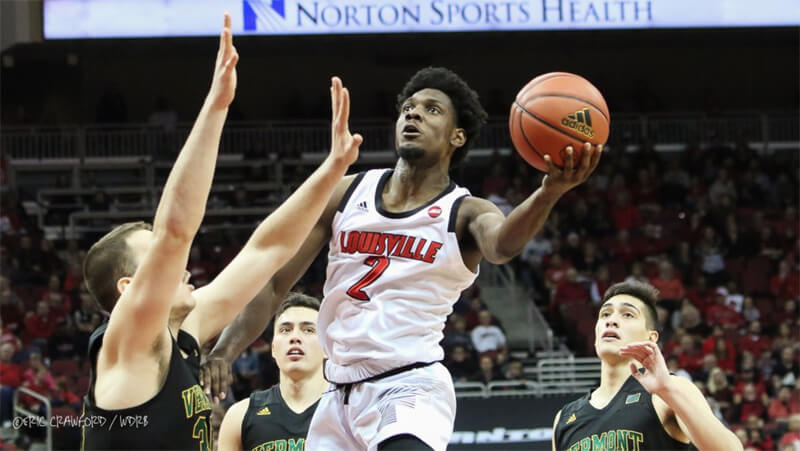 Having crossed two Big Ten games off of its schedule, Indiana's upcoming slate of opponents doesn't get any easier as it winds down the calendar year.
Saturday afternoon, Louisville – riding a three-game win streak – will enter Simon Skjodt Assembly Hall in search of its third win over IU in as many years. In their first year under Chris Mack, the Cardinals are 6-2, with wins over Michigan State and Seton Hall. Mack's offensive and defensive principles are evident relative to prior coaching staffs, and Louisville is executing as crisply as it has all season.
"Louisville is a really good team," Archie Miller said on Friday. "Chris has done a great job taking over. You can really tell the identity over the last three, four games, how they've improved, the competition level they've gone at. They're playing very confidently right now."
Sophomore forward Jordan Nwora has spearheaded the attack, averaging 17 points and seven rebounds per game on 34 percent shooting from deep. He and Steven Enoch comprise a formidable combo in the frontcourt, something that figures to challenge the Hoosiers. Juwan Morgan or Justin Smith will have their hands full with the Louisville duo and Morgan will carry as important a two-way responsibility as he has since IU's game against Duke.
"I think the first thing I need to do is get the rest of my teammates open," Morgan said. "I think getting them open will force their bigs to help and will open up opportunities for me in return. So I think just being an unselfish player will open up those opportunities to score inside."
Morgan has been a dependable offensive fulcrum out of the post for Indiana, and has the sort of defensive versatility that allows him to act as an on-ball or help defender. While Smith will likely start the game on Nwora, IU plans on using multiple defenders to try and force the sophomore into an off-night.
"I don't think it'll be like so simple as putting one guy on him and making sure that guy stops," Morgan said of Nwora. "He's just been real efficient. He's getting to his spots. He's a great player, and I just think it's going to be a team approach."
The similarities between these two teams don't end in the frontcourt.
Miller and Mack employ similar defensive schemes, with heavy pressure on the ball and by-committee approaches to stopping the pick-and-roll and post-ups. Senior transfer Christen Cunningham has steadied Louisville's offense in much the same way that Rob Phinisee has IU's.
Still, Louisville is a fundamentally different team than the one that defeated Indiana in each of the last two years. Gone is the full-court pressure that defined the Rick Pitino years (and David Padgett year), and while many of the players from last year's team remains in place, Louisville's style has shifted as its personnel has.
"I would say that they're not as long as they were at the 4 and 5 position," Morgan said. "I remember Ray [Spalding] and Anas [Mahmoud] just being down there, it was really hard to get rebounds, get lay-ups, anything, because they were just blocking machines down there. And we'd see that, they play a lot more just off screens, like just using the triple screen on the baseline. So we're just getting prepared for that."
"They're a physical offensive team inside that does a great job with their pace and execution, and defensively you can tell they're getting better," Miller said. "They play hard, play a lot of guys, and to me, this is going to be a game – and coming back in March that both teams will look at and say that was a heck of an opportunity for us to play a quality non-conference game."
(Photo credit: Eric Crawford/WDRB)
Filed to: Louisville Cardinals