The Minute After: Duke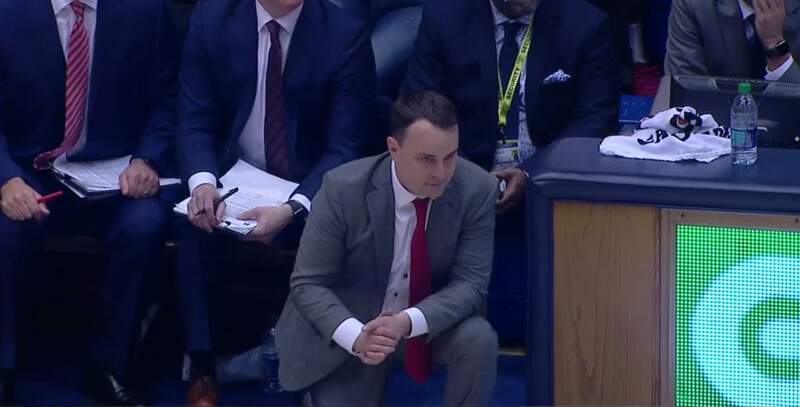 Thoughts on a 90-69 loss to the Blue Devils:
Duke extended its defense, the Cameron Crazies roared, Indiana sped up and turned it over. This was how it began for the Hoosiers and nothing really ever changed. It was a blowout from the start. The Blue Devils dominated this one.
That early extended defense from Duke meant Indiana had issues getting into its sets and thus problems scoring the basketball. And then there were the turnovers. Oh, the turnovers. Yes, Duke's defense caused some. But so did poor decision and mental mistakes. By half, the numbers for the Hoosiers were not good. They turned the ball over on 32 percent of their possessions. Those turnovers led to 19 Duke points. Indiana shot just 11-of-33 from the field, scoring a paltry .71 points per possession.
On the other end, Duke continued to be an efficient machine. The Blue Devils turned it over on just 10 percent of their possessions (four turnovers). Zion was doing Zion things, dunking in transition and having his way in the paint in the half court offense. He made just two less shots than Indiana's entire team (9-of-12, 19 points) in the first half.
Adding to Indiana's struggles? Just as he did against Arkansas, Juwan Morgan picked up two quick fouls. Though this time around, Archie Miller made the decision to bring him back in before the break instead of letting him ride out the entire rest of the first half on the bench. It paid off, as Morgan avoided his third foul. Yet, his presence didn't do much to stem the tide, as Indiana trailed by 24 at half, 53-29.
While Duke's attack slowed some in the second half — it even elicited a timeout and blazer toss from Coach K early on — and Indiana outscored the Blue Devils 40-37, the deficit was simply too big at half for the Hoosiers to ever seriously challenge. After a rough start with a number of quick turnovers, Indiana calmed down as the second half went along and ended up bring its turnover percentage down to 26 percent. That's still much too high. Indiana's miscues have been a growing concern over the last several contests, and that, along with poor free throw shooting, are sticking out as major weaknesses in an otherwise strong offensive profile.
While Indiana's offense picked it up some over the final 20 minutes, Duke still showed its dominance, swatting seven of Indiana's shots. The Hoosiers' season-long streak of holding their opponent under a point per possession ends tonight, as Duke put 1.16 on them. Romeo Langford really struggled in this one, going just 3-of-15 from the field, though he hit 7-of-10 from the line to help lead the team in scoring with 13 points. Duke did a nice job of throwing another defender at him around the paint and it appeared his taped thumb was bothering him as well. De'Ron Davis (3-of-6, 10 points) and Evan Fitzner (4-of-6, 12 points) were bright spots off the bench.
The Hoosiers can't dwell on this one for very long. Conference play starts on Saturday against Northwestern. That's followed by a trip to Penn State — a team that just beat No. 13 Virginia Tech tonight — and then a home bout against a Louisville team that just won in overtime against Michigan State tonight, too.
The schedule does Indiana no favors in the next week and a half and the Hoosiers must respond.
Filed to: Duke Blue Devils