The Minute After: UC Davis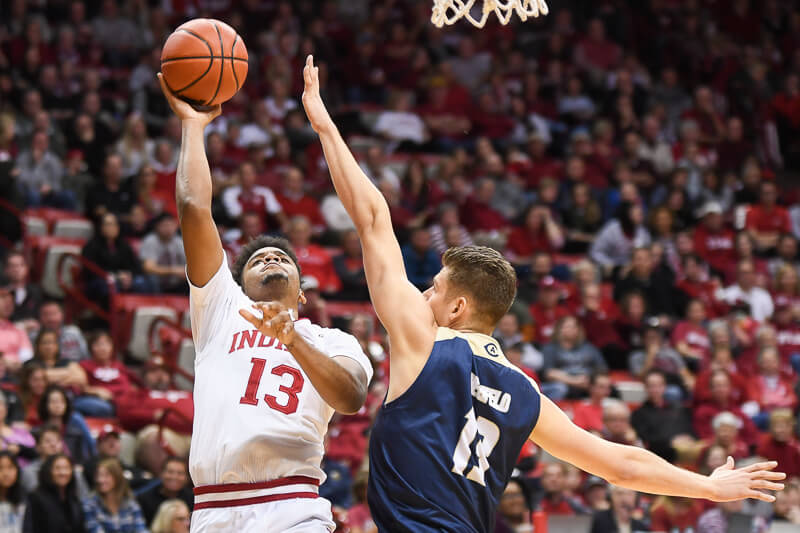 Thoughts on a 76-62 win against the Aggies:
"My back hurts, my back hurts, I got the whole team on it!" Max Bielfeldt exclaimed on the BTN Plus broadcast as Juwan Morgan splashed a 3-pointer from the left corner with 5:54 to go in the first half.
That was pretty much how it went before the break and for a chunk of the second half, too. As Indiana let UC Davis drive baseline and splash 3s while it couldn't find the beat on offense, Morgan played like a player possessed, single-handedly keeping the Hoosiers in striking distance. IU's senior leader has had a number of sensational performances dating back to last season. You can certainly add this one to the list.
His 31 tonight are just off his career-high of 34, which came in last season's overtime win against Notre Dame. The stakes were higher against the Fighting Irish, but this performance was no less dominant. Morgan was a hyper-efficient 13-of-18 from the floor and was the deadliest he's ever been from distance, hitting 5-of-7, a career-high. He added 10 rebounds to collect the double-double while adding two blocks. This all came in a whopping 40 minutes of action, as the Hoosiers continue to be short-handed with injuries.
Morgan helped provide some balance for a Hoosier team which struggled mightily with turnovers in the first half (27 percent TO%) in what's become a bit of a recurring theme over their last three contests. While Indiana was good on offense by the time the buzzer sounded after the first 20 (1.22 PPP), it wasn't finding much success on defense, as the Aggies posted 1.29 points per possession on the strength of a 67 effective field goal percentage.
Indiana didn't have a lead all first half … and that continued for a dangerously long time in the second half. The Hoosiers trailed until the 5:43 mark, but gained the lead on a Morgan (who else?) bucket at 56-54. Indiana had done enough on defense to right the ship and started stringing together stops. It even slowed the Aggies enough to continue its season-long streak of keeping every opponent under a point per possession, as UC Davis ended the contest at .97. So with the defense back on top of things, all it took was an offensive burst from the Hoosiers to close this one out and they did in grand fashion for a comfortable 14-point win, closing the game on a 28-8 run.
Al Durham Jr. had a productive evening, hitting 2-of-3 from distance and 6-of-8 at the line on his way to 12 points. Durham's been one of the better 3-point shooters on this team so far and he's done a pretty good job of drawing contact in the paint. He also had zero turnovers in 38 minutes of action, the only IU player who saw time not to record a miscue.
While Indiana had too much of a high-wire act going in terms of the contest still being a tossup late in the second half, the Hoosiers still found a way to string together enough positive possessions on both ends of the court to get it done, just as they did against UT Arlington earlier in the week.
"It was a good week for our team, to be able to earn two hard-fought wins when we haven't always played great," Archie Miller said after the contest.
Indiana might get a boost on Tuesday if Zach McRoberts and Devonte Green are able to return to the lineup against Duke. But if the "not great" trend continues from these two games, there's unlikely going to be any second half figure-it-out time for the Hoosiers at Cameron Indoor.
Filed to: UC Davis Aggies