What to expect: UT Arlington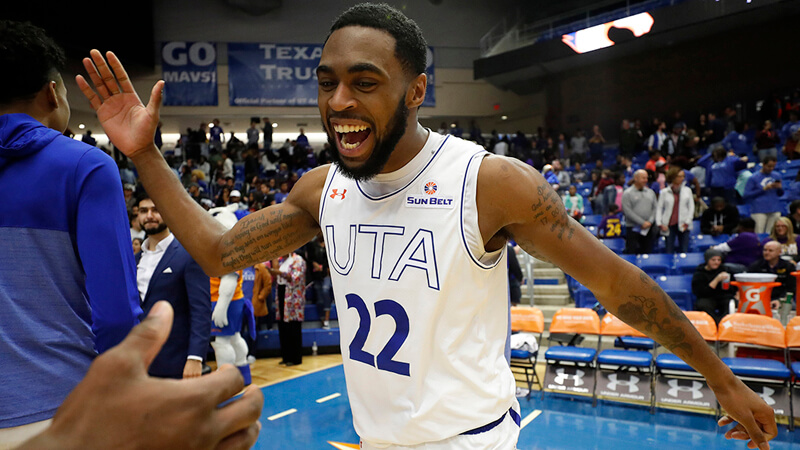 Coming off Sunday's tough 73-72 loss at Arkansas, Indiana is back in action tonight against UT Arlington at Simon Skjodt Assembly Hall. The Mavericks are 3-1 and are coming off of a 68-59 win over UC Davis.
The game will be broadcast at 7 p.m. ET on BTN with Kevin Kugler and Stephen Bardo on the call:
Indiana was a Robert Phinisee layup or a De'Ron Davis tip-in from being ranked in this week's Associated Press top 25 poll, but the Hoosiers came up just short on both attempts in Sunday's loss in Fayetteville.
Now Indiana must quickly put the loss behind it as UT Arlington comes to Bloomington just over 48 hours after the loss to the Razorbacks.
The matchup against UT Arlington is one of two at home this week to conclude the Hardwood Showcase, a four-game exempt event that the Hoosiers are participating in this season. (The games against Arkansas and Montana State were also a part of the Hardwood Showcase.)
With students on Thanksgiving break, tonight's game and Friday's are two opportunities for fans who normally can't get tickets to see a game at Simon Skjodt Assembly Hall.
MEET THE MAVERICKS
UT Arlington is led by first-year coach Chris Ogden, who spent time as an assistant at Texas, Tennessee and Texas Tech before taking over in Arlington last spring.
Arlington is an undersized, defensive minded team that will try to pressure the ball and play an uptempo pace. The Mavericks have three players averaging in double figures and all of them are 6-foot-4 and under.
Through four games, Indianapolis native Brian Warren is the team's leading scorer at 18.5 points per game. Warren, a graduate of Howe, spent the last two seasons at Tyler Junior College. He's shooting 35 percent on 3s and 86.4 percent from the free throw line on a team-high 22 attempts.
Edric Dennis, a 6-foot junior, sat out last season after transferring from Jackson State. Dennis is second on the team in scoring at 12.5 points per game and first in rebounding at 7.3 per game.
6-foot-4 freshman David Azore is averaging 11.5 points, but is shooting a putrid 32.5 percent from the field and is the highest usage player on the roster through four games.
Junior Radshad Davis is starting at the "four" for the Mavericks and he's just 6-foot-2. A native of the Bahamas, Davis spent the last two seasons Missouri State-West Plains, a junior college.
Another JUCO transfer, Tiandre Jackson-Young (pictured), rounds out the starting lineup for the Mavs. Jackson-Young is just 6-foot-3, which really shows just how devoid of size this UT Arlington roster is. Against an Indiana team with talented post players like Juwan Morgan and De'Ron Davis, it could be a major problem.
TEMPO-FREE PREVIEW (national rankings in parenthesis)
The one area of mild concern for Indiana entering this game is Arlington's ability to get to the free throw line through its first couple of games. The Mavs are sitting at 23rd nationally in free throw rate, according to KenPom, and given Indiana's tendency to foul over the last two games, UT Arlington will look to be aggressive and get into the depleted Hoosier bench.
IU is sitting in the top 21 nationally in both offensive and defensive efficiency through four games, which is an impressive start for a team that has been undermanned for most of the season so far.
The Hoosiers need to do a better job of taking care of the ball as a team turnover percentage of 19.1 is a higher mark than Archie Miller would like.
WHAT IT COMES DOWN TO
Pomeroy projects a comfortable 21-point victory and the Sagarin ratings like Indiana by 23. The Vegas line opened with the Hoosiers as a 24-point favorite and has moved up to 26 as of Tuesday morning.
As one of just four remaining "guarantee" games on the schedule, Tuesday should afford Indiana an opportunity to use its bench more in the second half and get guys like Damezi Anderson, Jake Forrester and Clifton Moore some more experience.
The availability of Zach McRoberts and Devonte Green, according to Archie Miller's comments on Monday, is "day-to-day," so we may also learn more tonight about just how close both guys are to returning with a week remaining until the trip to Duke.
(Photo credit: Ellman Photography/UTA Athletics)
Filed to: UT Arlington Mavericks