Five takeaways from Indiana's loss at Arkansas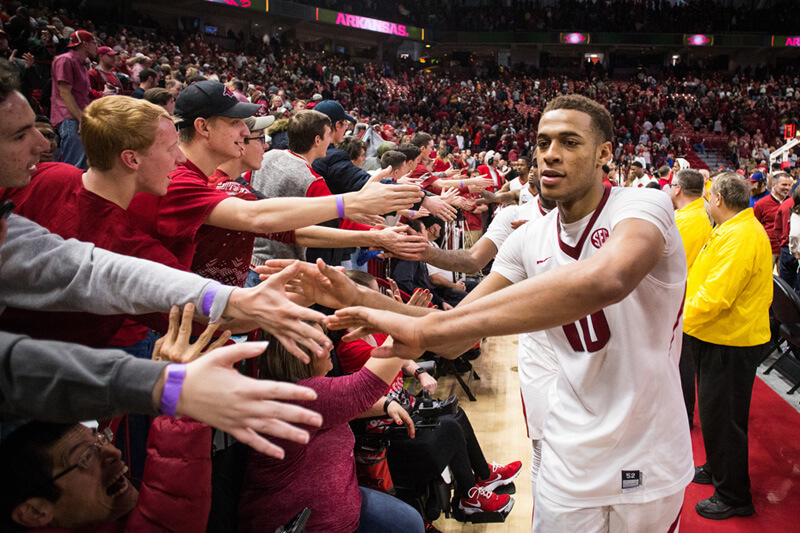 Indiana had its chances to win on Sunday afternoon at Bud Walton Arena, but the Hoosiers ultimately came up short in a 73-72 loss to Arkansas. The loss dropped the Hoosiers to 3-1.
Here's a look at five takeaways from the loss to the Razorbacks:
• Indiana had no answer for Daniel Gafford: In our preview for Sunday's game, one of the topics we discussed was how Indiana would approach guarding Daniel Gafford.
Unfortunately for the Hoosiers, early foul trouble on Juwan Morgan changed things quickly. IU's senior forward sat out for the majority of the first half with two fouls and had to be cautious for a majority of the second half to stay on the court.
As a result, Gafford controlled the game in the paint as Indiana had no answers for one of the nation's best frontcourt players. The Arkansas center scored 19 of his game-high 27 points in the second half and also grabbed 12 rebounds and had three blocked shots.
"To be honest with you, it's the first time we've seen that type of presence," Archie Miller said. "This will give us a little bit more information on what we need to do as we get ready to play more guys like him."
• Indiana had its chances down the stretch to win: Despite battling foul trouble all afternoon and trailing by as many as 10 points in the second half, Indiana still had a chance to win in a tough road environment.
After 3-pointers by Romeo Langford and Robert Phinisee kept the Hoosiers tied in the game's final minutes, the Hoosiers had the ball with the shot clock off and a chance to win or go to overtime.
But a Phinisee layup just missed and a De'Ron Davis tip-in attempt also came up just short that would have won the game. At that point, Indiana should have laid off and let the game to go overtime, but Davis committed a reach in foul to send Arkansas to the line. The Razorbacks hit one of two attempts to seal the victory.
"It was tough. We just were trying to get to the basket, that way we could try to get a shot up and have a weak-side rebounder," Morgan said. "It's tough to see a bunny like that, a put-back De'Ron would make nine times out of 10, to see that roll out, it hurts to see that."
• Langford shines (for the most part) in first road game: If you had questions as to how Romeo Langford would fare in his first college road game, the IU freshman showed why he was one of the nation's most coveted prospects on Sunday.
He didn't have his best shooting game from the field (6-of-15), but Langford scored a team-high 22 points and added 10 rebounds and five assists in the narrow loss.
Langford his a pair of 3-pointers in the game's final minutes to keep Indiana in the game and also hit eight of his nine free throw attempts.
Turnovers were an issue for Langford – he committed four – but the performance should give him confidence as the Hoosiers go on the road two more times in the next month.
• The Arkansas pressure bothered Indiana: Whether it was fatigue or just young players being sloppy with the ball in a hostile environment, the Arkansas pressure was a problem for Indiana in Sunday's loss.
The Hoosiers turned it over 18 times for a turnover percentage of 24 as five different Hoosiers committed two or more turnovers. Those 18 mishaps turned into 14 points for the Razorbacks, who missed several easy layups and failed to capitalize on several of IU's mistakes.
"We just have to be better with the ball, Morgan said. "Once we did run our stuff, we always got good looks. We got to the basket and we got open shots, but I think we were too erratic, really just playing out of control, not playing like we have been."
• This game should help Indiana grow: This loss stung IU in real time as two point blank misses and a foul turned a situation that should have been a win or overtime into a loss, but the Hoosiers should be able to grow from this experience.
Not many high major teams teams are going to voluntarily play a true road game in a tough environment in mid-November.
For a young team with plenty to learn, this experience should help Indiana once conference play gets into full swing.
"I feel like having this one under our belt really helps," Durham said postgame. "Getting the experience, coming in here, playing in (front) of this crowd, that was very into the game. Having one of these under our belt is really helpful for us I think."
(Photo credit: Arkansas Athletics)
Filed to: Arkansas Razorbacks