News and notes from Archie Miller's radio show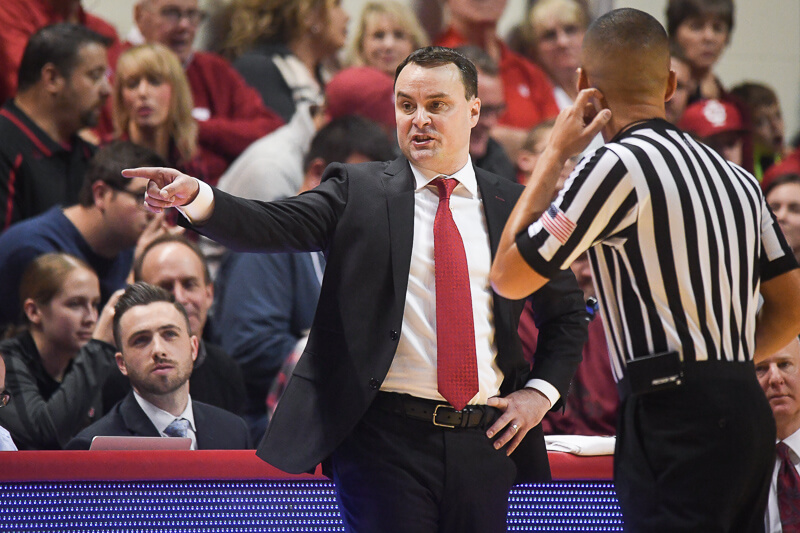 After a 2-0 start, Indiana faces two tougher non-conference games this week when Marquette visits Simon Skjodt Assembly Hall on Wednesday and when the Hoosiers face Arkansas in Fayetteville, Arkansas on Sunday.
Archie Miller's third Inside IU Basketball radio appearance with Don Fischer came on Monday night. Here are some news and notes from the interview.
• Miller was pleased with the way IU attacked Chicago State's zone and didn't just settle for 3s, but said it was a "lackluster" defensive performance. He added that the defense was much improved against Montana State.
• Miller said Montana State's offense is similar to offenses they may see later in the year. They keyed in on Montana State's guards.
• Miller is pleased with the way the Hoosiers have been passing the ball so far.
• He said a key against Marquette is not letting them get out in transition.
• Miller thinks they will improve on their 3-point shooting. He said that the quality of 3-point shots IU has taken has been good for the most part, and that those shots will start falling more consistently.
• He said free-throw shooting can be contagious. He said it's concerning, but he thinks they'll improve there as well.
• He said defense against Montana State was improved both on and off the ball.
• Devonte Green dealing with a thigh contusion. Zach McRoberts is dealing with a lower back strain. Both are hit or miss in terms of availability.
• Race Thompson suffered an injury in practice on Sunday in a collision. He may miss time with concussion symptoms.
• Jerome Hunter is out indefinitely with a leg condition.
• Miller said that with the injuries they're dealing with, the games against Marquette and Arkansas will be good tests for the younger guys.
• Miller thinks Marquette will contend to win the Big East. He called Markus Howard "one of college basketball's premier scoring guards," while adding that he does more for the Golden Eagles besides score.
• He said Marquette is a good shooting team, they're good in transition, and they'll overall be one of IU's toughest defensive assignments this year.
• Miller noted that he played against Marquette coach Steve Wojciechowski when Miller was a freshman at N.C. State and Wojciechowski was a senior at Duke. He said Wojciechowski was an energetic player and he coaches Marquette with the same energy level.
• Miller said rankings don't matter to him.
• Archie Miller mentioned the new awards they give out after every game, and said Juwan Morgan won three or four of them from the Montana State game, including defensive player of the game, rebounder of the game and "Golden IU" player of the game.
• He said this may be his longest team in terms of wingspan.
• Miller praised the chemistry Marquette plays with and said this is the first time Wojciechowski has really had upperclassmen in his system.
• Miller said IU is putting a lot of attention into attacking Marquette's man-to-man defense and noted that it'll be tougher after facing two zones in Chicago State and Montana State.
• Miller said he watched film with his father and learned how to study opponents from his father.
• Miller was critical of the new rule in college basketball which gives a flagrant foul to a player who hooks an opponent's arm under the basket. He said "it's a terrible rule." He thinks it will slow down the game when officials have to go to the monitor to check if the hook was intentional and to verify who did it, and that it should just be a common foul.
• Miller said Damezi Anderson has come a long way with his defense since arriving in Bloomington.
• Miller praised Arkansas head coach Mike Anderson and called Arkansas a "traditional SEC power."
• He said the Arkansas game will be a great early road test for the Hoosiers, and the return game of the series next year brings a quality opponent to Bloomington.
• Miller said the strongest player on the team is Juwan Morgan, and that Rob Phinisee is up there in terms of pound-for-pound strength as well.
• Miller said Justin Smith has improved his finishing ability inside.
• Miller said Evan Fitzner has fit in well with his size and his craftiness.
• Miller said a key to defending Markus Howard is to make him a passer. He said it's tough to stop him from shooting as he's able to hit shots even with defenders guarding him.
Filed to: Archie Miller