Five takeaways from Indiana's win over Montana State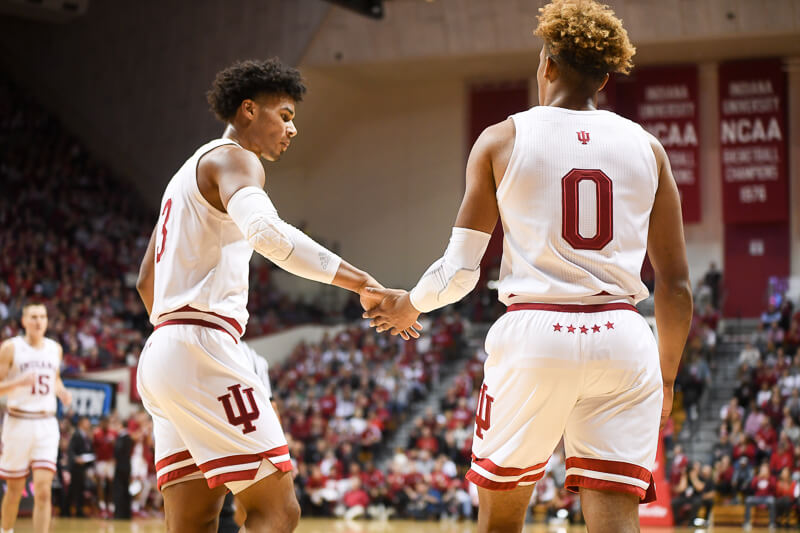 Indiana improved to 2-0 on Friday night with an 80-35 trouncing of Montana State. The 35 points scored by the Bobcats were the second lowest ever for an opponent in Simon Skjodt Assembly Hall.
Here's a look at five takeaways from Indiana's 45-point victory:
• Improved effort on defense: It was apparent when listening to his postgame comments after the Chicago State that Archie Miller wasn't pleased with Indiana's defense.
Friday night's performance was an improvement as the Hoosiers held the Bobcats to .49 points per possession and an effective field goal percentage of 28.2
Indiana still has a long way to go and Montana State had its fair share of open looks that it missed, but after being carved up in last season's opener, the Hoosiers are in a much better place defensively to begin year two of the Miller era.
"You can see when the activity level is good and there is defense-to-offense, we can strike quick," Miller said postgame. "That's something I think that we have to just continue to take a lot of pride in, building our halfcourt defense."
• Morgan gets involved early: Juwan Morgan's season debut against Chicago State was underwhelming, but the senior forward bounced back in a major way on Friday night.
Morgan scored all 14 of his points in the first half and shot a perfect 6-of-6 from the floor. As the Hoosiers continue to struggle with perimeter shooting, feeding Morgan should continue to be a focal point of the offense.
"Part of it is him wanting the ball, demanding the ball and us making sure that we understand, getting the ball to him, and he did his job tonight in terms of the want," Miller said. "He wanted it. When he caught it, he was very, very focused and he had a good approach the last two days, and it was good to see him pretty much dominate the paint tonight."
• Indiana's perimeter shooting is a concern through two games: After last season's struggles from behind the 3-point line, it was assumed that Indiana would be a better perimeter shooting team this season.
That prognostication could still come to fruition, but the results through two games aren't promising.
After a 7-of-21 shooting performance from deep in the opener against Chicago State, Indiana went 6-of-21 from distance against Montana State.
With the competition level picking up this week, the Hoosiers need to find their perimeter touch soon.
• Free throw shooting woes also continue: In addition to the perimeter struggles, Indiana is also struggling from the free throw line to start the season.
Indiana was just 10-of-19 from the free throw line against Montana State and is now 55.8 percent for the season through two games. According to Ken Pomeroy, that's 293rd in the country.
And in a close game, it's a problem that could hurt the Hoosiers.
• Smith looks far more confident as a sophomore: Justin Smith has been a bright spot in Indiana's 2-0 start.
Touted as a prime candidate for a breakout season during the summer, Smith is delivering thus far.
In two games, Smith is shooting 66.7 percent from the field and is averaging 13 points per game. He's also averaging 3.5 rebounds and two steals.
"Last year, he was a true freshman just trying to figure out how to play a college basketball game," Miller said. "I mean, he's got a wealth of experience after the year. He's had an off-season to continue to change physically, and he's a much tougher player on both ends of the floor. But he's a much tougher player on offense right now. He's more confident in terms of his finishing and his ability to get to the basket, especially in transition. But defensively he's a lot better than he ever has been and so he's definitely an improved part of our team."
Filed to: Justin Smith, Juwan Morgan, Montana State Bobcats