News and notes from Archie Miller's radio show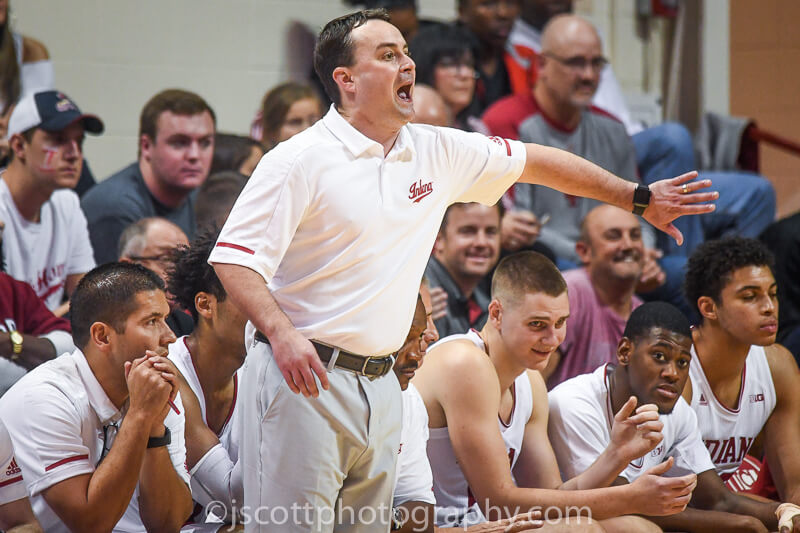 The 2018-19 college basketball season tips off on Tuesday night and Indiana will be in action as the Hoosiers host Chicago State at Simon Skjodt Assembly Hall.
Archie Miller gave his second weekly Inside IU Basketball radio interview of the year with Don Fischer on Monday night at the Holiday Inn in Bloomington. Here are news and notes from Miller's appearance:
• Miller said that early in the exhibition game against Southern Indiana, "defense to offense" was the best thing the team had going. Miller said that Indiana didn't do a good job in the first half of taking its time and finding proper spacing. "The things that we work on everyday, sometimes it's hard for those guys to put it into motion."
• In the second half of the USI exhibition, Miller said Indiana was much better offensively, but added that his team's transition defense and ball screen coverages were a problem.
• Miller said things aren't going to be pretty early in the season, so the team has to rely on the little things to win games. "At the end of the day for this team, we've got to get back in transition and limit easy baskets, easy 3s. We've got to rebound the ball like crazy, especially on the defensive side of the ball. And then on offense, try to execute and don't turn it over."
• On Rob Phinisee: "Robert was really, really solid again in the exhibition by playing a lot of minutes. He was able to not only run the team, but I thought he made some really good plays for others. He was strong with the ball, which is huge for him. I think Rob's goal, depending on how many minutes he gets, his goal should be obviously assist-to-turnover ratio … tops in the country, tops in the Big Ten. Just keep it simple. And the way that he plays, he has that type of game that's not high risk, but he's efficient."
• On the challenges of scouting for early season games: "Early in the season, it's tough. You get very limited access on what you're able to do and especially if there's a coaching change or there's new personnel, you're really going in blind. And that's when, when everything goes haywire, you better be good at what you do. Because you can't control the other things that go on in the game."
• Miller again emphasized the importance of transition defense and getting back and said that his team was "crushed" in some of those situations early last season. "We're not very good in transition right now and it's a big concern."
• On the team's health: "I think we were going strong there, I would say for a good three weeks where we were really starting to improve. We had a competitive environment in there, a lot of guys in and out and then slowly but surely the injury bug sort of caught up with us a little bit. And unfortunately it's happened in these two exhibition games where we haven't had all of our troops so we really haven't been able to work the lineups how we've wanted to work them. I think in time our health is going to get better."
• Devonte Green was "full go" in Monday's practice and will play in Tuesday's season opener against Chicago State.
• From a defensive perspective, Miller said Indiana is "long and rangy" and also possesses quickness. "In time, as we get better and better defensively, we should be a tough team to score on."
• On the importance of this team's athleticism: "It's really important for this team because we want to play more guys. And we want to play at a tempo where you constantly have a push coming back at their defense. And from our standpoint, if you want to play as hard as you can possibly play, you're not playing guys 35 minutes a game. You're playing nine, ten, eleven guys and you've got hard playing guys coming in all the time. There's no let up. The best teams have no let up when they sub. It just keeps coming and coming and coming."
• On the progress of De'Ron Davis: "De'Ron was probably the best he's been today in terms of how he feels. Again, he's fully released, everything is good. It's just a battle of conditioning." Davis is expected to play the most minutes he's played to-date this season (he played in both exhibitions) on Tuesday.
• Miller said Indiana has to be a better free throw shooting team because the Hoosiers "aspire to get to the line a ton" this season.
• On Chicago State: "They're sort of almost starting over. They played multiple Big Ten teams last season. We chose them as our opener. We were able to get a hold of them pretty quick and the key is for us to get off to a great start tomorrow and win the game the right way."
• On Montana State: "They're coming in with a philosophy that is very similar to Oregon. A former staff member at Oregon, he's brought that Dana Altman style of play which we'll see later in the year when we play Illinois." Miller says he expects Montana State to play matchup zone, which can be confusing for young players.
• Miller said that with the team's injury issues, it's unlikely that anyone will be redshirted this season. He added that he would like to see college basketball go to football's rules where someone can play limited minutes early in the year and then redshirt.
• Miller said that Justin Smith is "much stronger" and in "much better physical condition" than he was as a freshman. Miller also said that Smith spent a lot of time on his perimeter shot in the offseason and added that he's much better at attacking the basket. "He isn't falling away or sort of falling back away from people."
• Miller said he "could see it being on the table" for the Big Ten to open the regular season with conference games. The ACC is already considering opening up with conference play.
• When asked about what sports he played growing up, Miller said the only organized sport he played was basketball.
• Miller says that Rob Phinisee and Devonte Green will play together this season.
• According to Miller, Evan Fitzner might be Indiana's best free throw shooter based on percentages in practice.
• Miller said he goes on feel when deciding substitutions. He also cites fouling and taking care of the ball as two things he also looks at closely.
Filed to: Archie Miller