What to watch for: Southern Indiana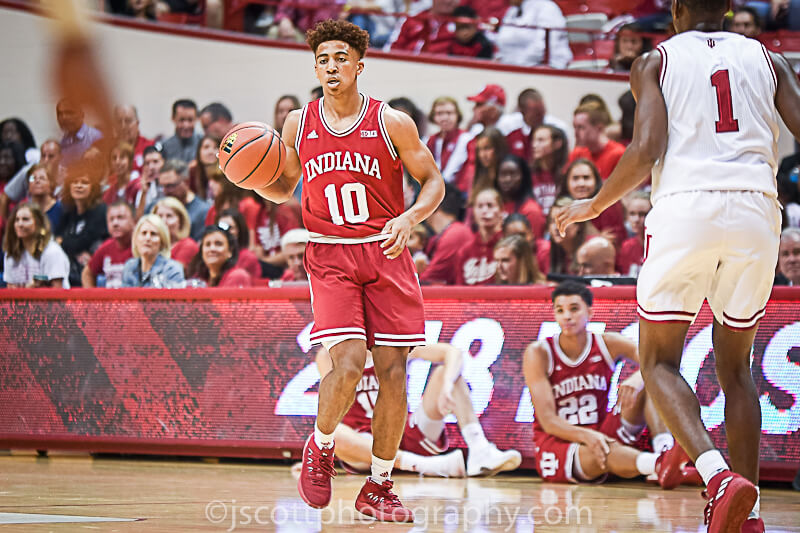 Indiana tips off the exhibition portion of its schedule on Thursday night as the Hoosiers host Division II Southern Indiana at Simon Skjodt Assembly Hall.
In lieu of our traditional "what to expect" game previews that we'll have for each contest during the regular season, here's our look at "what to watch for" on Thursday night:
• Who starts? Archie Miller stated in his Wednesday press conference that the Hoosiers will be without Devonte Green and Race Thompson on Thursday and also suggested that others could be held out.
Even with Green being unable to go, there will still be strong interest in IU's starting lineup in its first public game of the season.
Based on the stats released from the Loyola-Chicago exhibition, it would appear that the Hoosiers went with Robert Phinisee, Romeo Langford, Justin Smith, Zach McRoberts and Juwan Morgan against the Ramblers in the 70-48 victory.
Will that be the lineup on Thursday?
In a game where the result matters very little, the starting lineup will tell us who has earned the opportunity based on the first few weeks of practice.
• Romeo's Indiana debut: Romeo Langford drew the loudest response from the fans at last month's Hoosier Hysteria, but Thursday marks the first time the New Albany product will officially suit up for the Hoosiers.
Don't expect Langford to get caught up in the moment. After playing in sold out gyms across the state throughout his storied prep career, Langford embraces playing under the bright lights.
"He's probably been as highly publicized, or at least as watched and as hyped from a ninth or tenth grader as there probably has been a guy," Miller said on Wednesday. "So I think just in terms of in his experience, he's used to a lot of eyes on him. He's used to media attention. He's used to, so to speak, hype."
• How deep will Indiana go into the bench? The Hoosiers don't have many guarantee type of games before the schedule gets tough in November, which means there isn't a lot of time to tinker with different lineups.
However, with a few guys (or more, potentially) unavailable against Southern Indiana, Miller said some "odd combinations" may be utilized.
While we've been given some strong inclinations on the guys who could be in the rotation to begin the season, where do players like Jake Forrester, Clifton Moore and Damezi Anderson stand? Those answers will begin to emerge on Thursday night.
• The return of De'Ron Davis: After logging about 10 minutes in the closed exhibition against Loyola-Chicago, it appears De'Ron Davis is ready to take another step forward this week.
Miller said Wednesday that Davis could play "12 to 15" minutes against the Screaming Eagles as he continues to progress on his comeback journey from last season's Achilles injury.
"He's actually going to have to play himself — practice himself and play himself into shape the best he can through games, which is hard to do," Miller explained. "But the hope would be as a couple months would go by, he'd get more and more equipped to handle a bigger load with no setbacks."
• How will the Hoosiers shoot from the perimeter? It's no secret that Indiana was a poor perimeter shooting team in Miller's first season.
The Hoosiers ranked 302nd nationally in 3-point shooting (32.2) and shot just 34.3 percent in conference play (tenth in the league) last season.
Given that improved shooting is pivotal to Indiana reaching its potential this season, Miller admitted that continuing to progress there is "on our minds right now."
"It's something that's going to be evolving," Miller said. "We've got to take good shots, I think No. 1, and if you do that, we have a chance, but we've got to be a better shooting team than we were a year ago."
One thing to watch for on Thursday? The quality of shots Indiana is getting. The Hoosiers aren't likely to be a high volume 3-point shooting team, so it's imperative that the looks they do take are within the flow of the offense.
Filed to: Southern Indiana Screaming Eagles