News and notes from Archie Miller's radio show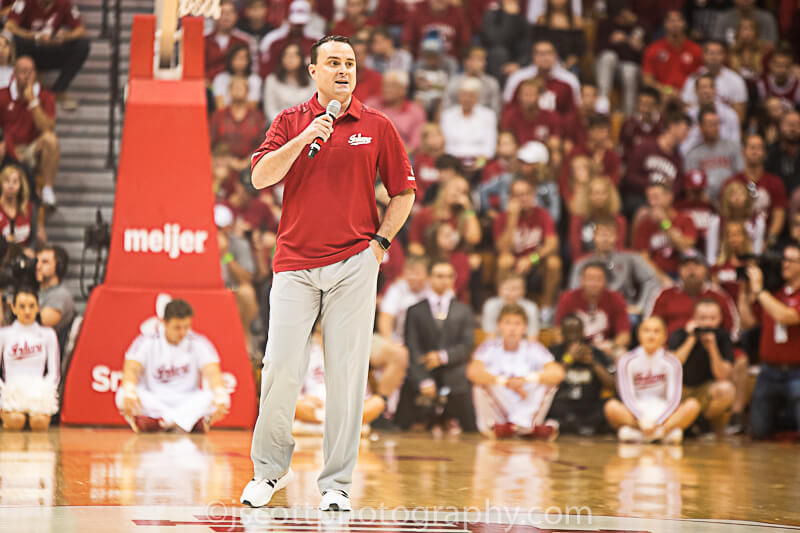 Indiana begins its season (kind of) this Thursday, putting an end to a long, anticipatory offseason.
Archie Miller gave his first weekly Inside IU Basketball radio interview of the year with Don Fischer Monday night, touching on what he's seen from his squad this summer, expectations for the season, and much more. Here are news and notes from Miller's appearance:
On Indiana's scrimmage against Loyola Chicago: "We got our money's worth. We had to guard an extremely skilled team that ran really good stuff and spaced the floor. They really challenged our on-the-ball defense. They really challenged our ball-screen defense. And just in general, our ability to have to play really hard because you're dealing with a lot of shooting.
"They did things we never saw before. So to be able to watch our guys kind of play through it, it was good. But I was really pleased with… our effort level defensively. I thought guys were dialed in, even a couple of our younger guys that played a lot of minutes due to some injuries that we had, held their own. I thought that the returners that were playing in the games last year that mattered most really showed that they know what they're doing. We held a good offensive team to a really poor day… They scored 48 on us and they were well below their [shooting] averages, so we did something right.
"Offensively, we're not there yet. We have a lot of different guys in there that are first time players or playing with guys a certain way, and you could tell that we weren't as fluid as we want to be. You could tell that we have a long way to go in terms of chemistry."
Indiana had 11 steals against the Ramblers, and Miller said that Indiana's athleticism stood out compared to Loyola's, particularly at the rim, in transition, and on the glass. "We were the bigger and more athletic team," he said.
IU's halfcourt offense, however, did not look as fluid as Miller would like, and will be a point of emphasis heading into the season. Devonte Green and Race Thompson did not play in the scrimmage due to minor but nagging injuries.
On the team's offseason training program: "Our returning guys were right back into the cycle," Miller said. "You have to get into a second year to get your returning guys into another cycle in that weight room, and that's when you really start to show some of the dividends athletically, physically, changing for the good, and if you look at our returners and their games as they went through a full year and a full offseason, those guys are drastically different players because physically, they're stronger. Even our older guys – a guy like Juwan (Morgan) – is as strong and as explosive as he's ever been."
"Our freshman class came in, genetically pretty good," Miller said. "They have great frames on them, and they've all put on a significant amount of weight since they've been here."
On the leadership of Juwan Morgan & Zach McRoberts: "They've really earned it… Last year I think those guys really resonated with their teammates with the things they did on a daily basis and it carried over to the court. For them to have an offseason where they were very, very consistent. They were there every day, and you could kind of get a feel very early on that those two guys were going to be the most trusted amongst the ranks… I think when you take the pulse of the team, they always know, and I think that those guys in general had the most popular vote on the team."
On the team's depth: "We have a lot of guys that can play in the games. The guys that are getting it done in practice," Miller said, "are going to get a fair crack at getting in there."
Miller noted that part of being on a good team is sacrifice, and that the team's depth can help push individual players to get better in practice.
"I hope we're a great practice team," Miller said. "I hope our team really embraces the practice sessions because there's so much competition, there's so much room to get better, that over the course of time if they stay with it, depending on injuries or foul trouble, there's going to be opportunities for guys to jump in there and grab hold of an impact moment and they won't be ready unless they do it, and to do it they have to really be getting after it every single day with the ability to put pressure on each other."
On Tuesday's open practice: Indiana will hold an open practice for students Tuesday afternoon in attempt to stir student enthusiasm leading into the season and build a strong homecourt advantage in Simon Skjodt Assembly Hall throughout the year.
"Homecourt advantage really comes down to the students," Miller said. "When you're students are engaged, it changes the whole dynamic of gameday."
The practice will include introductions from the players, an address from Miller, and a taste of what the team does every day in preparation for a new season. Miller also teased the possibility of having a second open practice later in the season.
Quick hitters:
• Miller feels the athleticism on this year's team can be one of its greatest strengths due to its ability to fly around the court and push the tempo. He says they already have a certain quickness, toughness, speed on defense, but have to play the same way on offense. "The shot making and floor spacing has to be there," Miller said.
• Miller also said he's had fun experimenting with different lineups given the versatility across IU's roster. "I think it's a team that can play a lot of different ways."
• Indiana's 3-point shooting should improve this season (it could hardly get worse), but Miller says the team is better build to attack the basket and earn trips to the free-throw line than fire away from beyond the arc. "This year's team doesn't aspire to shoot a ton of threes," Miller said.
• Miller confirmed that De'Ron Davis was given full clearance to play five-on-five last week and played 10 minutes in the scrimmage against Loyola. Davis's Achilles hasn't been bothering him, but his body is still sore from the lack of activity over the last nine months. The coaching staff is trying to limit is stretches to around two minutes at a time until he gets his wind back. Davis, when healthy, should add an important interior element Indiana otherwise lacks.
• Miller praised the teams and coaches across the Big Ten, commenting on the league's depth last season and potential for improvement. "I just see every game being very difficult," Miller said. "We just need everybody in the Big Ten to win until we get to Big Ten play."
• IU's point guard rotation will be deep, and Miller hinted that Rob Phinisee may be ready to play a role early on in his career, mentioning the freshman's physical strength, intelligence, and competitiveness as his defining traits. "Very rarely does a freshman come in as sturdy at his position," Miller said. "Although he's a quiet guy, he has yet to show any one that he has any backdown in him."
Filed to: Archie Miller