Big Ten media day notebook: With practice underway, competition level high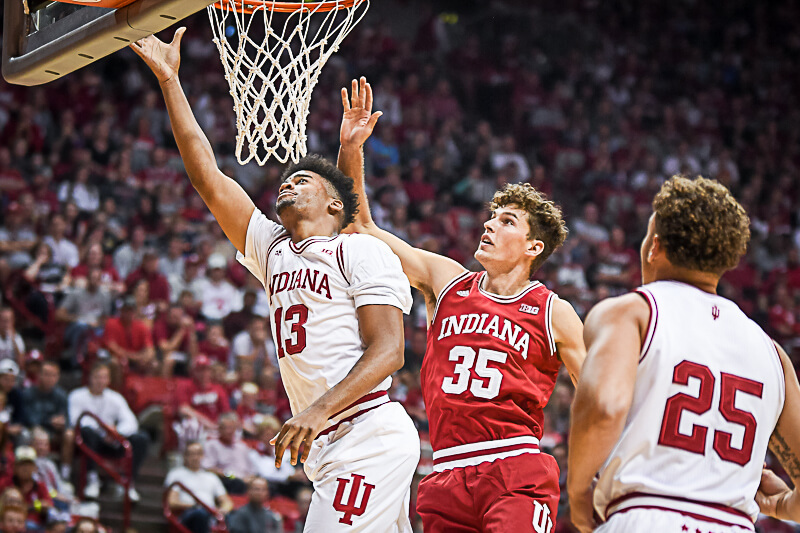 ROSEMONT, Ill. – With practice officially underway for the 2018-2019 season, this year's returning Hoosiers are more comfortable in Archie Miller's system — and the competition level is high.
"All the guys are really getting after each other, there's no slacking off," senior Juwan Morgan said. "Last year there was times you knew which team was going to win that day at practice. This year, it's real competitive. It's pretty much back and forth every time between red and white."
According to Morgan, this daily battle has also extended to an individual position between point guards Devonte Green and Robert Phinisee.
"That's probably one of the best battles in practice, watching them go against each other," Morgan said. " … They give each other fits. I think it's a good thing."
When Miller was asked which player came in second to Morgan last week in the gold jersey competition, he mentioned Green as a player right in the hunt behind his senior captain.
"Once I handed out that jersey, it's been a little different this week," Miller added. "There's some guys that want to take that thing off him. That's good, that's why we do it."
An evolving non-conference schedule
While the odds favor a return to the NCAA tournament for Indiana this season, the program's non-conference schedule — including its guarantee games — have an eye towards the NCAA selection committee's tiered wins system.
"You got to have a strong non-conference schedule and you got to understand this tiering system and where you want to be," Miller said. "For us, we got at Duke, at Arkansas, Butler in Indy, you bring in Louisville at home — those are all high-level games. But our other games are really tricky too. UC-Davis is really good. UT-Arlington's been very good. You hope that the numbers at the end of the season of those opponents are sort of the trick, that you played a really competitive schedule."
When asked about any future potential of a non-conference series between Arizona or UCLA, Miller said the 20-game Big Ten schedule and current non-conference contracts are a prohibitive factor.
"I don't see that happening as much now that 20 games popped into the picture," Miller said. "That took two opportunities from us to schedule games of a home and away nature … Where we're at right now is we're trying to deal with the current contracts … there's very little wiggle room to keep sliding them in. That's sort of out the window here."
Morgan's consistency, Fitzner's impact
Morgan was a double-double machine in his breakout junior campaign a season ago. And according to Miller, that sort of consistency continues to reveal itself early in his senior year.
When asked about what's surprised him so far this season, Miller went right to his co-captain.
"I would say Juwan's really stood out as being dominant," Miller said. "He's got to stay with what he's doing right now in practice. He really hasn't changed who he was as a guy who came last year every day … It shows in practice how advanced he is in terms of how to play the game. That's been one thing that's been really impressive to see at the start."
In terms of what else senior Evan Fitzner might bring to the table beyond his shooting, Miller said matchups may dictate additional offensive contributions.
"Depending on matchups, he's very skilled around the basket," Miller said. "He's 6-10. I don't think obviously you're going to throw him the ball consistently in and around the basket, but he's a little better than you think he is. The other thing is IQ. He has a feel. He knows how to play the game. He's not one-dimensional."
Filed to: Archie Miller, Big Ten Media Day, Devonte Green, Evan Fitzner, Juwan Morgan, Robert Phinisee