Additional tip times announced, 2018-2019 schedule complete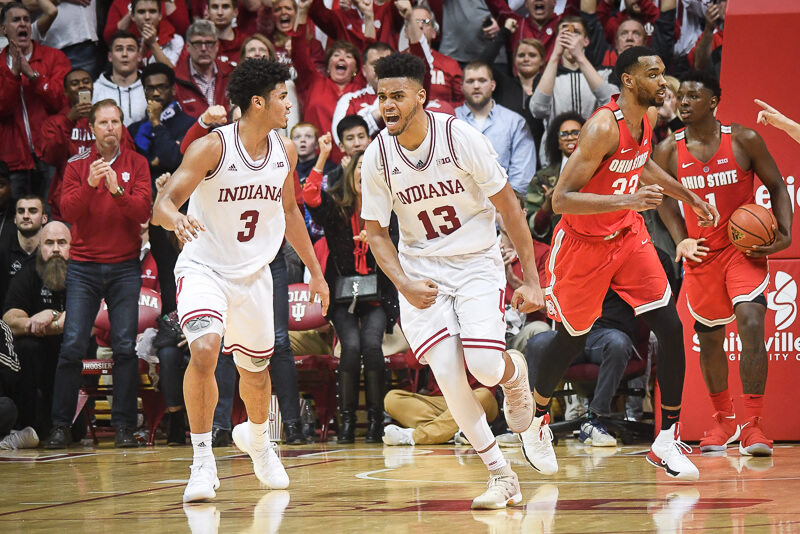 Two tip times and TV designations were announced on Thursday to complete Indiana's 2018-2019 men's basketball schedule.
In a joint announcement between the Big East and the Big Ten, tipoff times and television designations were announced for the 2018 Gavitt Tipoff Games.
The Gavitt Games is an annual eight-game series between the Big East and the Big Ten that is scheduled to take place through 2022.
Indiana is hosting Marquette in this year's Gavitt Games at Simon Skjodt Assembly Hall. Tipoff will take place at 8:30 p.m. ET and the game will be broadcast on FS1.
Here are the tip-off times and TV designations for the seven other Gavitt Games matchups:
Tuesday, Nov. 13
Wisconsin at Xavier: FS1, 6:30 p.m.
Georgetown at Illinois: FS1, 8:30 p.m.
Wednesday, Nov. 14
Michigan at Villanova: FS1, 6:30 p.m.
Seton Hall at Nebraska: BTN, 7:30 p.m.
Thursday, Nov. 15
Ohio State at Creighton: FS1, 7 p.m.
Penn State at DePaul: FS1, 9 p.m.
Friday, Nov. 16
St. John's at Rutgers: BTN, 7 p.m.
This will be Indiana's third appearance in the Gavitt Tipoff Games. Indiana beat Creighton at home in 2015 and lost at Seton Hall in 2017.
In addition to the Gavitt Games announcement, ESPN's Media Zone site updated its schedule to include Indiana's Nov. 18 game at Arkansas.
According to the ESPN Media Zone schedule, the Hoosiers will tip-off in Fayetteville at 3:30 p.m. and the game will be broadcast on ESPN. That contest is part of a four-game exempt tournament organized by Arkansas called the Hardwood Showcase. As part of Indiana's agreement to play this season in Fayetteville, the Hoosiers will get a return game next season in Bloomington.
Indiana's home game on Jan. 3 against Illinois, which had been listed as a 6:30 p.m. or 7 p.m. ET tip on the original schedule release, has officially been set for 7 p.m.
We will continue to track schedule updates on our schedule page as the season grows closer, but all TV designations and tentative tip times have now been set.
Filed to: 2018-2019 schedule