Q & A: Armaan Franklin goes in-depth on Indiana commitment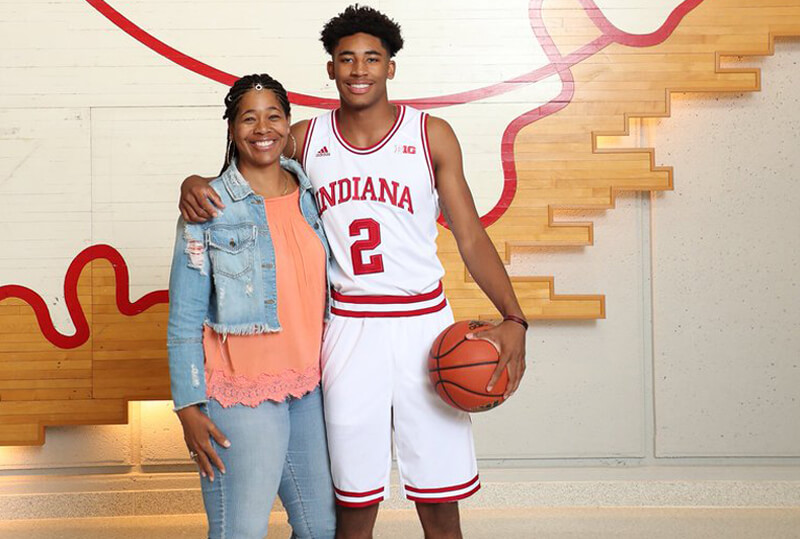 Indiana landed its first commitment for the class of 2019 recruiting cycle on Thursday when four-star Cathedral guard Armaan Franklin announced his pledge to the Hoosiers.
On Sunday afternoon, Inside the Hall had the opportunity for an in-depth conversation with Franklin to get his thoughts on his decision, the recruiting process, Archie Miller and much more. A complete transcript of our conversation is available below:
Inside the Hall: After taking the two official visits (to Indiana and Purdue), when did you know that Indiana was the school you wanted to choose?
Armaan Franklin: It really hit me when I woke up on that Thursday that I committed. I had written down pros and cons and put them up on my wall and when I woke up that morning, I was like 'alright, that's the place I want to be.' That was pretty much when.
ITH: Did you struggle with the decision at all? Was it pretty close between the two schools?
AF: I definitely struggled with the decision just because I had built some great relationships with great people on both sides. It was kind of hard for me to decipher and choose where I wanted to go.
ITH: When you listed the pros for Indiana, what did you have?
AF: It was just how they were headed in the right direction. I like how Archie (Miller) is a real guard oriented coach. I like the way he recruited last year getting a lot of in-state guys. And then the stage that IU is on. It's a big stage. It's very hard to play at IU. So I think it's going to be a big challenge for me.
ITH: You mentioned the recruiting class in 2018. When you were watching that from afar and you see Damezi (Anderson) commit, you see Robert (Phinisee) commit and then you see Romeo (Langford) commit, does that catch your eye and make you want to take a closer look at Indiana?
AF: Yeah, it definitely did. Damezi and I are childhood friends. We grew up together. Seeing him go there and talking to him about some things, it just really opened my eyes about IU.
ITH: With the recruiting process as a whole, was it something you enjoyed? Or were you ready for it to be over with?
AF: It was enjoyable just to know that you are wanted by some schools. As time went on and I cut my list down, it became more and more stressful just because there were so many things to think about and ultimately have to tell somebody no that you built a great relationship with.
ITH: What was your official visit to Indiana like? What did you see and what did you like about it?
AF: It was fun. I got to spend a lot of time with the players and I got to spend a lot of time with the coaches to build a stronger relationship than what we already had. I went out to eat with the players and the coaches. I went to coach Miller's house and had dinner there. I just got a good feel for everything. Just chilling with the team, it was a big thing for me. I got to see how they live and how they are viewed on campus and everything.
ITH: With Archie specifically and the relationship you built with him. He seems like a no nonsense kind of guy, pretty straight forward. How does his personality fit with you?
AF: It fits well with me. He's not the coach that has the warm and fuzzy feeling, but he's definitely somebody I can work with just knowing that my coach at high school is going to be hard on me and I think I'll just take it to another level with him. I got to spend a lot of time with him and his family and it was just all around good.
ITH: You've been described as a combo guard, do you feel confident that you'll be able to play both guard spots in college?
AF: I think that's a big step for me being able to play the one in college. Primarily, I'm a two right now, but I think at the next level, it will be a big transition for me being able to handle the ball more as a point guard.
ITH: Is that something this high school season you'll want to do more?
AF: It's just whatever my coach thinks is best for the team. I'm okay with both, being able to play off the ball and being able to handle the ball. It's just whatever my coach thinks is best to help us win.
ITH: When you're in the gym right now working out, what are the two or three things you're trying to hone in on with your improvement?
AF: It would definitely be ball handling, making quicker decisions and again, just expanding my range from a 3-point standpoint. Just expanding my range.
ITH: How important was the campus life and the academics at IU in your decision?
AF: It's a very fun and social campus. The academics are really good. The Kelley School of Business is really good. If I decide to go that route, it would be good because it's one of the top business schools in the country. I got to meet the academic advisor and we had a long talk about academics. My mom is definitely all about academics, so I think that was good for us.
ITH: It's been a few days now since you made your decision, do you feel like a weight has been lifted off of your shoulders? How have the last few days been?
AF: The last few days have been great. I've gotten a lot of congratulations from everybody. Parents, friends, everybody is excited for me. It definitely feels like a weight has been lifted off my shoulders. It feels like I've got the hard part done, but I know there's a lot more work to put in.
ITH: With Trayce (Jackson-Davis) and Keion (Brooks Jr.), Indiana is hard after both guys. What's your relationship with those guys? Will you reach out to them and talk to them about IU or just let them do their own thing?
AF: I reached out to them both the day I committed. We have a good relationship. Me and Trayce played together sixth through eighth grade. And then I've been playing against Keion since third grade. I think I have a great relationship with both of those guys.
Filed to: Armaan Franklin