6-Banner Sunday: New offers, updates on 2019 targets, and more social media excitement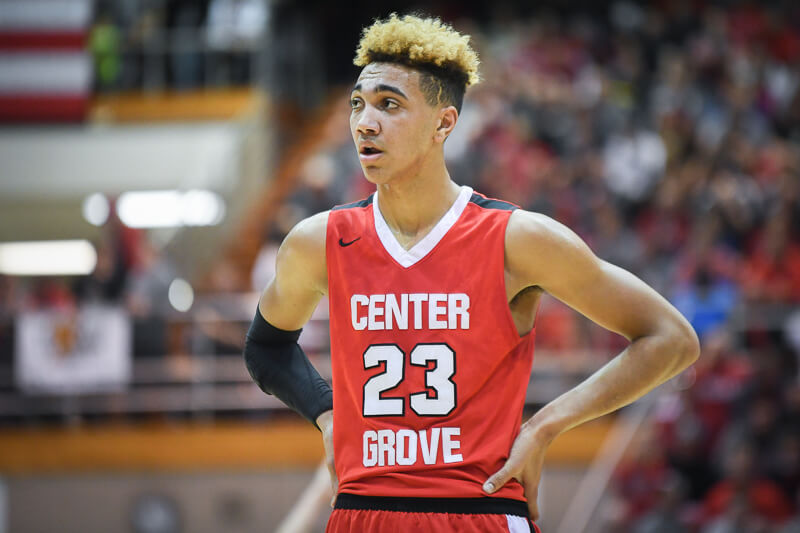 6-Banner Sunday is Inside the Hall's weekly newsletter in partnership with The Assembly Call. More than 5,800 Indiana fans receive the newsletter each week. In addition to appearing each week on the site, you can also opt to receive 6-Banner Sunday by email. A form to subscribe via email is available at the bottom of this week's 6-Banner Sunday.
Welcome to another edition of 6-Banner Sunday, a joint production between The Assembly Call and Inside the Hall where we highlight the six most essential IU basketball stories of the past week.
Even though we're now in the dog days of the offseason, we've still got plenty of content in the newest 6-Banner Saturday — including an update on the final July evaluation period, as well as another must-see video posted the IU men's basketball team on social media.
In this week's edition:
· Final July evaluation updates
· Hoosiers in the NBA
· POTB mailbag
· IUBB Vlog: Episode Three
· A new ending for basketball games?
· Mike Davis out to prove a point
Banner #1
Final July evaluation period updates
It's the last of three weekends of the July evaluation period, and the IU coaching staff has been traveling across the country scouting potential future Hoosiers.
Here's the latest updates, offers and more:
Players previously with IU offers
· Five-star 2019 big man Trayce-Jackson Davis updated his recruitment in an interview with WANE. He's looking to trim his list to seven sometime in August.
· Five-star 2019 forward Keion Brooks Jr. may not be returning to Fort Wayne North for his senior season. He is not playing AAU ball this weekend as he deals with tendinitis.
· Five-star 2019 forward Matthew Hurt is still keeping the Hoosiers near the top of his list as he nears a decision.
· The Indianapolis Star reports 2019 four-star combo guard Anthony Harris has been talking extensively with Archie Miller about what he'd look like at point guard for the Hoosiers. Harris is looking to visit IU soon, possibly during Hoosier Hysteria.
· Four-star 2019 forward Zeke Nnaji isn't just a talented basketball player, but a superb pianist as well. So IU having the renowned Jacobs School of Music certainly won't hurt, as the Indianapolis Star noted this week.
New offers
· 2019 PSA Cardinals four-star guard James Bouknight of New York
· 2020 four-star guard Nimari Burnett of Russell Westbrook's team Why Not. Burnett was named to the Peach Jam All-Underclassmen Team and plays high school ball for Prolific Prep in California.
· Elite 2021 wing Terrence Clark of Weston, Massachusetts. The soon-to-be high school sophomore already has tons of big offers, including Georgetown, UConn, Iowa and Syracuse.
Wyandotte Safety Solutions is your one-stop shop for safety training and safety products. WSS offers CPR & First Aid training, fall protection, and lift training. We also sell PPE, AEDs, and First Aid supplies.
We are an Indiana company serving Indiana and all of North America. Check out our website for more information: ptsarcflash.com.
Banner #2
Hoosiers in the NBA updates
Two former Hoosiers inked new NBA contracts this week as the heat of free agency began to cool down.
First, Noah Vonleh signed a deal with the New York Knicks. Reports suggest it is a partially-guaranteed one year deal. Vonleh is 22 years old and spent last season with the Portland Trail Blazers and the Chicago Bulls.
Later in the week, Troy Williams agreed to a contract with the New Orleans Pelicans. Williams was waived by the Knicks after Summer League. The one-year, $1.5 million deal is only partially guaranteed.
More Hoosiers in the NBA
· Yogi Ferrell led his basketball camp at his former Park Tudor stomping grounds and spoke to reporters about his decision to sign with Sacramento
· Both Victor Oladipo and Eric Gordon were at Team USA mini-camp this week in Las Vegas. According to Sports Illustrated, Oladipo is a strong contender to represent the USA in the 2020 Tokyo Olympics
Correction: In last week's newsletter, it was incorrectly stated that both years of Ferrell's contract are guaranteed. This week it was reported that only the first year is guaranteed.
Banner #3
Podcast on the Brink mailbag
This week's Podcast on the Brink was dedicated to answering the burning questions on the mind of fans as we head towards the back end of the offseason.
There was no shortage of questions that hosts Jerod Morris and Alex Bozich pondered on the episode. Topics included Hoosier Hysteria, what to expect from Romeo Langford, the greatest dunkers in school history, the latest on De'Ron Davis' injury rehab, and much more.
Per usual, Morris also co-hosted Assembly Call Radio this week alongside Ryan Phillips and Brian Tonsoni. The crew discussed what Archie Miller's three largest obstacles will be in his second season as head coach at IU. They also dissected the article Tonsoni wrote at Hoosiers United that broke down the characteristics of a good coaching staff.
Banner #4
IUBB Vlog: Episode Three
Throughout the offseason, the social media team at IU has been pumping out tremendous and engaging content.
This week was no different, as, among other things, the Hoosiers released the third episode of their popular video blog series. The series provides an inside look into the lives of the IU basketball squad, and this week the setting was picture day inside Simon Skjodt Assembly Call.
One newsworthy note is that you can see the jersey numbers of the newcomers in the video. If you can't make out the numbers or haven't watched the video yet, here they are: Romeo Langford – #0, Rob Phinisee – #10, Jake Forrester – #4, Damezi Anderson – #23, Jerome Hunter – #21, Evan Fitzner – #55.
In addition, the program published a video showcasing the team's work in the weight room. Watch until the end and you'll be rewarded with a replay of Justin Smith's incredible 48-inch vertical leap.
Banner #5
A new ending for basketball games?
The Basketball Tournament, an annual summer event where 64 teams compete in a single-elimination tournament for $2 million, has a surprise twist this year.
The event has introduced something called the "Elam Ending," which is an attempt to revolutionize the end of basketball games.
The concept is simple: at the first stoppage with under four minutes remaining, the game clock is turned off. Instead of playing until the final buzzer, you play to a target score –- which is the leading team's score plus seven.
It's a fascinating idea meant to get rid of end-of-game fouling and constant stoppages. A lot of people have found it a refreshing change of pace, but as Mike DeCourcy writes for Sporting News, it's unlikely we see it implemented in college anytime soon:
There is a winning shot in every game played with the Elam ending, and certainly there can be drama with chasing that winning number, but part of the magic of the buzzer-beater is the awareness that the clock is an opponent, too. Tyus Edney didn't just have to get through the entire Missouri defense in 1995; he had to do it in 4.8 seconds. The clock never becomes an extra opponent once the Elam ending kicks in. It disappears.

The biggest problem of all with adopting the Elam ending is that if it were introduced coaches eventually would figure out how to game it, just like Jimmy Valvano perfected the purposeful foul 35 years ago. And when that inevitably happened, what would be left?
Hoosiers in TBT
· Will Sheehey and Jordan Hulls, both playing for Armored Athlete, were eliminated on Saturday in the Super 16 round
Banner #6
Mike Davis out to prove a point
Former IU head coach Mike Davis admits he wasn't quite prepared for taking over for Bob Knight. As he admitted to Andy Katz this week, the stress and expectations in Bloomington wore down on him.
"That guy was unprepared for the position if he was to be honest with you. I'm glad I went through all of that. Now I know how to behave. By me going through those situations I understand a lot of things. I'm able to share my past with my team. I have experienced it."
Now, Davis is beginning his first year as the head coach at Detroit Mercy and is ready to try to turn the program around.
"I have never felt this excited going to work every day," said Davis, who said he has a seven-year contract at Detroit. "My goal is to get to the NCAA tournament as quick as possible. I love the challenge. When we win here, the whole community will be excited about it.'
Before you go:
· An updated look at who's coming and going in Big Ten basketball (ITH)
· What are the base salaries for the IU basketball assistant coaches? Mike Miller of The Herald-Times has your answer.
· IU's renovated South End Zone an exercise in excellence (Herald-Times)
And with that, the joy of hanging Banner #6 is now one week closer.
Thanks for your continued support for The Assembly Call and Inside the Hall. We'll be back next weekend with a new roundup.
Now go enjoy yourself a 6-banner Sunday. If you'd like to receive this newsletter in your inbox each Sunday, please enter your email address below:
Filed to: