An updated look at who is coming and going in the Big Ten next season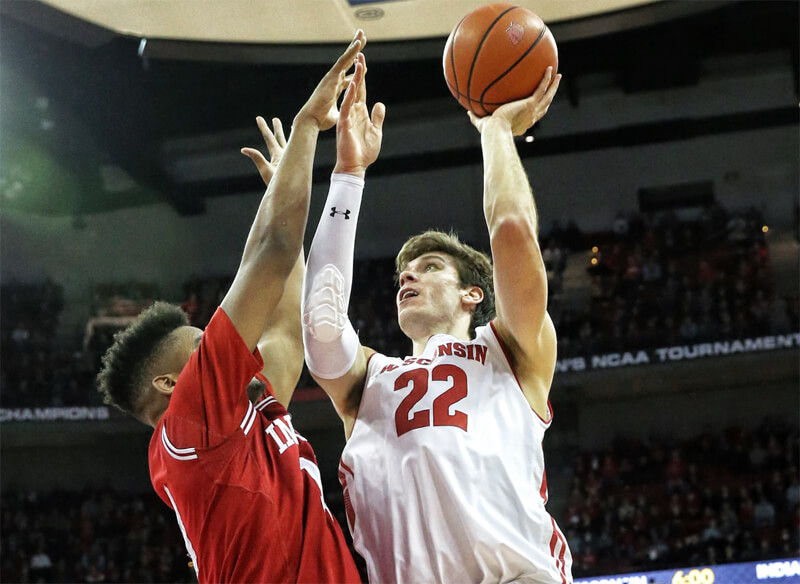 With the fall semester getting underway next month, it's time for an updated look at who is coming and going in the Big Ten for the 2018-2019 season.
(Editor's note: This is the third post in a series that will be updated multiple times in the coming months. In most instances, only scholarship players are included. If we missed anything, please email corrections to [email protected] or post in the comments.)
Illinois
· Returning: Trent Frazier, Kipper Nichols, Da'Monte Williams, Aaron Jordan
· Arriving: Ayo Dosunmu (247Composite top 100), Tevian Jones, Samba Kane, Alan Griffin, Giorgi Bezhanishvili, Andres Feliz, Adonis De La Rosa (graduate transfer from Kent State), Anthony Higgs.
· Departing: Michael Finke (graduate transfer), Mark Alstork, Mark Smith (transfer), Te'Jon Lucas (transfer), Leron Black (NBA draft), Greg Eboigbodin (transfer), Matic Vesel (returned to Slovenia)
Notes: Since our last update in May, the Illini dipped into the grad transfer market for De La Rosa, who averaged 11.8 points and 7.6 rebounds per game last season at Kent State. Illinois also added Higgs, a 3-star forward from Maryland.
Indiana
· Returning: Devonte Green, Zach McRoberts (walk-on), De'Ron Davis, Al Durham Jr., Race Thompson, Clifton Moore, Justin Smith, Juwan Morgan
· Arriving: Romeo Langford, (247Composite top 100), Jerome Hunter (247Composite top 100), Robert Phinisee, Damezi Anderson, Jake Forrester, Evan Fitzner (graduate transfer from St. Mary's)
· Departing: Robert Johnson, Josh Newkirk, Freddie McSwain, Tim Priller, Collin Hartman
Notes: The Hoosiers have their roster set for next season as Archie Miller has 13 scholarship players and walk-on Zach McRoberts. All 14 guys are expected to compete for minutes.
Iowa
· Returning: Maishe Dailey, Jack Nunge, Jordan Bohannon, Ryan Kriener, Connor McCaffery, Cordell Pemsl, Nicholas Baer, Luka Garza, Tyler Cook, Isaiah Moss
· Arriving: Joe Wieskamp (247Composite top 100), C.J. Fredrick
· Departing: Brady Ellingson (graduate transfer), Ahmad Wagner (pursuing football), Dom Uhl
Notes: The Hawkeyes still have one scholarship remaining for next season in what could prove to be a pivotal season in Fran McCaffery's tenure.
Maryland
· Returning: Ivan Bender, Anthony Cowan Jr., Darryl Morsell, Joshua Tomaic, Bruno Fernando
· Arriving: Jalen Smith (247Composite top 100), Aaron Wiggins (247Composite top 100), Eric Ayala (247Composite top 100), Serrel Smith, Schnider Herard (transfer from Mississippi State becomes eligible second semester), Trace Ramsey
· Departing: Michal Cekovsky, Jared Nickens, Sean Obi, Dion Wiley (graduate transfer), Justin Jackson (NBA draft), Kevin Huerter (NBA draft)
Notes: If you're buying Maryland going into the 2018-19, it is because of the strong nucleus returning (Cowan Jr. and Fernando) and the arrival of a recruiting class that some have ranked in the top 10 nationally.
Michigan
· Returning: Zavier Simpson, Eli Brooks, Isaiah Livers, Jon Teske, Austin Davis, Jordan Poole, Charles Matthews
· Arriving: Brandon Johns (247Composite top 100), Ignas Brazdeikis (247Composite top 100), David DeJulius, Colin Castleon, Adrien Nunez, Jaron Faulds (walk-on transfer from Columbia, must sit out)
· Departing: Muhammad-Ali Abdur-Rahkman, Ibi Watson (transfer), Duncan Robinson, Jaaron Simmons, Moritz Wagner (NBA draft)
Notes: Michigan will likely enter next season with just 12 scholarship players and without a senior on its roster. Since our last update, the Wolverines did add Jaron Faulds, a transfer from Columbia, to the roster. He will sit out next season and is a preferred walk-on.
Michigan State
· Returning: Joshua Langford, Matt McQuaid, Cassius Winston, Xavier Tillman, Kyle Ahrens, Kenny Goins, Nick Ward
· Arriving: Marcus Bingham Jr. (247Composite top 100), Foster Loyer (247Composite top 100), Gabe Brown (247Composite top 100), Aaron Henry, Thomas Kithier
· Departing: Gavin Schilling, Ben Carter, Lourawls Nairn, Miles Bridges (NBA draft), Jaren Jackson Jr. (NBA draft)
Notes: The current pick by many to sit atop next season's Big Ten standings, the Spartans return a formidable nucleus led by Langford, Winston and Ward.
Minnesota
· Returning: Amir Coffey, Eric Curry, Jordan Murphy, Dupree McBrayer, Isaiah Washington, Michael Hurt
· Arriving: Daniel Oturu (247Composite top 100), Jarvis Omersa, Gabe Kalscheur, Brock Stull (graduate transfer from Milwaukee), Marcus Carr (transfer from Pittsburgh, must sit out), Payton Willis (transfer from Vanderbilt, must sit out)
· Departing: Reggie Lynch, Nate Mason, Gaston Diedhiou, Bakary Konate, Davonte Fitzgerald (graduate transfer), Jamir Harris (transfer), Matz Stockman (transfer)
Notes: Richard Pitino enters next season on the hot seat and the health of Amir Coffey is arguably the most important factor in determining if he'll be able to navigate his way back to solid job security.
Nebraska
· Returning: Glynn Watson, Isaiah Roby, Thomas Allen, Nana Akenten, Thorir Thorbjarnarson, Isaac Copeland, James Palmer Jr.
· Arriving: Karrington Davis, Brady Heiman, Amir Harris, Dachon Burke (transfer from Robert Morris, must sit out)
· Departing: Jack McVeigh (pursuing pro career overseas), Duby Okeke, Evan Taylor, Anton Gill, Jordy Tshimanga (transfer)
Notes: The Huskers were dealt a blow recently when Tshimanga, a rotation big man, announced that he would be leaving the program.
Northwestern
· Returning: Vic Law, Dererk Pardon, Anthony Gaines, A.J. Turner, Jordan Ash, Barret Benson, Aaron Falzon
· Arriving: Ryan Taylor (graduate transfer from Evansville), Pete Nance (247Composite top 100), Miller Kopp, Ryan Young, Ryan Greer
· Departing: Bryant McIntosh, Scottie Lindsey, Gavin Skelly, Isiah Brown (transfer), Rapolas Ivanasukas (transfer)
Notes: Since our last update, the Wildcats added Greer, a 3-star guard from the Atlanta area.
Ohio State
· Returning: Andre Wesson, Kaleb Wesson, CJ Jackson, Micah Potter, Musa Jallow, Kyle Young
· Arriving: Luther Muhammad (247Composite top 100), Jaedon LeDee (247Composite top 100), Duane Washington, Justin Ahrens, C.J. Walker (transfer from Florida State, must sit out), Keyshawn Woods (graduate transfer from Wake Forest)
· Departing: Andrew Dakich, Jae'Sean Tate, Kam Williams, Keita Bates-Diop (NBA draft)
Notes: Chris Holtmann added five new players to next season's roster and the Buckeyes should have more overall depth than last season. However, replacing last season's Big Ten player of the year in Keita Bates-Diop will be a daunting task.
Penn State
· Returning: Lamar Stevens, Mike Watkins, John Harrar, Satchel Pierce, Josh Reaves, Jamari Wheeler, Trent Buttrick, Deivis Zemgulis
· Arriving: Myles Dread, Rasir Bolton, Daniil Kasatkin, Izaiah Brockington (transfer from St. Bonaventure, must sit out), Myreon Jones
· Departing: Shep Garner, Julian Moore, Nazeer Bostick (transfer), Tony Carr (NBA draft)
Notes: The Nittany Lions lost three of their top four guards – Garner, Bostick and Carr – and will need several freshmen to step forward to get back to the postseason.
Purdue
· Returning: Ryan Cline, Aaron Wheeler, Sasha Stefanovic, Matt Haarms, Grady Eifert, Carsen Edwards, Nojel Eastern
· Arriving: Trevion Williams, Eric Hunter, Emmanuel Dowuona, Evan Boudreaux (graduate transfer from Dartmouth)
· Departing: Isaac Haas, Vincent Edwards, P.J. Thompson, Dakota Mathias
Notes: The Boilermakers are one of the toughest Big Ten teams to project going into next season as they return a legitimate national player of the year candidate in Edwards but lose four starters.
Rutgers
· Returning: Geo Baker, Shaquille Doorson, Eugene Omoruyi, Myles Johnson, Mamadou Doucoure, Issa Thiam, Souf Mensah
· Arriving: Montez Mathis, Shaq Carter, Ronald Harper, Caleb McConnell, Jacob Young (transfer from Texas, must sit out)
· Departing: Candido Sa, Mike Williams, Deshawn Freeman, Matt Bullock (transfer), Corey Sanders (NBA draft)
Notes: The Scarlet Knights were still in the Big Ten cellar in our most recent offseason power rankings. Will this be the year Rutgers finally proves the pundits wrong?
Wisconsin
· Returning: Brad Davison, D'Mitrik Trice, Khalil Iverson, Brevin Pritzl, Aleem Ford, Nate Reuvers, Kobe King, Trevor Anderson (walk-on), Charlie Thomas, Alex Illikainen, Ethan Happ
· Arriving: Taylor Currie, Tai Strickland, Joe Hedstrom (walk-on)
· Departing: Andy Van Vliet (transfer)
Notes: The Badgers will have one of the Big Ten's deepest teams and if everybody remains healthy, could challenge for one of the top spots in the league standings.
Filed to: 2018-19 Big Ten preview