The Inside the Hall Mailbag: March 29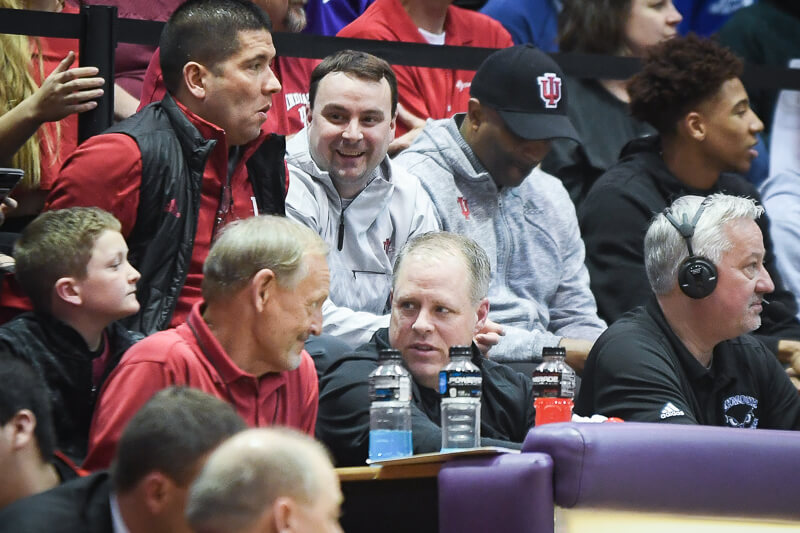 The Inside the Hall Mailbag is a collection of questions tweeted to us via Twitter (@insidethehall), via email, submitted on our premium forum and sent to us via our Facebook page. Submit your questions and we'll answer as many as we can.
tj21 on the premium forum writes: When will the four freshmen be on campus? Will they all be there at the same time or stagger in individually?
Typically incoming players report to campus by early to mid-June. This allows them to begin working out on campus and also allows them to begin taking classes. In the case of Robert Phinisee and Damezi Anderson, both will be Indiana All-Stars, which means they are likely to report to campus after those responsibilities end. The final Indiana All-Star event is on Saturday, June 9.
In general, it is safe to assume that all will arrive around the same time while also keeping in mind that they all probably won't arrive on the same exact date. The one example I can remember in recent memory of a guy reporting later than early to mid-June was De'Ron Davis, who remained in Colorado all summer while he completed academic responsibilities in order to become eligible for his freshman season. – Alex Bozich
Derek Johnson on Facebook writes: What should (Clifton) Moore do this off-season to see more playing time?
As I wrote recently in his "That's A Wrap" feature, this offseason is critical for Moore. He has many tools that suggest he can become a productive player at the Big Ten level. He's got great size, his instincts as a shot blocker seem to be solid and he has a soft shooting touch.
There are a few keys to his development that will ultimately determine how big (or little) of a role he will have going forward. First, the game has to start to slow down for him. This is an adjustment that all freshman have to make at the college level, but sometimes it can be more difficult for big men. In Moore's case, he often looked like he was a step slow when he was on the floor last season. That should change with more reps and another offseason of work on campus.
Second, he has to become much stronger physically to compete in the paint against Big Ten caliber bigs. If you watch his high school highlights, Moore wasn't a traditional back to the basket big man and he may never be. But he still has to be able to hold his own in the paint and around the rim.
Third, he has to develop some more confidence when he does get an opportunity to get on the floor. That's easier said than done when you aren't playing regularly, but Moore often looked unsure of himself when he did get on the floor this season. With a strong offseason, Moore should look much more comfortable and confident as a sophomore. – Alex Bozich
Gregory Spera on the premium forum writes: Watching the NCAA tournament has been kinda depressing this year, as I can't help but feel, while watching all these other teams perform, that our final KenPom rating as the 74th best team in the country was just about right. How the heck did this happen to Indiana basketball?
I could probably pen an entire mailbag with my thoughts on this question as there are plenty of layers to uncover.
This is not a criticism of Tom Crean as he did many things well during his nine-year tenure in Bloomington, but roster management was not one of those things.
Attracting elite talent is just one piece of the puzzle to building year over year success in college basketball. Indiana got plenty of great players under Crean, but didn't get enough three to four year foundation players to sustain success when guys left.
If you look at this past season's IU roster, it was comprised of players from the 2014, 2015, 2016 and 2017 recruiting classes. Here's a full list of the guys from those signing classes:
2014 class: Robert Johnson, James Blackmon Jr., Emmitt Holt, Max Hoetzel, Jeremiah April and Tim Priller
2015 class: Thomas Bryant, OG Anunoby, Juwan Morgan
2016 class: Curtis Jones, De'Ron Davis, Grant Gelon, Devonte Green
2017 class: Justin Smith, Al Durham Jr., Clifton Moore
From the 2014 class, only Robert Johnson and Tim Priller exhausted their complete eligibility and Priller made no on court impact. Holt was kicked off the team, April never played and left and Hoetzel left after his freshman season. So of those six guys, you can really only point to two of them as having a major impact and one left early to pursue a professional career. (Josh Newkirk and Freddie McSwain were also a part of this year's senior class, but neither guy was signed by IU out of high school.)
The 2015 class was a major success, but two of those guys left early for the pros and only Morgan remains. In 2016, two players are already gone and Davis spent half of this past season hurt. It's too early to say for sure how the 2017 group will turn out, but the early returns are promising.
Without elite one-and-done talent every year, you have to recruit solid three and four year players. IU's 2014 class was a mess in that regard as only three of the six guys were around for more than two seasons.
Next year isn't going to be much better in terms of having a huge upperclassmen presence with Morgan and Zach McRoberts as the two current projected seniors. Over time, I think this will be a major difference in how Archie Miller builds his roster. While there will be guys leaving early for pro careers, I think there will be far less "reaches" like Hoetzel, Priller and April.
If you look at Crean's best teams in Bloomington – and there were three teams that I considered "good" teams – all of them had a strong upperclassmen presence. While Miller was left some talent when he took over last March, the reality is that Crean's roster mismanagement was a bit of a mess to clean up. – Alex Bozich
Sally Jeffries on Facebook writes: When is Romeo visiting IU again?
Romeo Langford and his father, Tim, have both said they plan to visit Indiana again in April. An exact date for the visit has not been set at this point.
Langford is still considering three schools: Indiana, Kansas and Vanderbilt and plans to make his decision in April. – Alex Bozich
Mark Coppock on the premium forum writes: Do you have any thoughts/predictions about Juwan Morgan's plans?
No prediction, but I believe Morgan would be smart to test the NBA draft waters, work out for teams, see if he can get a draft combine invite and then make a decision on his plans.
With the rules now in place, it's a no risk process for players to get NBA feedback as long as no agent is hired. Robert Johnson took advantage of this process last spring and ultimately decided to return to school. Morgan hasn't shown up on many of the various NBA draft top 100 lists, so it seems unlikely that he would be selected if he opted to enter the draft this year. – Alex Bozich
Filed to: