Inside the Hall's 2018 Big Ten tournament preview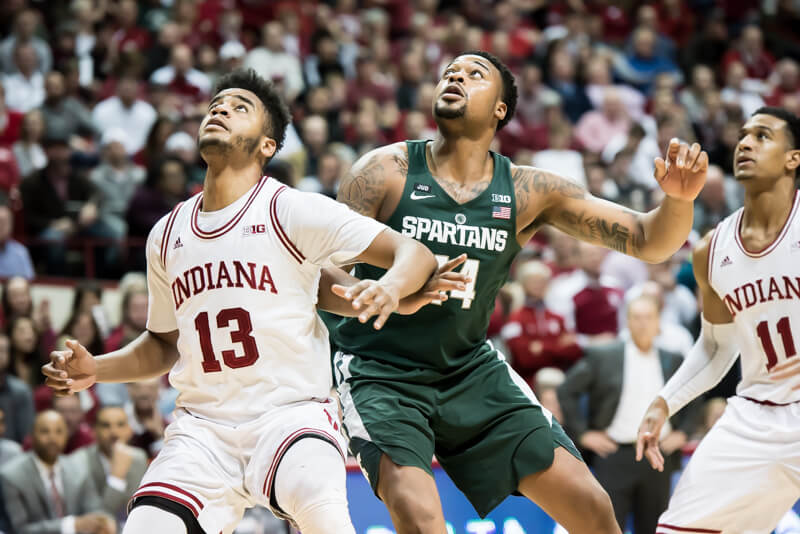 We'll have our traditional what to expect series previewing Rutgers or Minnesota on Thursday, but first up, Inside the Hall previews the Big Ten Tournament as a whole. The event tips off later today:
2018 Big Ten Tournament bracket
Location: New York, New York (Madison Square Garden)
Dates: Feb. 28 – March 4
Teams with a bye to Thursday: Wisconsin, Maryland, Michigan, Northwestern, Penn State, Indiana
Teams with a double bye to Friday: Michigan State, Nebraska, Ohio State, Purdue
Television: BTN, CBS
Most friendly path to Sunday: Michigan State. The outright regular season Big Ten champions come into New York on a roll. The Spartans have won 12 in a row and will open tournament play on Friday against the winner of Thursday's matchup between Maryland and Wisconsin. Assuming Michigan State can advance to Saturday, it will play the winner of Michigan-Nebraska. The Wolverines are also among the league's hottest teams entering the tournament, but that would be their third game in three days and Michigan State would be looking to avenge a regular season loss to the Wolverines. Most importantly, Michigan State avoided Ohio State and Purdue in the semifinals by earning the event's No. 1 seed.
Most intriguing Thursday matchup: Northwestern-Penn State. The Nittany Lions are on the wrong side of the NCAA tournament bubble and need wins in New York just to get into the conversation. While a win over Northwestern doesn't change much, Penn State has no shot to make the tournament if it loses to Northwestern. The Wildcats, meanwhile, still have most of their roster intact from last season's NCAA tournament team. Will seniors Bryant McIntosh and Scottie Lindsey try to mount one final run at MSG?
Team with the most to prove: Nebraska. If a fifth Big Ten team is going to make the NCAA tournament, it's the Cornhuskers. Nebraska won 13 Big Ten games, but a soft league schedule currently has the Cornhuskers out of the tournament according to the latest projections from Andy Bottoms. In fact, Bottoms doesn't even have Nebraska among his first five teams out. For Nebraska to feel good about its chances to dance, it needs a Friday win over Michigan and may even need to beat top seed Michigan State on Saturday.
Players to keep an eye on:
· Cassius Winston, Michigan State: Guard play wins come tournament time and the Spartans have one of the league's best in Winston. Winston led the Big Ten in both assist rate and 3-point field goal percentage, but was somehow only named third team All-Big Ten. If Michigan State is going to win this event, it needs Winston to play well.
· James Palmer, Jr., Nebraska: The Cornhuskers need wins and while they have plenty of notable contributors, Palmer Jr. is clearly the guy capable of leading them on a run in New York. Palmer Jr. is one of the league's best offensive players because of his ability to put the ball and the floor and attack the rim.
· Tony Carr, Penn State: Like Palmer Jr., Carr will have a lot of weight on his shoulders in New York. If Penn State is going to make a run, Carr is the man to lead the way. He's one of the Big Ten's best guards and if the Nittany Lions can beat Northwestern on Thursday, Carr will have a shot to lead Penn State to a third win this season over Ohio State on Friday.
· Keita Bates-Diop, Ohio State: The clearcut Big Ten player of the year, Bates-Diop was in a slump late in the season before scoring 24 points in OSU's 80-78 double overtime win over Indiana on Friday. With a week off between games, Bates-Diop should be well rested in what will likely be his final conference tournament.
· Carsen Edwards, Purdue: The Boilermakers lost their first game in last year's Big Ten tournament in Washington D.C, but Edwards was a bright spot. He scored 17 points in Purdue's overtime loss to Michigan. A first team All-Big Ten selection, Edwards is essential to Purdue's success in the Big Ten tournament and beyond.
Bids on the line: The only two Big Ten teams that are considered to be on the NCAA tournament bubble are Nebraska and Penn State. And neither are in the field right now according to most projections. We already mentioned that Nebraska might need a run to Sunday to feel confident about its chances and Penn State probably needs to do the same. That would mean beating Northwestern, Ohio State and likely Purdue on Saturday.
Filed to: 2018 Big Ten tournament