Notebook: Valiant effort not enough for Hoosiers on senior night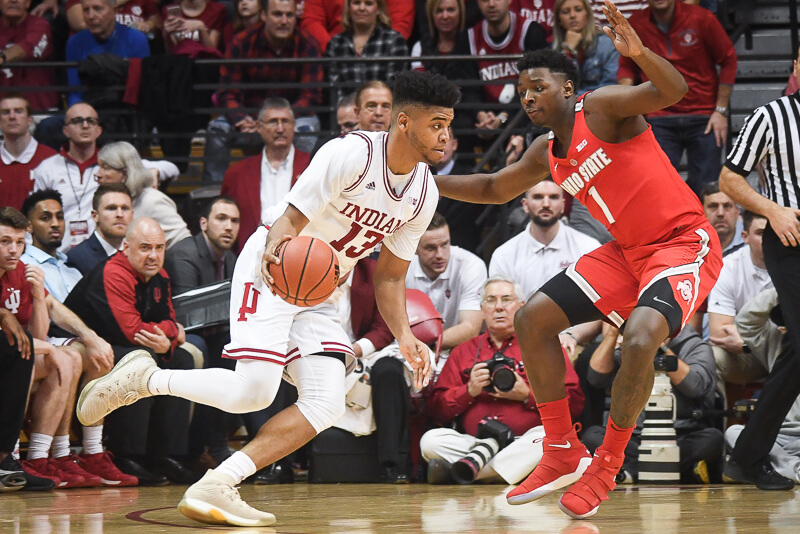 It was a different story with the same ending for Indiana as it couldn't quite muster enough to topple a ranked foe at Simon Skjodt Assembly Hall.
Previously, it was losses Duke, Michigan State and Purdue in regulation. This time, the Hoosiers (16-14, 9-9 Big Ten) forced two periods of extra basketball, only to fall in heartbreaking fashion to No. 16 Ohio State, 80-78.
There were 14 ties and 16 lead changes in total, with the largest advantage being a 12-point edge to Ohio State late in the first half. Every time Indiana pushed Ohio State, the Buckeyes (24-7, 15-3) had an answer. That's why despite the game being 50 minutes long, the largest Indiana lead was just two points.
Less than four weeks after a convincing win over Indiana in Columbus, the Hoosiers gave Ohio State all they could handle. The end of regulation and overtime periods were full of contentious moments and big shots. The second overtime, in particular was sensational with the lead changing hands eight times in a matter of five minutes.
Indiana thought they had the game won when Juwan Morgan made a spectacular play, bullying potential Big Ten Player of the Year Keita Bates-Diop inside and using a left-handed bank shot to put the Hoosiers up one with only 7.4 seconds left.
But a defensive breakdown on the ensuing Buckeyes possession left Indiana devastated. Ohio State's C.J. Jackson went the length of the floor and threw up a deep triple that swished through the net with just 1.6 on the clock. Josh Newkirk lost his balance for a split second as Jackson drove into the frontcourt and was a split second late on the contest, allowing Jackson to get off a clean look.
"I haven't seen the film yet to see what we could have done better," Archie Miller said. "That's a special situation type of thing as a coach that will haunt you for a long time; that with no timeouts, or a made basket coming down full speed, you weren't organized or weren't able to get the spot, looked like a broken play."
The loss leaves Indiana without a signature win in conference play, and awaiting their fate in terms of Big Ten Tournament seeding. A Penn State win over Nebraska on Sunday gives the Hoosiers the No. 7 seed, while a Penn State loss puts them at No. 6.
Senior night at the hall
In what was likely the final home game of senior Robert Johnson's career, the guard left it all out on the floor. In his 117th collegiate start, Johnson finished with 17 points, three rebounds four assists, and hit a pair of free throws in the final seconds of the first overtime to tie the game.
Johnson continued to climb the all-time scoring chart in program history. His collegiate total is now at 1,401 points, tying him with Jimmy Rayl for 22nd in IU history. Johnson is just 26 points away from cracking the top-20.
Josh Newkirk, the other senior member of the backcourt, had one of his best games of the season. The senior looked confident on the court, making several key plays and earning the trust of Miller, who inserted him into the game to start the second half in place of Devonte Green.
"(Newkirk) was solid. Six assists, one turnover," Miller said. "Thought he played really hard defensively. He was engaged in the game. He did everything in his power to help us in this one. He was the most solid guy out there with the ball. So we kept him in."
Justin Smith throwing down the hammer
For the fourth consecutive game, freshman Justin Smith came off the bench to provide important frontcourt minutes. With Morgan again stuck in early foul trouble, Smith was called upon to keep the Hoosiers afloat.
Smith played a season-high 37 minutes, scoring 16 points and grabbing four rebounds. His aggressiveness was on full display, as he repeatedly forced his way to the bucket in an attempt to rattle the rim. Although it didn't work every time, when it did, it brought the crowd to its feet.
Is it getting hot at @IndianaMBB's Assembly Hall or is it just these Justin Smith dunks? pic.twitter.com/T1NnQmO3WY

— Indiana On BTN (@IndianaOnBTN) February 24, 2018
"I've seen him grow a lot," Morgan said of Smith. "It translates from practice. He's finishing really well, focusing more getting to the rim and putting it in the basket. We used to call him a practice dunker because he could always dunk it hard in practice but he never was trying to dunk on anybody in the games. And now he's attacking the rim with that kind of aggressiveness."
Filed to: