The Minute After: Ohio State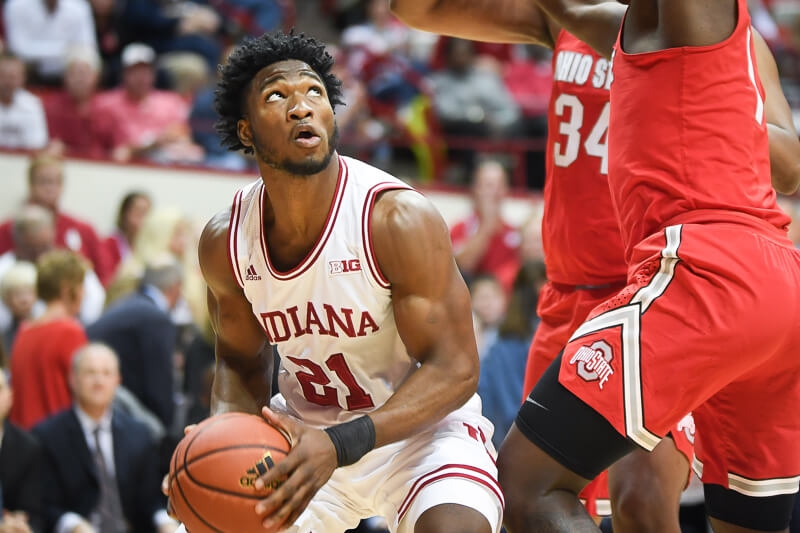 Thoughts on an 80-78 loss to the Buckeyes:
Indiana scrapped and clawed and scrapped and clawed some more, all the way through a brutal 50 minutes of action featuring two overtimes on senior night inside Assembly Hall.
It was a valiant effort against the No. 16 team in the country. It featured a little bit of everything. But stop me if you've heard this one before: Indiana played well enough to beat its opponent, yet lost by just a couple points on a night it shot poorly from the free throw line. Indiana hit only 56.5 percent from the charity stripe (13-of-23), but still looked like it was going to win after a tough Juwan Morgan bucket with seven seconds to go in the second overtime put the Hoosiers up 78-77. Kam Williams had nothing going as he hovered several feet beyond the 3-point line, the seconds ticking away towards the buzzer. But his heave from that very spot on the left wing found the bottom of the net, giving the Buckeyes the victory.
On a night both teams missed some shots that could have sealed the deal in regulation and the first overtime, it was a prayer heave that brought the game home for the Buckeyes.
Indiana trailed by as much as 12 in the first half, but got back into the game thanks to some 3-point shooting and some strong play from their backcourt. Al Durham Jr. and Josh Newkirk had five points each in the half and Robert Johnson chipped in nine to pull Indiana to tie at half, 33-all. Indiana found success all evening taking Ohio State off the dribble and Johnson and Newkirk were a big part of that. Johnson finished the night with 17 points, while Newkirk chipped in nine to go along with six assists against just one turnover.
After scoring just two points in Indiana's last five games, Zach McRoberts busted out offensively tonight (eight points), hitting both 3-pointers he attempted as well as a nice lay-up in first overtime off a Juwan Morgan pass. McRoberts also had a steal in the second half which led to a Newkirk transition bucket to give Indiana the lead at 61-59 with 3:55 to go. The Carmel product also kept a number of possessions alive for the Hoosiers, helping his team keep pace with the Buckeyes.
Despite being in foul trouble for most of the night, Morgan found a way to avoid fouling out and led the Hoosiers with 18 points. Morgan also added seven rebounds, three assists, three steals and two blocks to post another stat-stuffing line.
Justin Smith continues to mature, as he added 16 points this evening. Smith threw down a seriously impressive dunk with power from the right short corner in the second half and has scored in double figure over the last four IU contests.
And so Indiana finishes its Big Ten season at 9-9, this game perhaps a fitting end to the realities of this team and its season. An improved squad that found itself in the thick of it in most of its contests. But some serious deficiencies at the line — and often from distance, too — held it back just enough to keep it from being among the better teams in the league.
Filed to: Ohio State Buckeyes