What to expect: Nebraska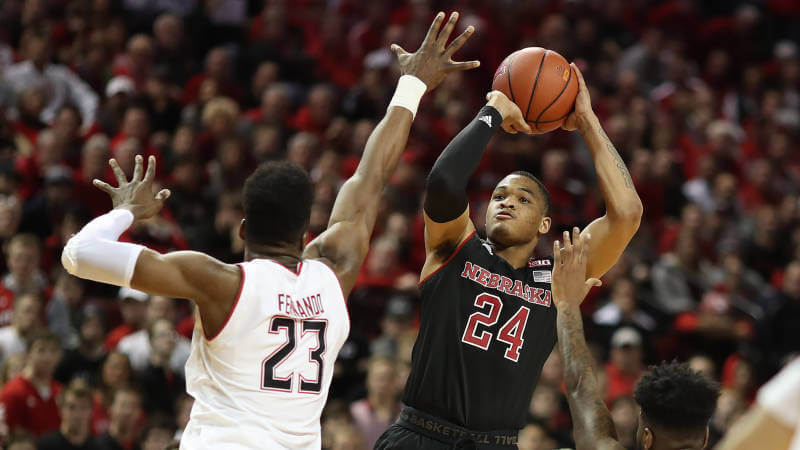 Indiana wraps up its regular season road schedule tonight as the Hoosiers face Nebraska at Pinnacle Bank Arena. The Cornhuskers are 20-9 overall and 11-5 in Big Ten play.
The game will be broadcast at 9 p.m. ET on BTN with Kevin Kugler and Stephen Bardo on the call:
Indiana will be no worse than the No. 7 seed in next week's Big Ten tournament in New York City, but the Hoosiers can still move up to the No. 5 or 6 seed in the bracket with two regular season games remaining.
Up first is a road trip to Lincoln to face Nebraska, which is trying to get on the right side of the NCAA tournament bubble. That task became much tougher for the Cornhuskers after a Sunday loss at Illinois. Nebraska needs wins this week against Indiana and Penn State to get back into the conversation and then will have work to do next week in Madison Square Garden.
After being picked to finish 13th in the Big Ten in the preseason, Nebraska is one of the Big Ten's surprise teams after significant roster turnover in the offseason. The Cornhuskers have already clinched a finish in the top half of the league standings and a pair of transfers, James Palmer and Isaac Copeland, have given Tim Miles some goodwill with the fanbase after falling out of favor the last few seasons.
MEET THE CORNHUSKERS
Palmer, a transfer from Miami (FL), is in the conversation for first team All-Big Ten and might just get there if Nebraska can take care of business this week in its two home games.
A native of Upper Marlboro, Maryland, Palmer had a limited role at Miami in two seasons before opting to transfer to play for Nebraska. In conference play, he's second in the league in scoring at 19.6 points per game and is one of the league's best at getting to the free throw line. Palmer is second in the Big Ten in free throw rate (FTA/FGA) at 57.8 percent and he's knocking down 77.2 percent of his attempts in conference games. His assist rate (26.5 percent) also ranks eleventh in the league.
Copeland, who transferred from Georgetown, is a dangerous inside-out threat. The 6-foot-9 forward is shooting an efficient 55.2 percent on 2s and 43.6 percent on 3s in Big Ten games. He's averaging 13.3 points in league play.
Isaiah Roby, a 6-foot-8 sophomore, is a versatile forward who can also shoot it from deep (41.2 percent) and get into the lane and finish. Roby leads the Big Ten in free throw rate (61.9 percent) and is knocking down 69.2 percent of his attempts in league play. He's also Nebraska's best rebounder as he ranks 11th in the league in offensive rebounding percentage and 19th in defensive rebounding percentage.
Point guard Glynn Watson Jr. had an excellent sophomore season, but has regressed from an efficiency standpoint as a junior. He is still a solid distributor (19.7 percent assist rate in Big Ten play), but is shooting below 30 percent on 2s and 3s in league play.
Senior Anton Gill starts next to Watson in the backcourt and leads the Cornhuskers with 50 made 3-pointers this season. Another senior Evan Taylor, comes off the bench and averages 6.6 points, 3.3 rebounds and 2.3 assists in 26 minutes per game. Freshman Thomas Allen turned down a Kansas offer to come to Nebraska and is shooting 35.6 percent on 3s.
Sophomore Jordy Tshimanga, who is 6-foot-11, is a back to the basket post player that is finishing just 47.3 percent of his 2s on the season and is a poor free throw shooter at 56.4 percent.
TEMPO-FREE PREVIEW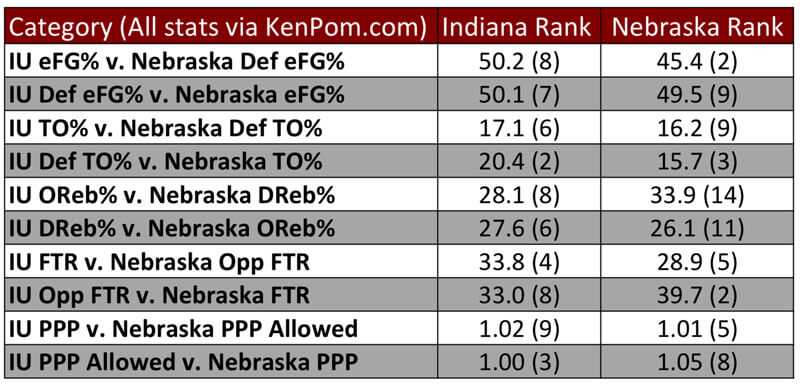 These teams are very close in efficiency margin with Indiana have a slightly better defense and Nebraska owning an edge offensively in league play.
One number that stands out is Nebraska's poor rebounding numbers on both ends. The Cornhuskers are the Big Ten's worst defensive rebounding team and are just 11th in offensive rebounding percentage. Indiana's ability to get second chance points looms large, particularly against an opponent that is unlikely to give up the clean looks that Iowa allowed over the weekend from the perimeter.
Where Nebraska excels offensively is in taking care of the ball and getting to the foul line. Both Roby and Palmer are excellent at attacking the rim and drawing fouls and Watson, despite his shooting woes, does a good job of running the team without turning it over.
WHAT IT COMES DOWN TO
The KenPom projection is Nebraska by 4 with just a 33 percent chance for an Indiana victory. The Vegas line favors Nebraska by 4 as of early Tuesday morning while Sagarin likes Nebraska by just under three.
The Cornhuskers have been excellent at Pinnacle Bank Arena this season with their lone loss coming back on Dec. 16 to Kansas by one point. Their average margin of victory in seven Big Ten home games thus far is 9.3 points, which includes a 20-point trouncing of Michigan on Jan. 18.
After Sunday's disappointing loss at Illinois, it's no stretch to say that Nebraska is desperate for a win to keep its NCAA tournament hopes alive. Indiana has three Big Ten road wins already on its ledger, but will have to be at its best to pull off the upset in one of the league's toughest road environments.
(Photo credit: Huskers.com)
Filed to: Nebraska Cornhuskers