The Minute After: Illinois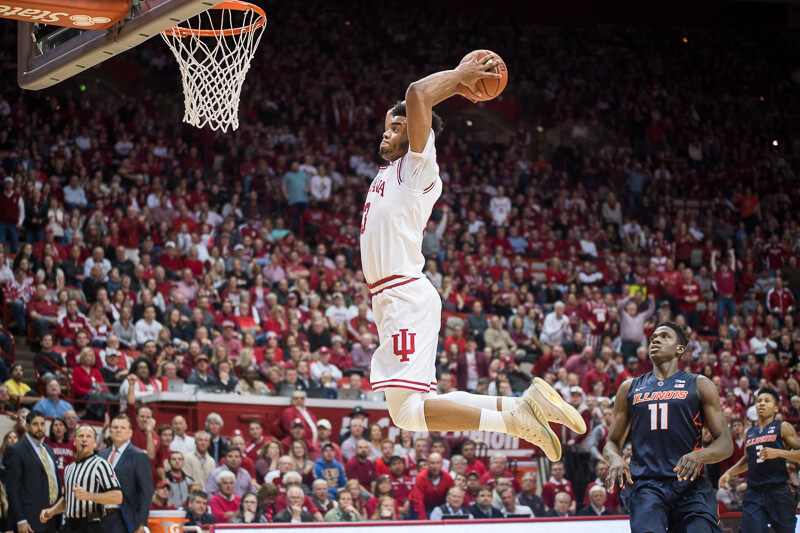 Thoughts on a 78-68 win against the Illini:
All the passing beauty from Indiana's Friday night win against Minnesota washed away in this one. It was a gunked up, ugly affair filled with fouls … and fouls … and more fouls. Enough whistles to train a whole litter of puppies and then some.
The Hoosiers started both the first and second half poorly. At the start of the contest, Indiana appeared to be in quicksand on defense, moving slowly and showing little resolve. Add a sparse student section to the mix and it led to some bad energy in the building.
But the Hoosiers got the ball rolling downhill thanks to a 14-0 run as it held the Illini scoreless for about six minutes of game clock. The Hoosiers got some blocks and steals leading to runouts and outscored Illinois 13-2 on fast break points in the first half.
Juwan Morgan has been a steady double-double presence in terms of points and rebounds this season. But he flashed an all-around game tonight that was simply brilliant. During Indiana's run in the first half, he ran the break and threw a slick pass to Justin Smith for a score. Later, he stole the ball from Mark Smith and his one-man fast break ended with an emphatic two-handed slam. Morgan was also terrific on defense, blocking five shots (a career-high) and racking up four steals. He added 10 rebounds and tied for a team-high of 14 points to boot.
Justin Smith and Al Durham Jr. were also big for the Hoosiers during the first half. Smith had a couple great takes to the rim — one in which he soared and laid it in with a flick of the wrist, the other where he lost the ball as he was going up but managed to recover on a reverse and still put it in.
Durham Jr. had five points in seven minutes of first half action and finished the game in double digits (14) for the first time since Indiana's third contest of the season, its loss to Seton Hall on Nov. 15. Durham Jr.'s confidence seemed to grow as the game went along and he punctuated his performance with a dunk off the baseline with just under two minutes to go. Smith finished with 13 points of his own.
To start the second half, Indiana had trouble with Illini's pressure. There were a number of turnovers. Indiana threw some bad passes and simply had some unforced errors, too. Devonte Green threw a number of questionable passes tonight and racked up four turnovers against two assists. Archie Miller opted for Josh Newkirk over Green down the stretch. Despite Indiana's 10-point halftime lead dwindling to two points near the midway part of the second half, the Hoosiers never surrounded the lead and were able to punch it back out to 1o points at game's end. Unlike in Champaign, Indiana was competent at the line this evening, hitting 20-of-29 (69 percent). It was helpful in a game the Hoosiers turned it over on a quarter of their possessions.
Indiana has now won three straight. Tonight's victory brings them to 8-7 in the Big Ten, more conference wins than it had a season ago.
Saturday Indiana plays Iowa on the road, a team that's just 3-12 in Big Ten play. A win would assure the Hoosiers at least a .500 mark in conference, as Nebraska in Lincoln and Ohio State at home present significant challenges to close out conference play.
Filed to: Illinois Fighting Illini