The Minute After: Minnesota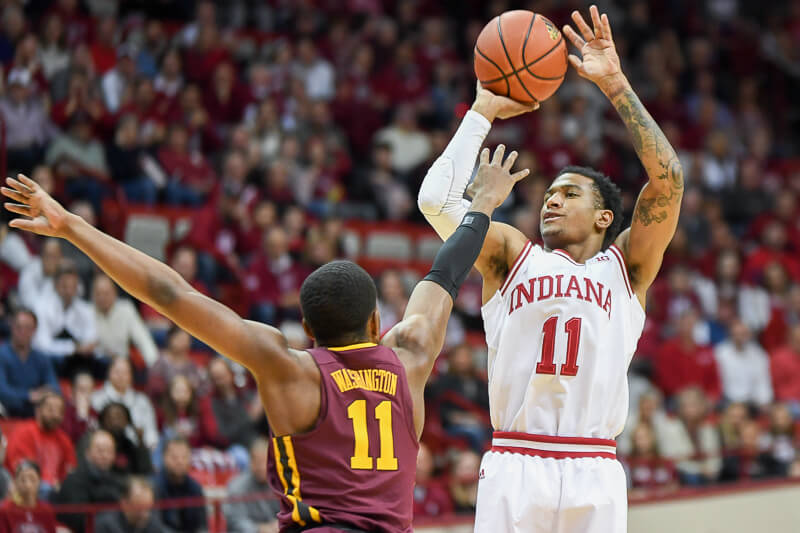 Thoughts on a 80-56 win against Minnesota:
The bricks Indiana's laid this season from the 3-point and free throw line have ushered in a brutalist movement during Archie Miller's first season.
But tonight was a welcomed reprieve from the oftentimes ugliness of this year's offense, as true beauty flourished on Branch McCracken Court. The Hoosiers moved the ball and played for each other unlike at any time this season, leading to 21 assists on 30 made baskets. The depleted Golden Gophers had just four assists for the contest.
Devonte Green, who capitalized on his newfound starting role once again, led the charge with seven assists, a career-high. Green's always had the best passing instincts and vision on this team. Some improved decision making and maturity is finally allowing his coach to trust him. And Miller is now giving him the playing time to let it shine. Green dished some pretty pocket passes to Juwan Morgan on pick and rolls and found Hoosiers down low and along the baseline for other scores.
Green also had it rolling tonight shooting the basketball. The sophomore hit 4-of-5 from 3-point range and finished the night tied for a team-high with 19 points. He's had the potential for nights like this and it's great to see it finally coming to fruition.
Morgan has been known as a double-double machine this season in terms of points and rebounds and he was almost there again with 19 points and nine boards. But the junior also got into the assisting tonight as well with five of his own.
Indiana got it going early, jumping out to a 20-8 lead at the 11:49 mark of the first half and settled on a 10-point lead at the break, 39-29. The hammer was really dropped, though, at the start of the second half. The Hoosiers scored three straight buckets at the basket and jumped out to a 16-point lead. That advantage would balloon to as much as 27 points late in the second half, as the Hoosiers continued their sharing ways en route to a 24-point victory. We got a Tim Priller sighting and he even hit a free throw.
Indiana shot above its season average from the 3-point line (6-0f-16, 37.5 percent), but below it from the free throw line (14-of-23, 60.9 percent), landing at 1.12 points per possession on the evening.
While Minnesota's injury issues have left it with less firepower, Indiana still did nice work on what remains of the roster, as the Hoosiers racked up six blocks. An increasingly confident Freddie McSwain had three of those, while also adding eight points and seven rebounds. McSwain missed two dunks tonight, or else he would have been in double figures. Like Green, the junior college transfer has really come on over the last several games and there's no question each has improved as the year has gone along in Miller's system.
Indiana's back at .500 in conference with another home game on the way against Illinois. The Hoosiers will be seeking revenge against after some awful free throw shooting led to a loss in Champaign last month.
Wear them candy stripes proud tonight, eh?
Filed to: Minnesota Golden Gophers