The Minute After: Rutgers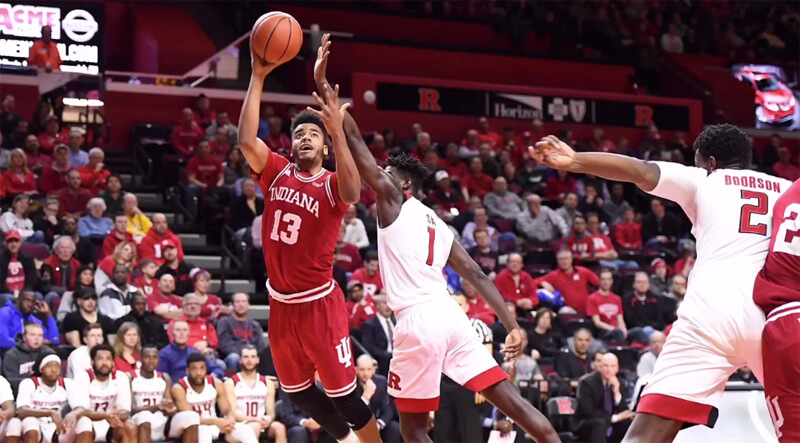 Thoughts on a 65-43 win over the Scarlet Knights:
So often this season, Indiana has clanged shots from distance. But a hot start from beyond the arc lifted the Hoosiers to a double-digit lead early in this one and it was a lead they'd never relinquish.
There were a few rough patches sprinkled throughout — most notably a nearly six-minute scoring drought towards the end of the first half and another woeful performance from the free throw line (8-of-18). And Rutgers certainly didn't look like the team that took Purdue to the wire this weekend. Some credit is due to Indiana's defense for that. Yes, Rutgers is offensively challenged. But the Hoosiers stopped the Scarlet Knights from getting any sort of flow or rhythm for much of the contest, keeping them out of the paint and forcing them into less-than-ideal looks.
Devonte Green, who started in place of Josh Newkirk this evening on the back of some recent strong performances, deserves a mention for the job he did on Corey Sanders. Sanders finished the contest just 1-of-11. Overall, the Hoosiers held Rutgers to .67 points per possession, the lowest mark its held a team to all season. Rutgers shot just 13-54 (24.1 percent) from the floor. Its 42 points are the lowest a conference opponent has scored against Indiana since Iowa had just 43 on Jan. 23, 2008.
Robert Johnson was the main catalyst for the Hoosiers' hot start from 3-point range, as he hit two in the first 3-plus minutes of the first half. As has been noted by several at this point in the year, as Johnson goes, so too often go the Hoosiers. So it's no surprise on a night he scored 19 points (7-of-13) including 3-of-6 from distance, the Hoosiers picked up the victory. Indiana knocked down 9-of-20 on 3s tonight, which means they had a better percentage from beyond the arc (45 percent) than from the free throw line (44.4 percent). Green continues to be a steady presence for the Hoosiers, as he put up a solid line (nine points, three rebounds, four assists, two turnovers) to go along with his strong defense in 30 minutes of action.
While a game like tonight can make you forgot, Rutgers came into the contest with a top-20 defense in the country. So Indiana's 1.01 points per possession tonight will do.
With IU's tough one-day conference turnarounds now in the books, the Hoosiers get a little more breathing room to try and stay afloat and tread water at .500 in conference. They're favored in their next two contests — home games against Minnesota and Illinois. Wins in those contests would put them at 8-7 with road games against Iowa and Nebraska and a home bout against Ohio State to close out the Big Ten season. If they hold serve at home against the Golden Gophers and Fighting Illini, they'd need just one win in those final three to close out conference play at 9-9.
Tonight wasn't the prettiest affair, but Indiana came to play and made quick work of Rutgers. And the Hoosiers will finally get a little refuge from their recent brutal Big Ten schedule as they head towards the home stretch.
(Photo credit: IU basketball on Twitter)
Filed to: Rutgers Scarlet Knights