Notebook: Deja Vu as Hoosiers lose another close one at home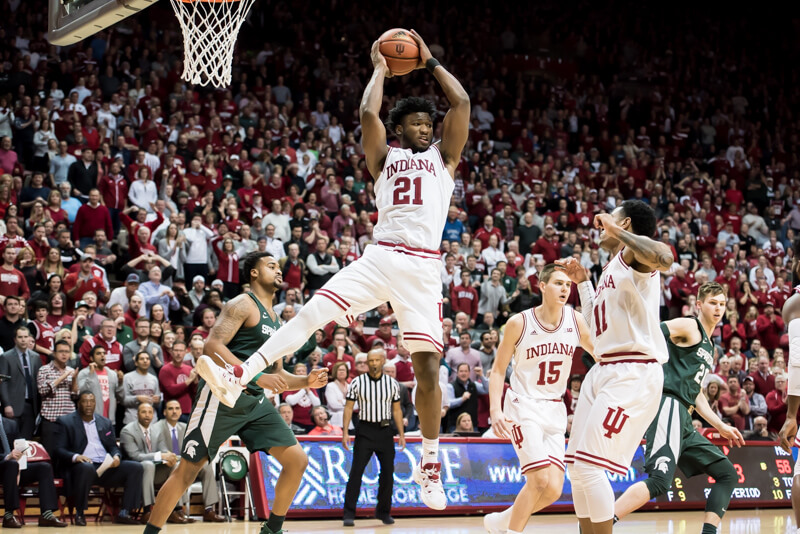 For the third time this season, Indiana had a golden opportunity to pull out a win over a top-5 team at home. This time, No. 5 Michigan State was the opponent that the Hoosiers let get away.
Indiana outworked a Spartan team full of some of the most talented players in the Big Ten for much of the night, but just couldn't muster enough to topple one of the conference's elite squads.
Trailing the vast majority of the game, Indiana managed to keep it within striking distance despite shooting just 28 percent from the field by holding a 25-to-3 advantage in offensive rebounding.
"Very seldom has our team got outworked, outhustled the way Indiana did it," Michigan State head coach Tom Izzo said after the game. "The 25-to-3 offensive rebound (edge) is an insult to me, my players and anybody who ever played here. I was disappointed in that."
The frontcourt tandem of senior Freddie McSwain and junior Juwan Morgan overcame significant height disadvantages t0 dominate on the glass. Morgan finished with 23 points, 11 rebounds (four offensive) and a block, while McSwain, who started for just the second time in his career, collected eight points, grabbed a career-high 16 rebounds (nine offensive) and recorded an assist, a block and a steal.
"Part of starting Freddie tonight was, one, he's playing better and he's giving us some production. He's giving rebounding effort, he's giving us another physical guy out there that can play in the post a little bit from a defensive perspective," Archie Miller said. "We wanted to avoid Juwan maybe picking up a quick one early one on (Michigan State's) Nick Ward. That's why we did it. Moving forward I don't know if we'll change back or not."
McSwain's career-night nearly lifted the Hoosiers to victory, but once again, failures at the foul line did Indiana in. Indiana wasn't horrendous from the charity stripe, connecting on 72 percent of their attempts (18-of-25), but the misses came at inopportune times. On two occasions, Indiana missed the front end of a one-and-one, and with chances to take the lead in the final 2:30, McSwain and Morgan combined to hit just one-of-four free throws.
When hosting college basketball's elite this season, Indiana has more than held their own, but once again, miscues sunk the Hoosiers' shot at a victory.
Devonte gets the green light
Four days after Devonte Green had what Miller described as his best game of the season against Ohio State, the sophomore was given more minutes against the Spartans.
Green played 31 minutes, the most time he's seen in a game since the overtime win over Notre Dame on Dec. 16, and was Indiana's best option in the backcourt. Although Green scored just seven points on 3-of-11 shooting, he grabbed three boards, dished six assists, recorded a steal and didn't turn the ball over while putting in a solid performance on the defensive end.
"Devonte's playing a really good floor game for us," Miller said. "He's the one guy right now that can deliver the ball from an assist standpoint. He's the guy that when he wants to distribute, he's the best guy on our team at that."
Indiana shows "class"
Michigan State came into the game facing a myriad of off-court controversies, and Indiana University did what they could to ensure that the scene at Simon Skjodt Assembly Hall didn't turn ugly.
Every student situated behind the basket and in lower level general admission had a card placed on their seat, warning them to not "reference (the situations) in a negative way." In addition, season ticket holders were sent emails imploring fans not to heckle Michigan State for their role in the Larry Nassar situation or the Outside The Lines story.
Izzo began his postgame presser by thanking Indiana University for how they handled the situation.
"I want to thank their President, (Athletic Director), coaches, players, fans and students," Izzo said. "Whatever they sent out was very classy and well done, and very much appreciated, handling themselves without some of the things that needed to be said. I take my hat off to them."
Near the end of his presser, Izzo was once again asked when he would answer questions about the investigations, declining to give a firm date.
"I don't have a date… but the day will come sometime, I promise," Izzo said.
Filed to: Michigan State Spartans