The Minute After: Michigan State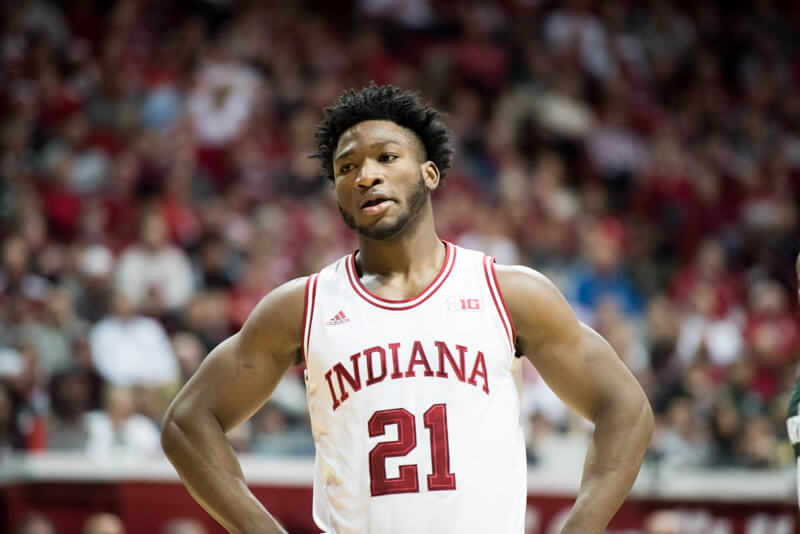 Thoughts on a 63-60 loss to the Spartans:
Indiana couldn't hit the broad side of a barn. When the Hoosiers weren't clanging shots, Michigan State's length racked up block after block in the paint and made the Hoosiers trepidatious at the rim.
Indiana's had trouble shooting all season, but tonight's first half was particularly painful, as the Hoosiers shot just 6-of-35 from the floor. Indiana's guards Robert Johnson (1-of-10), Al Durham Jr. (0-of-1), Josh Newkirk (0-of-2) and Devonte Green (0-of-3) combined for just a 1-of-16 mark from the field.
And yet, everything else was going pretty well. Nick Ward had to sit with two fouls and Indiana's defense bothered Michigan State. The Hoosiers rebounded 50 percent of their misses. Zach McRoberts did Zach McRoberts things. Indiana played with high effort and intensity, something that's continued to grow as the season has gone along.
In the second half, the Hoosiers continued to beast on the offensive boards. Freddie McSwain played his heart out, giving everything he had en route to a career-high 16 rebounds. McSwain added in eight points for good measure. All those Indiana offensive rebounds helped make up for the shooting woes and Indiana would outscore the Spartans 14-0 on second-chance points for the evening. In a foul-heavy final 20 minutes with both teams getting into the bonus early, Indiana also converted on its free throws at a high rate for once (18-of-25 for the contest). After a 2-of-8 performance in the first half, Juwan Morgan sprung to life, scoring 19 points in 18 minutes en route to another double-double (23 points, 11 boards).
And even after getting down by 10 at 51-41 after a Josh Langford 3-pointer with 12:04 to go, Indiana never gave up or gave in. Far from it. The Hoosiers continued to scrap and fight and claw … and almost pulled this one out.
Indiana went on a 7-0 run to pull within one (58-57) after a Morgan free throw at the 2:22 mark. After a long two from Miles Bridges didn't fall, McSwain — who else? — grabbed the rebound. Johnson came down the lane and missed a shot near the rim. McSwain cleaned it up with a rebound and was fouled. He stepped to the line with a chance to put the Hoosiers ahead with 1:38 to go.
McSwain missed the first. He missed the second, too. A cruel twist on a night McSwain had his best performance as a Hoosier. After a Michigan State timeout, the Spartans found Matt McQuaid on the left wing and he rang in a 3-pointer to put MSU up four points with 1:09 to go. That felt like the dagger, but a silly foul by Bridges on a Green lay-up gave him a 3-point point play to pull Indiana within three at 63-60 with three seconds to go.
Miraculously, Cassius Winston, a 92.5 percent 3-pointer shooter on the season, missed both after IU put him to the line. Green rebounded his second miss, heaved up a prayer from behind the half court line … and almost dropped in the shot to tie the game at the buzzer, it narrowly missing as it caromed off the back of the rim.
And so once again, Indiana played a top five team in the country well enough to pull out a victory at home.
But once again the Hoosiers fell short.
Filed to: Michigan State Spartans