The Minute After: Ohio State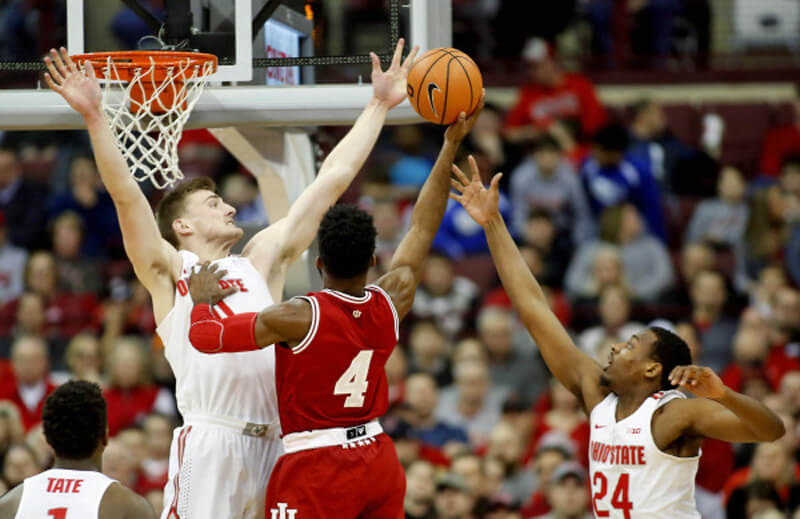 Thoughts on a 71-56 loss to the Buckeyes:
There's no rest for this Indiana team.
Tonight marked its fifth contest in 12 days. Just a day sat inbetween an emotional contest against Purdue, the best team in conference, and another on the road against the second best record wise, Ohio State.
So Indiana's start, a mix of quick jumpers off one pass and little resistance on defense could maybe be explained away as fatigue. If nothing else, there's at least a case to be made for it.
Whatever the reason for the rough start, Indiana simply dug itself too big a hole with it, trailing by 15 at half. Robert Johnson and Josh Newkirk shot a combined 0-of-6 in the first half and failed to score. Freddie McSwain went 0-of-4, including a couple of misses from point blank range. The Hoosiers managed just .70 points per possession and had an effective field goal percentage of just 37. Yes, the Hoosiers found some life over the final 20 minutes of the contest and played Ohio State even (33-33). But it still all amounted to a double-digit loss.
Juwan Morgan got his shot blocked a couple times tonight. He wasn't involved nearly enough in the first half, which was another issue for Indiana's offense. But he continues to be a do-all player for these Hoosiers, scoring some tough buckets in traffic en route to 15 points on 6-of-11 shooting. Morgan added six rebounds, two assists and a steal. Zach McRoberts scored five points this evening and attempted three 3-pointers, making one. McRoberts is catching and shooting right away with confidence, his days of timid play on offense a thing of the past.
And what to do with Devonte Green? After some strong play against Illinois — though that was tempered with some late mistakes — Green only saw four minutes against Purdue on Sunday. But he started in place of Newkirk in the second half tonight and pumped in 15 of his career-high 20 points after the break. Green got hot from distance and hit 4-of-5. The rest of his teammates shot just 2-of-14 from beyond the arc. Green also hit 4-of-5 from the line, while the rest of his teammates went just 6-of-13. The sophomore arguably took just one bad shot tonight and dished out two assists against no turnovers in 30 minutes of action.
Green's boom and bust style of play has made it hard for Archie Miller to trust him. But on night's like tonight where Newkirk isn't producing much, rolling the dice on Green and having it pay off may be of mutual benefit to the player and the team as a whole over the final weeks of Big Ten play.
With tonight's game in the books, Indiana's free throwing shooting (65.3 percent) now sits at 326th in the country. Its 3-point shooting (30.5 percent) is even worse at 333rd. The Hoosiers are now 12-11 overall and officially under .500 in conference (5-6).
Despite an improved, more committed defense and some signs of Miller's system beginning to take shape, this team's poor shooting is going to make staying above .500 with seven regular season games to go no walk in the park.
(Photo credit: Joe Maiorana-USA TODAY Sports)
Filed to: Ohio State Buckeyes