Five takeaways from Indiana's loss at Michigan State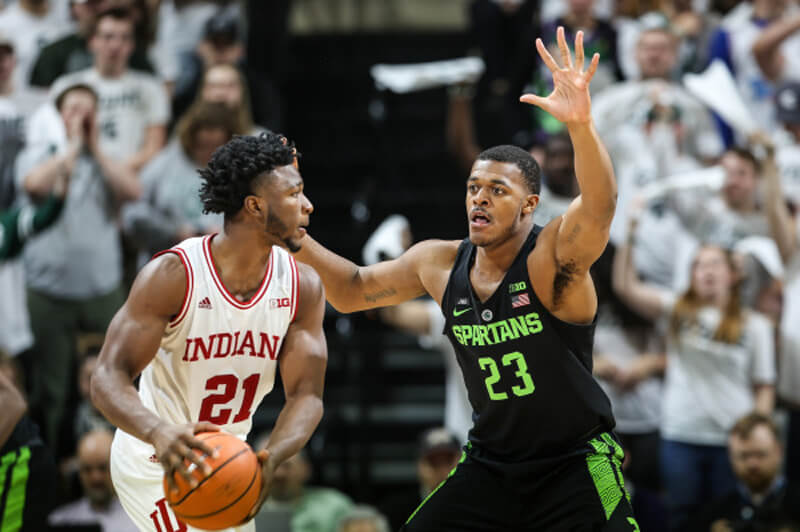 Indiana's three-game winning streak was snapped on Friday night as Michigan State crushed the Hoosiers, 85-57, at the Breslin Center. The loss dropped Indiana to 11-8 overall and 4-3 in the Big Ten.
Here's a look at five takeaways from the loss to the Spartans:
· Michigan State played like the national championship contender that it is: Friday night was much more about Michigan State playing well than it was Indiana playing poorly.
The Hoosiers have played well as of late, but Michigan State is the class of the Big Ten right now in terms of talent. And it showed at the Breslin Center.
After a solid start, Michigan State's 18-0 run put the game away less than 10 minutes into the contest. There aren't many teams in the country that can put an opponent away that quickly, but Michigan State is one of them. And with five days to prepare after a loss to Michigan, the Spartans were ready to pounce.
"We've had teams where we came out to a great start and they were able to come back, like the Rutgers game," Michigan State's Miles Bridges said. "We just wanted to be able to step on their necks, and we showed a sign of maturity today. When they went on a run, we went on our run."
· Robert Johnson's strong play continues: After struggling frequently early in the season, Robert Johnson appears to be hitting his stride.
The senior guard from Richmond (Va.) scored a team-high 21 points in the loss and hit four of his six attempts from beyond the 3-point line. Johnson's 3-point shooting percentage for the season is up to 34, which is still well below his career average.
With the status of Juwan Morgan uncertain moving forward, Indiana may need even more from Johnson offensively.
"He was just being very aggressive," Archie Miller said of Johnson. "I think he knew he was going to have to step up and make some plays and he did. He played hard the whole way through."
· No update on Juwan Morgan: The biggest storyline coming out of the loss, from an IU perspective, is the status of Juwan Morgan.
Morgan injured his left foot late in the first half and didn't return. In fact, Morgan didn't even return to the bench for the second half and reportedly left the arena on crutches.
Miller said Morgan would be reevaluated once the team returned to Bloomington, but provided no further update on the injury. With an already depleted frontcourt, Indiana simply doesn't have the depth to play against the Big Ten's upper echelon without Morgan.
· Indiana struggles on the defensive glass: The Hoosiers have been one of the Big Ten's top defensive rebounding teams, but had major problems keeping Michigan State off the offensive glass.
The Spartans finished with an offensive rebounding percentage of 38.7, the third highest percentage allowed by Indiana this season. Michigan State turned 12 offensive rebounds into 17 second chance points.
"A lot of 50-50 plays, a lot of hustle rebounds, a lot of physical things that they came up with, you know, really resulted in a lot of second-chance points," Miller explained. "So, give them credit, for us we got to get back to working the next couple of days."
· One game down in brutal seven-game stretch: Big Ten commissioner Jim Delany wanted the league's conference tournament in Madison Square Garden so badly that he condensed this season's schedule to make it happen.
Indiana's schedule in early January was manageable in terms of turnarounds, but this seven-game stretch in 17 days is brutal. Both of Indiana's upcoming road games are on a one-day turnaround.
The Hoosiers won't have more than a two-day prep in any of their next four games.
(Photo credit: Michigan State Athletics)
Filed to: Michigan State Spartans