The Minute After: Michigan State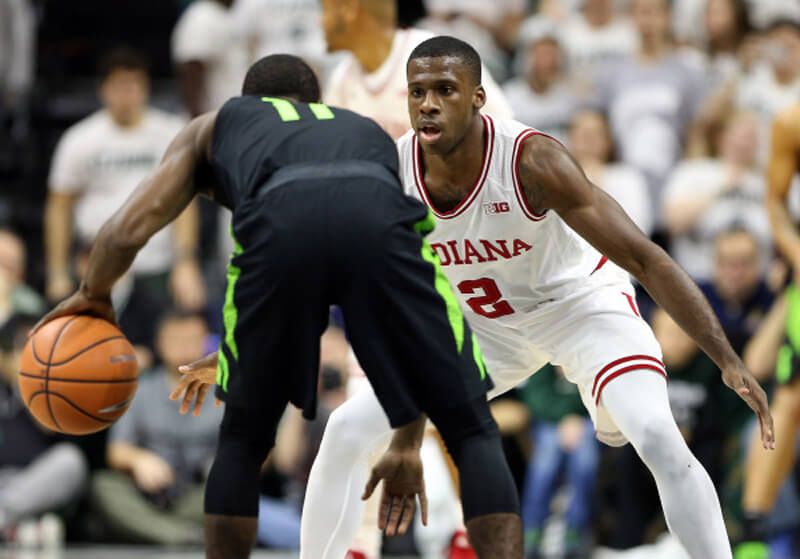 Thoughts on a 85-57 loss to the Spartans:
Try as they might, the Hoosiers were absolutely no match for Michigan State this evening.
While Indiana made some shots early to take a small lead and at least matched Michigan State in terms of energy, it was short-lived. The Spartans quickly ripped off an 18-0 run and locked the door and ate the key on the Hoosiers.
Michigan State was just too long, too strong, too talented and too good for Indiana. Without De'Ron Davis — and later Juwan Morgan, who left the game late in the first half with an ankle injury — Nick Ward was able to have his way on the interior. Ward scored 18 points on an efficient 7-of-9 shooting performance. Miles Bridges put on a show, finishing an alley-oop in the first half and throwing down a ridiculous dunk in the second. After a 1-of-5 performance from distance in MSU's loss to Michigan, Bridges rebounded to knock down 4-of-6 from 3-point range this evening. The sophomore scored a game-high 22 points. Jaren Jackson Jr. (10), Cassius Winston (10) and Matt McQuaid (11) all scored in double figures for the Spartans as well.
By game's end, MSU scored .41 points per possession more than Indiana (1.26 vs. .85).
Michigan State also bested the Hoosiers 38-18 on points in the paint, as the Hoosiers struggled to get anything going inside even when Morgan played in the first half. During a timeout segment on the broadcast, Archie Miller could be heard telling his players they were doing "too much on the perimeter." The Spartans also rebounded 39 percent of their misses to beat Indiana 17-6 in second-chance points.
It wasn't all bad for Indiana. Despite not having Morgan, the Hoosiers were outscored by just nine in the second half despite Michigan State's starters playing deep into the final 20 minutes. Indiana also took much better care of the ball, dropping their turnover percentage from 20 at halftime to 13 by the end of the contest. Robert Johnson had an excellent offensive performance and hit some tough shots. Johnson made 4-of-6 from deep and finished with 21 points.
While this was most certainly an absolute thrashing, Indiana has had little success in East Lansing, losing 20 of its last 21 games at the Breslin Center. Michigan State entered the game as a heavy favorite seeing blood in the water after some recent missteps and played very much like the national title contender it is. This didn't feel like a step backwards for the Hoosiers so much as the inevitable.
Morgan's injury looms large, however. There's no announced timetable as of yet and Indiana takes on Maryland on Monday, giving him little time to rest. If Morgan misses significant time, it's going to be hard for the Hoosiers to recover. He does so much for this team. The offense plays through him often and without Davis for the rest of year, Morgan missing any significant amount of time leaves Indiana super thin up front.
Either way, the Hoosiers need to put this one behind them and keep moving forward. No reason to dwell.
(Photo credit: USA Today Sports)
Filed to: Michigan State Spartans