News and notes from Archie Miller's radio show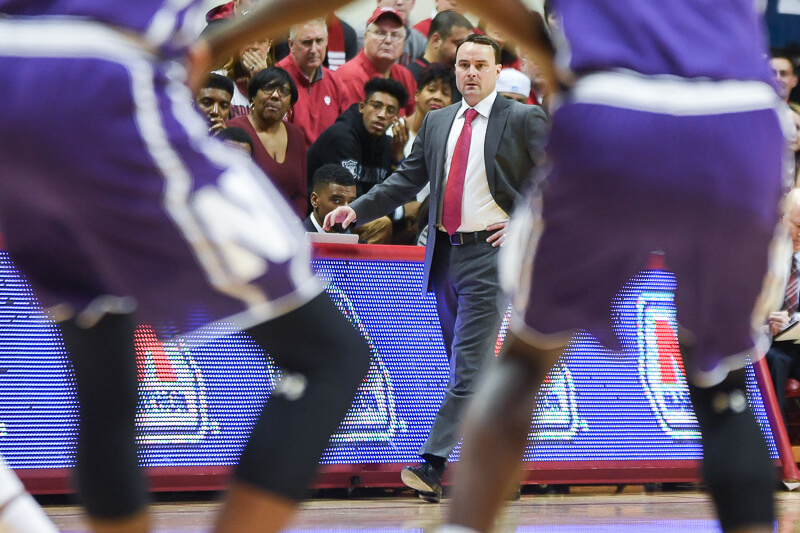 Inside IU basketball with Archie Miller was pre-recorded this week, as the team was traveling to East Lansing. Associate head coach Tom Ostrom was the special guest.
Below are news and notes (all quotes from Miller unless noted otherwise):
· On playing through first-half foul trouble against Northwestern: "I thought there was very little drop-off on the defensive end. Offensively, obviously, we were having to work with a couple different lineups out there at times versus their zone which wasn't as smooth. But I thought defensively, everyone really brought the intensity level. There was no drop-off, which was great to see."
· On improved defense: "It's been getting better. We're much more comfortable playing the style of defense that we have to play to be successful. We're much more active as a group… For the most part, there has been a consistent energy level. They are staying with it. Guys who are coming into the game are staying with it. Being able to defend for long stretches is a big, big key for our team as we move into the middle pack of the conference and in towards the finish."
· On the buy-in of the team: "The team in general right now, I think every guy to a man understands what we're asking them to do. I don't think there's very many guys on the team where you look out there and say they don't look the same as the other guys. I think there's been some consistency here over the course of time where certain guys are delivering. Not that you can't get better or that you're asking for more consistency in general. But I think guys are playing better right now. They have a great understanding of what we want to do and how we want to do it. We're starting to get a higher level quality of play from our guys."
· On critiquing individual players: "You have to be yourself and have to hold each guy to your own standard. But there also has to be a personal touch with that kid. They have to understand that you care about them and, number one, you're going to make them better. Some guys early on, fight it. You lose the battle, inevitably, all the time. When certain guys make it a little harder on themselves because they're stubborn. At the end of the day, the one thing they end up realizing is the only guy you're hurting is yourself. With us, we're really focusing on the team concept. It's not really about you, it's always about us, it's about playing for the win. The greater the team success, the more individual success you'll always have."
· On Zach McRoberts: "He does things in a manner which everyone respects. It's not what he does on gameday that really is impressive. It's what he does on a daily basis in practice. Trying to figure things out at the very beginning here, Zach was a guy in practice that did a lot of good things. You just try to figure out your own pieces and how you want to play… When it starts to come down to winning plays, who is doing everything you're asking them to do, he deserved a chance. Once he got this chance, everyone on our team understands how valuable he is. Zach is a winner, he's definitely been a part of our growth as a team as we've gotten better."
· On Robert Johnson's growth as a leader: "I give Rob Johnson a lot of credit. He's there every day, he's an unbelievable worker. You get into January here, you're looking at guys, whether they're playing good or bad, to have that positive influence on your teammates. That's what Rob has been doing."
· On Juwan Morgan's development: "He's an everyday guy. He's been thrust into a couple different roles this season as we figured out our team. He has great versatility in how he plays… A lot of people probably aren't giving him a lot of credit for his defensive effort and his defensive ability. He's just doing a really nice job from a smarts standpoint, from a scouting standpoint. He's rebounding the ball for us as well. So he's doing it on both ends and he's healthy for the most part. For the first time, he feels better physically. He's stronger than he's been in the past. To his credit, he's worked very hard."
· Miller said he doesn't talk to his team about conference standings. Instead, he focuses on the next opponent.
· On quick turnarounds: "The one thing that's really unique about our schedule is we have three two-games-in-three-days. And on the second game, it's always on the road. We do that three times within a three week period of time. I'm not sure any college basketball team in conference (play) is looking at that odd of a landscape where you play on a Monday at home against Maryland and then have to find a way to get to Illinois for a Wednesday night game with a one day prep…Those turnarounds are very difficult. In some cases, the team you play has a very short window to prepare for you as well. In some cases, that team could be sitting there waiting on you a few times. It's uneven, it's to be expected with what the league has developed with Madison Square Garden this year. There's no reason to really get into it in terms of fairness, but it is going to be a difficult task for our guys."
· With the compacted schedule upcoming, Miller said practices are going to get cut down to between 75 and 90 minutes of time on the floor. When there is only one day of rest between games, Miller said the team might only hold walkthroughs because of the importance of making sure the team is rested both emotionally and physically.
· On Michigan State's recent funk: "What's wrong with them? Not a whole lot. I think they're like every team, they're going through the battles of conference play. They're a Final Four caliber team, they have a lot of championship aspirations within their grasp. Coming off a week to prepare, I'm sure we're going to get a heck of an effort level by them on Friday."
· On the challenges that Michigan State presents: "The shot-blocking, the rebounding, the size on the perimeter, what they can do defensively. It's going to be a real challenge for us to score in Breslin (Center). We're going to have to be really good defensively and in taking care of the ball."
· Miller said Collin Hartman doesn't want to wear the brace on his right shoulder, but needs to for protection and preventative reasons. Hartman can't take it off until (head athletic trainer) Tim Garl and the rest of the training staff tell him he can, but "it's something that he may have to wear the rest of the season."
· On how the compacted schedule effects the rhythm of the season: "The one great thing about coaching and about your season is that you love rhythm. You love weeks of having a rhythm for your players. They know what's coming. With what we're enduring in the Big Ten this season, playing on every night of the week and quick turnarounds, road games, you're really not giving them a chance to be as healthy, as fresh and as successful as they maybe can be. In the future now that we're moving to 20 (conference games next season), you're going to have the ability to maybe space your games out in a better way, being able to protect (the players) a little bit more is something that (I'm) definitely going to able to have input in and will work."
· On the potential for transfers to not have to sit out a season, "I'm not a fan of immediate eligibility for transfers. I think it would create a really, really difficult challenge as a coaching staff to not only maintain your roster from year-to-year but also, to maintain your program in general with some stability. It's so easy now a days for a young guy to get good advice or bad advice, but the minute they're able to leave and go somewhere immediately and start playing, you open up a lot of different avenues for, y'know tampering, recruiting. Just in general, when it's not really going well, (to) have the ability to change course. As a staff, as a coach, the thing you always are trying to do is maintain your roster. Get older, get better. I think immediate eligibility for transfers is something that would be bad for the game."
· On if he'd be open to being on a rules committee, "I've always been asked for input. I think like all college basketball coaches, whether it's surveys or NABC or NCAA, you give your thoughts. I think the rules committee, there's some other committees that, clearly, as you get into this thing, if you can have an impact on the game positively and you can contribute, you definitely want to be a part of anything like that."
· On if the week between the Big Ten tournament and the rest of the postseason will allow the coaching staff to attend more high school games: "Without question. Once you're sitting and waiting, especially once you get to late February and early March, that's when the high school season starts gearing up towards playoffs. Our staff will be heavily engaged in February and March in terms of our recruiting."
· On Clifton Moore's role: "Clifton is going to continue to get better. He's going to continue to get those opportunities that he got against Northwestern. The one thing we'll have to be really smart about is getting him in in the first half. Trying to find a way to get him in in the first half every game, so that when things do happen, he's not surprised or cold. But he did a nice job, I thought, against Northwestern. He had two blocked shots on the help and was in position a few times as well. He had a good practice and continues to work hard."
· Ostrom, on what brought him into coaching: "I always loved basketball. I wasn't very good at it, but I did my best. I always enjoyed the nuances of the game, studying the game, and the relationships. Literally, my first or second day on campus at the University of Minnesota, I was kind of wandering around, didn't know anyone… Just by chance, I walked by the basketball office. I don't know what made me, but I walked in, and I remember the secretary greeted me, said 'Can I help you?"… Next thing I know, about two days later, I was a manager."
· Ostrom, on how to recruit: "You've gotta be you. If you try to be someone else, it doesn't work. People see through phoniness in a hurry. You just have to be you. You develop relationships and trust. You try to develop relationships beyond basketball… It's not about buildings or things like that, it's about who they trust with (the kids) future. As a student, as an athlete and developing the young man. You try to get to know the kid and the people around the kid. Just develop relationships and a mutual trust factor. We have to trust them and they have to trust us. That's really the only way it works."
· Ostrom, on the team's willingness to listen: "From day one, anything we've asked them to do, any philosophies or styles or programs we've tried to implement, they've been both feet in. They try to do everything we ask and when we correct them, they're always open to corrections and to doing things a different way. That's what makes it a lot of fun. You don't have to worry about attendance or attitudes or anything like that."
Filed to: Archie Miller, Tom Ostrom