Notebook: Hoosiers learning to win ugly in Big Ten play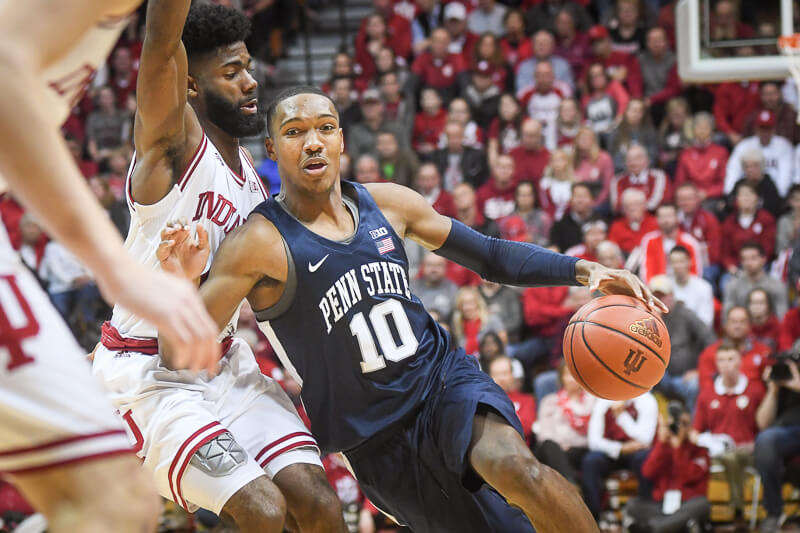 In the Big Ten, a win is a win, no matter how ugly. That's what Archie Miller's Hoosiers are learning.
Tuesday night marked the second straight imperfect conference win for Indiana, as the Hoosiers (10-7, 3-2 Big Ten) outlasted Penn State, 74-70.
For the third consecutive game, Indiana's opponent came into their matchup wounded. This time, the starter missing from the lineup was Penn State junior forward Josh Reaves. Not only is Reaves one of the Nittany Lions (12-6, 3-2) most efficient scorers, but he's also ranked in the top-20 nationally in steal percentage (4.5).
"We were definitely a little out-of-sync. I think that was noticeable," Penn State head coach Pat Chambers said of having to play without Reaves, "(Reaves) just brings the energy, just brings juice. Hopefully, we'll have him back Friday."
The win came despite Indiana shooting just 22 percent on 3s (6-of-27) and only recording one block on the other end.
There were also several dumbfounding moments, like the 10-second backcourt violation, questionable shot selection and two missed dunks. But for the second game in a row, Indiana overcame their flaws to win ugly.
In most facets, Indiana was the superior squad. The Hoosiers won the battle on the offensive boards 12-5, outscored Penn State's bench 25-1, nailed over 80 percent of their foul shots and turned it over only nine times.
Morgan remains consistent
Throughout Indiana's roller-coaster season, one thing has remained consistent: Juwan Morgan.
The junior has easily had the best year of his career, earning Big Ten player of the week honors in December after IU's win over Notre Dame and out-willing opponents. Morgan's stellar campaign continued on Tuesday, as he recorded his second consecutive double-double, accruing 21 points, 11 rebounds and two assists.
An unexpected addition to Morgan's game as of late has been his ability to hit three-pointers. Just 18 percent (2-of-17) from three in the first 15 games of the season, Morgan has shot 56 percent (5-of-9) from long range in the last two contests.
Morgan's improved three-point shooting has forced defenses to guard him closely on the perimeter, allowing him more space to drive inside. This was the case with four minutes remaining in Tuesday's game, when Morgan blew by Penn State's Mike Watkins and drove into the lane for a three-point play.
"(Watkins) had to respect that I could hit that shot and he had to close out," Morgan said. "When he left his feet I had an open drive lane to take it the way I did or pass it to an open teammate."
Newkirk's bounce-back night
After failing to score for just the third time all season in the win at Minnesota, senior guard Josh Newkirk bounced back, having one of his best games in his Hoosier career on Tuesday.
In 30 minutes, Newkirk collected 16 points and added four assists without turning the ball over. He also went 7-of-8 from the free throw line, including four straight makes in the final 30 seconds to put the game away.
"(Newkirk is) a great teammate," Miller said. "Eventually, good things happen to guys like him who just stay with it every day."
McRoberts 'winning' edge
Junior walk-on Zach McRoberts hasn't scored in his three appearances since Big Ten play resumed, but he's done just about everything else.
Indiana's glue guy was at it again on Tuesday, doing all the little things to help lead his team to victory. Although McRoberts was scoreless in 26 minutes, he contributed with six rebounds, three assists and three steals before fouling out in the final minute of the game.
"(McRoberts) just plays within himself and gives everything he has," senior Robert Johnson said. "He's been huge for us, especially since he's been starting."
Filed to: Josh Newkirk, Juwan Morgan, Penn State Nittany Lions, Zach McRoberts