What to expect: Penn State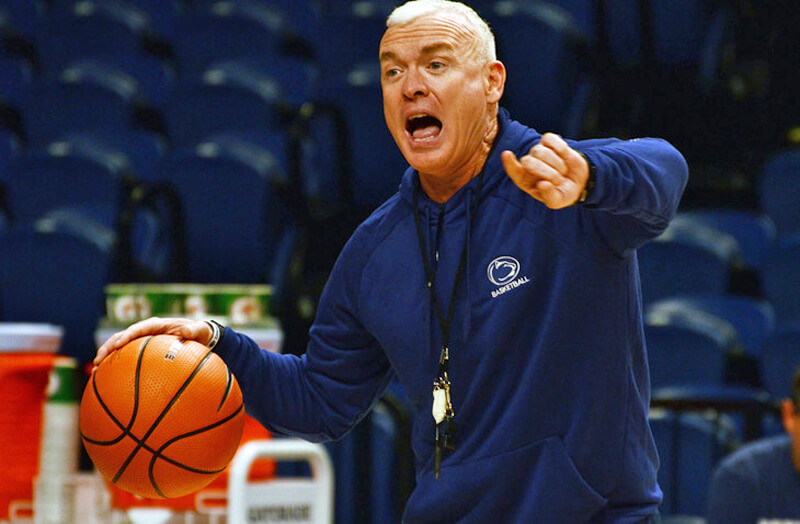 Indiana returns to Simon Skjodt Assembly Hall tonight to host Penn State. The Nittany Lions are 12-5 overall and 2-2 in the Big Ten.
The game will be broadcast at 6:30 p.m. ET on BTN with Dave Revsine and Stephen Bardo on the call:
The last time Indiana returned home after an unexpected win, momentum for the Hoosiers didn't last long.
Just two days after IU's thrilling overtime win over Notre Dame in the Crossroads Classic in Bankers Life Fieldhouse, the Hoosiers suffered a 20-point loss at home to Fort Wayne.
After a 1-1 week on the road in conference play, Indiana is back on Branch McCracken Court to face Penn State, which is in search of wins to try and bolster an almost non-existent NCAA tournament resume. The Nittany Lions are 12-5 overall and 2-2 in league play, but have beaten just two KenPom top 100 teams in Montana (98) and Northwestern (74).
Coming off of a hard fought win at Minnesota, can the Hoosiers avoid another letdown?
MEET THE NITTANY LIONS
Pat Chambers is in his seventh season in State College and has one postseason appearance: the CBI in 2014. While Penn State's low expectations for basketball have kept him around, the Nittany Lions have no excuse not to make at least the NIT this season.
Penn State has five players averaging in double figures and is led by sophomore guard Tony Carr, who averages 18.3 points per game. The 6-foot-5 Carr is shooting 49.2 percent on 3s this season after hitting just 32 percent last season as a freshman. His assist rate is also up by 3.1 percent to 29.6 and his turnover rate is down from 18.1 to 11.7. If there's a weakness to Carr's game, it's in the midrange. He's shooting just 35.2 percent on midrange 2s.
Carr is joined in the starting backcourt by senior Shep Garner and junior Josh Reaves. Garner's usage is down significantly from last season as he's using just 15.1 of Penn State's possessions while on the floor. He's fifth on the team in scoring at 10.2 points per game and is shooting a solid 39.2 percent on 3s. Garner's turnover rate (19 percent) is the highest of his career.
The 6-foot-4 Reaves is the team's best athlete and an improved shooter. After shooting just 22-of-98 (22.4 percent) from distance his first two seasons, Reaves is 21-of-49 from deep this season (42.9 percent). Reaves is 15th nationally in steal percentage (4.5), is shooting 58.3 percent on 2s and averages 10.8 points per game.
Freshman Jamari Wheeler and sophomore Nazeer Bostick log the majority of the backup minutes in the backcourt. Wheeler is turnover prone (23.6 percent) as is Bostick (26 percent).
Sophomore forward Lamar Stevens is one of the Big Ten's best young frontcourt players. Stevens averages 15.1 points per game and is making 50.3 percent of his 2s. He's joined in the starting lineup by redshirt sophomore Mike Watkins, who averages 13 points and 9.5 rebounds per game. Watkins is sixth nationally in defensive rebounding percentage and is 12th in block percentage.
Julian Moore, a 6-foot-10 senior, and Satchel Pierce, a 7-foot junior, are two frontcourt backup names to know if Watkins encounters foul trouble.
TEMPO-FREE PREVIEW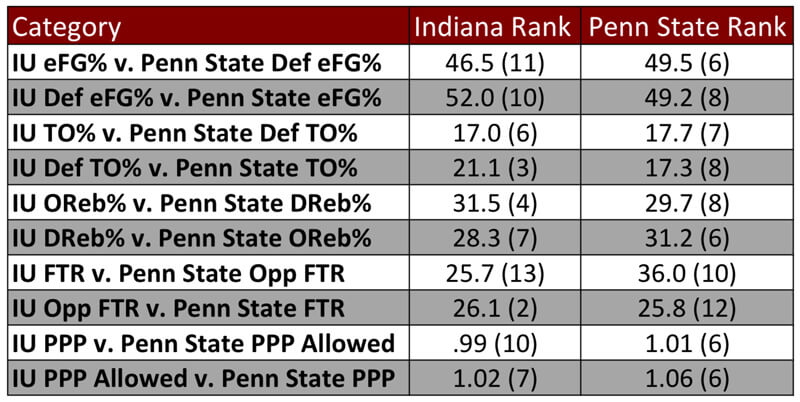 With four games in the books, we've updated the tempo-free preview to chart to include conference only numbers.
One thing that stands out immediately: both teams are really struggling to generate points at the free throw line. The Hoosiers are 13th in free throw rate and Penn State is 12th. Indiana has done a much better job than Penn State at keeping its opponents off the free throw line, which is something to watch with the Hoosiers being at home.
Indiana has also been the better rebounding team on both ends, at least through four league games. For the season, Penn State is shooting 37.8 percent on 3s, but through four league games, the Nittany Lions are shooting just 34.2 percent. In four league games, Indiana is allowing its opponents to shoot 39.8 percent from behind the arc.
Although Penn State is playing a much faster pace overall, both teams are averaging 67 possessions in league play.
WHAT IT COMES DOWN TO
Penn State is a 1.5-point favorite in Vegas as of Tuesday morning and the Ken Pomeroy projection is Penn State by 2. Sagarin likes Penn State by half of a point.
Indiana played two thrillers against Penn State last season as the Hoosiers won on a James Blackmon Jr. 3-pointer at the buzzer in State College and then prevailed 110-102 in three overtimes later in the season in Bloomington.
The Nittany Lions have always been scrappy under Pat Chambers, but now they have some legitimate talent with Carr, Stevens and Watkins. If Chambers would have scheduled more aggressively in the non-conference, Penn State could have legitimate NCAA tournament aspirations, but an awful non-conference slate (307th ranked non-conference schedule per KenPom) means Penn State is probably going to need 12 conference wins to get into the mix.
For Indiana, it's imperative to stay out of foul trouble, particularly given Penn State's size advantage up front. Watkins and Stevens will be looking to attack the rim and Indiana will have to be aware of Carr, Garner and Reaves on the perimeter when sending help to the post. As the projections suggest, this game is nearly a toss up on paper and could come down to rebounding and the free throw line.
(Photo credit: Penn State University)
Filed to: Penn State Nittany Lions