The Minute After: Minnesota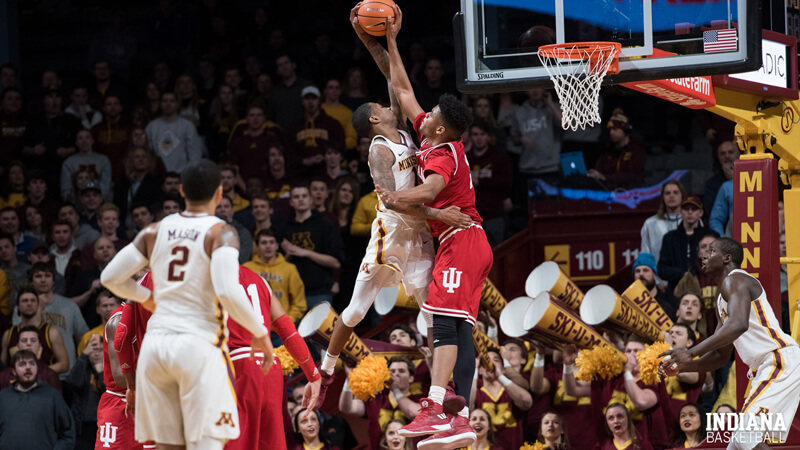 Thoughts on a 75-71 win over the Golden Gophers:
Indiana came into this one wounded. Its loss to Wisconsin, even in a season with huge losses at home to Indiana State and Fort Wayne, was arguably its worst game of the season. And with both De'Ron Davis and Collin Hartman sidelined for the contest, the Hoosiers had even more wounds to lick.
But Minnesota had its own recent issues to deal with as well. The Reggie Lynch situation became national news yesterday. Amir Coffey's shoulder injury kept him out of the contest.
And as Indiana came out of the gate dropping in 3-pointers and getting a heck of an effort from freshman Justin Smith, the Hoosiers appeared ready to move on from the serious lack of effort they showed earlier this week against Wisconsin.
Minnesota couldn't buy a bucket in the first half as Indiana extended a lead out to nine with 3:41 to go. Could the Hoosiers be up double-digits at half on the road? Well. No. They left 3-point shooters open and didn't score the remainder of the half. What could have been a comfortable cushion at the break was just a one-point lead at 32-31.
And over the first five minutes of the second half, it looked like Indiana's first half charge would be all for naught, another road game in which it just couldn't get over the hump. Minnesota scored a flurry of buckets at the rim and got up eight (48-40) with 15:19 to go. But unlike in the second half against Wisconsin, Indiana didn't fold or fade away. Far from it. The Hoosiers hung tough and made more than a game of it.
The Hoosiers grabbed back the lead at the 11:28 mark on a Robert Johnson 3-pointer. Johnson's had trouble with confidence of late and has been a source of frustration for fans. But his performance on offense this evening — 28 points on 10-of-21 shooting, seven rebounds, seven assists — was a big reason why Indiana was able to pull out the victory.
Juwan Morgan continued his double-double prowess, pumping in 20 points and 12 rebounds. Morgan had only hit two 3-pointers all season as he's struggled to find any success beyond the arc. But in a contest the Hoosiers finally broke through and shot well from distance (8-of-19, 42.1 percent), Morgan splashed in 3-of-4, making more in this game than he had all season.
In just his second start as a Hoosier, Smith scored a career-high 20 points and showed absolutely no fear against Minnesota. Smith's biggest shot of the contest was a 3-pointer he hit with 2:30 to go to put Indiana up 71-70. It was a lead Indiana never relinquished. Some clutch free throws down the stretch from Johnson sealed this one, as did some defense. The Hoosiers held the Golden Gophers to just two free throws and no field goals over the final 3:34 of the contest.
The eight 3-pointers and defense — the Hoosiers allowed just .97 PPP to Minnesota — made the difference in this one. But so too did Indiana's effort and energy. This one had all the makings of another road contest the Hoosiers had a shot in but ultimately lost.
But instead, it's the first true road win of the Archie Miller era, a welcomed change from the disappointment of the Wisconsin loss earlier this week.
(Photo credit: IU Basketball on Twitter)
Filed to: Minnesota Golden Gophers