What to expect: Minnesota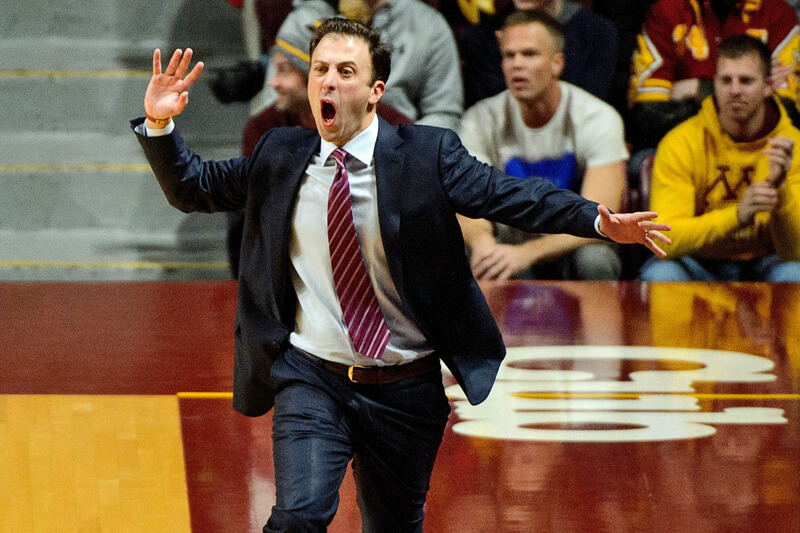 Indiana concludes a two-game roadtrip on Saturday in Minneapolis as the Hoosiers take on Minnesota at Williams Arena. The Gophers are 13-3 overall and 2-1 in Big Ten play.
The game will be broadcast at 5:15 p.m. ET on ESPN2 with Dave Flemming and Dan Dakich on the call:
Indiana's roller coaster season continues this weekend in a venue that has historically been a difficult place to play: The Barn. With its elevated court and a fanbase that typically brings a ton of energy when the team is good, Williams Arena can be a challenging venue for road teams.
This season's Hoosiers are winless on the road and are coming off a disappointing 71-61 loss to Wisconsin at the Kohl Center in which they showed little life in the second half.
On his weekly radio show Thursday night, Archie Miller admitted that finding passion on the floor from his players has been an ongoing challenge. Specifically, Miller noted that it can't always be the coach who brings energy to the team.
"The coach can't inspire and then yell at and then be positive," Miller explained. "It's just tough to do all of those things. You need some in house communication. I think that's the one thing about this team is, it's a little bit more reserved, it's a little bit more reactive."
One thing is clear: Indiana is searching for answers just a few days into the new year.
MEET THE GOPHERS
Minnesota was projected to be a top four Big Ten team in the preseason, but the Gophers could be without their lead defender given Thursday night's news regarding senior Reggie Lynch.
Lynch, last season's Big Ten defensive player of the year, was found responsible for violating the school's sexual misconduct policy. His availability for Saturday's game (and beyond) is unclear as of Friday morning.
How important is Lynch to the Gophers? He's averaging 10.1 points, eight rebounds and 4.1 blocks in 26.4 minutes per game. Lynch's block percentage of 15 is tenth nationally.
Regardless of his availability for tomorrow's game, Minnesota still has plenty of talent left on the roster to win in the Big Ten.
Junior forward Jordan Murphy is one game away from tying Tim Duncan's NCAA record for consecutive double doubles to start a season, which is 17 games. Murphy leads the Gophers in scoring at 19 points per game and his 12.9 rebounds per game also lead the team. Murphy's offensive rebounding percentage is seventh nationally and he's making 57.3 percent of his 2s.
With Eric Curry lost for the season due to a knee injury, Minnesota's frontcourt depth is somewhat thin. Seniors Bakary Konate and Gaston Diedhiou could be thrust into much bigger roles if Lynch is out as could senior Davonte Fitzgerald. None of the three offer anywhere close to the production of Lynch.
Minnesota's backcourt is experienced and dynamic with senior Nate Mason, who recently returned from an ankle injury. Mason is one of the Big Ten's best guards and is second on the team in scoring at 15.6 points per game. He's shooting a stellar 44.1 percent on 3s and has a solid assist rate at 24.6 percent. Mason also averages 3.9 rebounds in 30.5 minutes per game.
His backup is freshman Isaiah Washington, a top 100 recruit from New York. Washington is a dreadful 3-point shooter (14.3 percent).
Joining Mason as starters in the backcourt are junior Dupree McBrayer and sophomore Amir Coffey. McBrayer is fifth on the team in scoring at nine points per game and is shooting just 37.5 percent from the field. Coffey, one of the league's most talented players, is third on the team in scoring at 14.1 points per game. At 6-foot-8, Coffey is a difficult matchup because he can shoot from the perimeter and also get into the lane and finish over smaller guards.
Michael Hurt, a 6-foot-7 sophomore, gets most of the wing minutes off of the bench. The older brother of five-star recruit Matthew Hurt, Hurt is shooting 55 percent from the field and averages 3.1 points per game.
TEMPO-FREE PREVIEW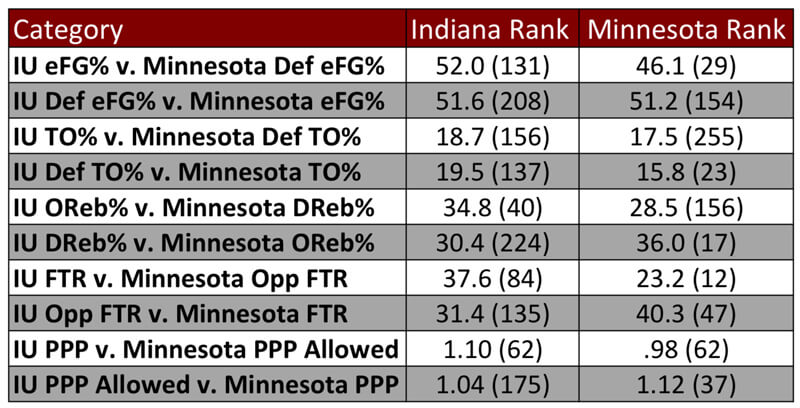 Miller has talked a lot about Indiana's rebounding deficiencies in recent weeks and Saturday's contest is another game where the Hoosiers could be exposed if they don't show up on the glass.
Murphy is a relentless offensive rebounder and almost single handedly has the Gophers in the top 20 nationally in offensive rebounding percentage. Minnesota doesn't foul much at all and their strength defensively is forcing opponents into contested shots, many of which are altered by Lynch.
The other thing that stands out about Minnesota's KenPom profile is their ability take care of the ball. They don't shoot a great percentage (51.2 eFG%), but they're only turning it over on 15.8 percent of their possessions, which is 23rd best nationally.
WHAT IT COMES DOWN TO
KenPom projects a comfortable 10-point win for Minnesota and Sagarin's ratings favor the Gophers by nine. The major storyline going into the game is obviously the availability of Lynch, but even if he doesn't play, Minnesota is still a solid favorite.
With four road games in the books, Indiana is 0-4 with an average margin of defeat of 12.3 points. The Hoosiers have been within striking distance in the second half in all four games and even led in halftime in two of them (Louisville, Wisconsin) before fading down the stretch.
Can the Hoosiers reverse their road woes in one of the Big Ten's most difficult venues?
(Photo credit: Hannah Foslien/Getty Images North America)
Filed to: Minnesota Golden Gophers