News and notes from Archie Miller's radio show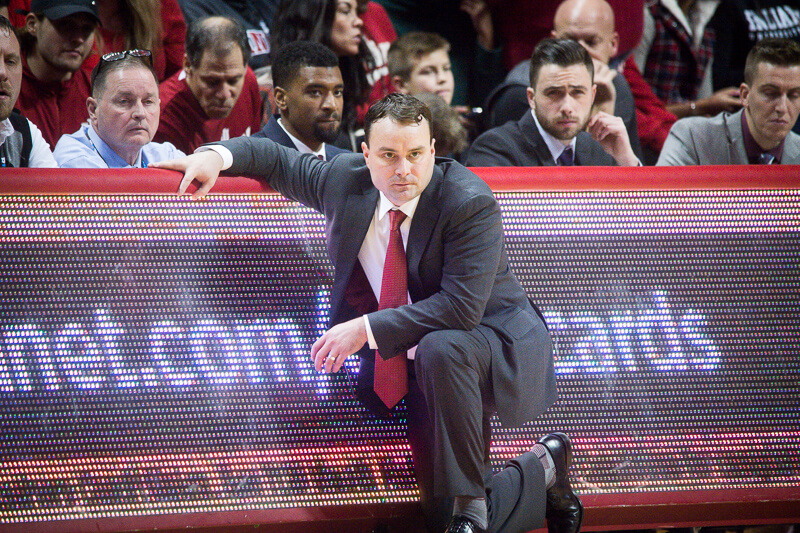 Inside IU basketball with Archie Miller was live on Thursday evening at the Holiday Inn in Bloomington. Justin Smith was the player guest in the show's final segment.
Below are news and notes from Miller:
· Miller said rebounding was the major difference, particularly in the second half, in Tuesday's loss at Wisconsin.
· On Indiana's 3-point shooting: "Our perimeter guys are better shooters than that. I've been saying that. We just haven't been able to get it clicking. We need some confidence and some guys to step up and make a couple and I think it will help the rest of the guys step up and make a couple. Because really, at the end of the day, the thing has been: 'Can you score against really good teams when you need a basket with about eight minutes to play?'
· On early foul trouble in games: "Fouling, it really comes down to discipline. The old adage, the harder you play, the less you foul. And in many ways, the harder you work before the ball ever gets to your man, the harder you work to get in position off the ball, the harder you work within a game before anything ever gets to you is usually how you prevent fouling."
· On how to fight this team's lack of consistency: "I think one thing is identifying individual guys and what is the problem, how can I help you. And then I think the other thing is, as a team, being locked in on just the process of getting better, being locked in on not being distracted by outside noise. Whether you're winning or losing, there's always some type of noise that's coming into an individual or player. You have to be willing to, as a group, really shut that out and stay within the process."
· On preparing to play Minnesota: "It's one of those things where you don't really have to worry about the plays or what they're running, it's basically you are dealing with guys in general that are big, strong and tough minded and they want to get after you a little bit. I think they have one of the best frontlines in college basketball in (Reggie) Lynch and (Jordan) Murphy."
· On how Indiana is holding up mentally: "I think anytime you've gone through a lot of ups and downs, your team is always looking for answers. I think the one good thing about this group is there is work ethic, there always has been work ethic. There's never a day where we show up and the group is kind of down and don't get after it. I think we get after it quite a bit. I think the one thing we're searching for is a few opportunities for some other guys to start being more consistent. Because I think we have a lot of room to grow if a couple of guys can step their game up a little bit."
· Miller said he does believe the team will have a different energy at home playing in front of the students next week. "Once we get into these Big Ten games at home with our students back, I think the energy level in Assembly Hall helps."
· On finding passion from the players on the floor: "I think that's obviously a daily challenge. There's a lot of different guys that have leadership qualities. In many ways, emotion and passion and wearing your stuff on your sleeve, I'm not sure we have a ton of guys that have that or have ever had that. We have some guys that can speak up, we have a lot of guys that can do some leadership and show the demonstration by example, but it's without question one of the things we've really searched for with this team is to have sort of a burning fire that we can all get behind. And a lot of times it can't be the coach all the time. The coach can't inspire and then yell at and then be positive. It's just tough to do all of those things. You need some in house communication. I think that's the one thing about this team is, it's a little bit more reserved, it's a little bit more reactive. I think that's why some starts are slow, some halftime starts are slow. There's never that consistency of, 'here we go.' I think if we could ever get a couple group of guys that ever have that, 'here we go,' and are always pepping up and always bringing energy … not that you have to be a cheerleader, but at the end of the day you've got to have somebody out there that gives you confidence."
· On how he responds to someone saying IU doesn't play with any spirit: "It's deflating. The one thing about the game of basketball is, it's a team game. And there's a lot of different guys who can help you win games. There's a lot of different ways to win games. But part of winning is confidence, attitude, passion to play. You have to be totally engaged. I think sometimes, the most frustrating part for a coach is to create that culture of attitude and passion and excitement and competition that brings out the best. When it's not there, it deflates you, it saps your confidence. I think more so than anything, you have to find guys that embody what you do and who understand that it's the most important thing."
· On scheduling to fit your team: "You have to schedule for your team. You have to be smart. Going into next year's team, if you look at it, we'll have half of a brand new team again. We'll have a lot of young guys coming in. And in our third year, you'll have recruited two to three cycles and your whole roster could be turned over. Veteran teams, teams that have been through it, you can do different things with those guys. Young teams, you may want to change that up a little bit on how you get started. No question, every team has to be scheduled smartly."
Filed to: Archie Miller