Five takeaways from Indiana's loss at Wisconsin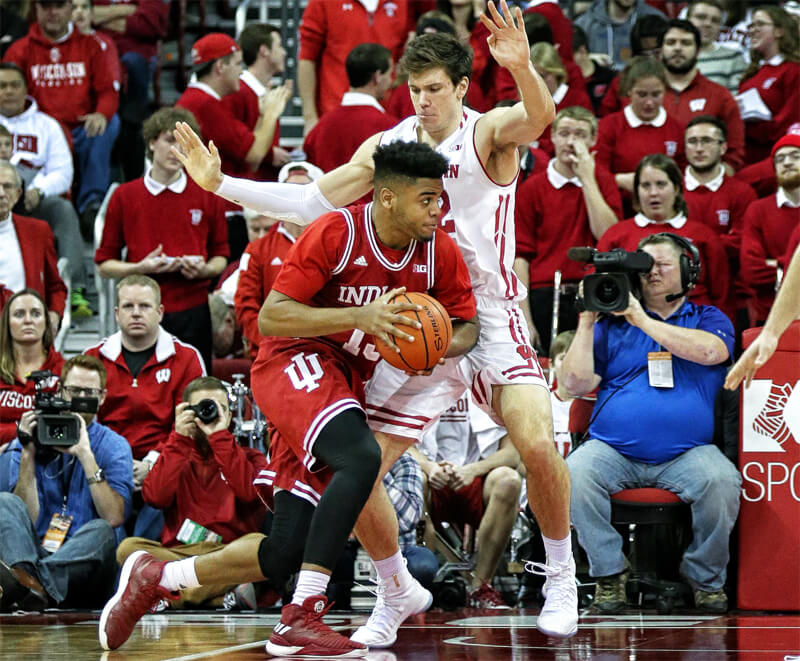 Indiana fell to 8-7 overall and 1-2 in conference play on Tuesday night with a 71-61 loss to Wisconsin at the Kohl Center. It was the program's 16th straight loss to the Badgers in Madison.
Here's a look at five takeaways from the loss:
· Ethan Happ dominated from the opening tip: It didn't take long for Wisconsin redshirt junior Ethan Happ to establish himself on Tuesday night.
On the game's first possession, the Badgers went to Happ in the post and he scored and drew a foul on Indiana's De'Ron Davis after just 26 seconds had elapsed.
The Badgers kept feeding Happ all game and Happ kept delivering. He finished with a game-high 28 points on 11-of-17 shooting from the field. Happ also hit 6-of-11 free throws and had nine rebounds, four steals, four assists and two blocks in 33 minutes.
"Happ was really able to … 90 percent of the time, be a guy that could get the catch and be able make really good decisions," Archie Miller said postgame. "Whether it be working off of doubles or crowds or whatever it may have been, he pretty much made the right play every time."
· Indiana gets "murdered" on second chance points: Miller didn't mince his words in the postgame when speaking about his team's performance on the defensive glass.
On the postgame radio show, Miller told Don Fischer that the Hoosiers were "murdered" on second shots. In his postgame press conference, he used the word "soft" when referencing Indiana's rebounding.
Both descriptions of Indiana's performance were accurate.
Wisconsin, which entered the game with an offensive rebounding percentage of 28.7, grabbed 46.4 of its missed shots on Tuesday night. The Badgers turned 13 offensive rebounds into 15 second chance points.
The Hoosiers, meanwhile, entered the game with an offensive rebounding percentage of 35. Indiana grabbed just 29.2 percent of its missed shots and finished with just four second chance points.
· Another no-show performance from De'Ron Davis: Indiana's sophomore big man, De'Ron Davis, has shown flashes of improved play as a sophomore.
In a loss to Duke in late November, Davis had 16 points in 21 minutes against one of the nation's best frontcourts.
But Davis has also had his fair share of performances where he simply hasn't produced up to his capabilities and Tuesday was one of those nights.
Davis picked up two early fouls and scored just two points in 10 minutes of action. It was the fifth straight game in which Davis has failed to score in double figures or play more than 20 minutes.
· Indiana's 3-point shooting percentage continues to trend downward: The Hoosiers are on pace for a historic season in terms of 3-point shooting and not in a good way.
Indiana's 3-point shooting percentage as a team – 30.5 percent – would be the program's lowest of the KenPom era if the season ended today. As of Wednesday morning, Indiana ranks 315th nationally in 3-point shooting percentage.
Tuesday's performance, with the exception of a 4-of-8 night from distance from Collin Hartman, was forgettable. Indiana went 4-of-15 from distance as a team (26.7 percent). With 15 games in the books, it's tough to envision this trend reversing at this point.
· Hartman snaps out of recent slump: After scoring just 19 points over Indiana's last five games, Collin Hartman bounced back in a major way in Tuesday's loss.
Hartman shot 6-of-10 from the field and finished with a career-high 18 points.
It was the type of performance Indiana needed out of one of its better upperclassmen, but the Hoosiers didn't have enough production around Hartman to capitalize on his hot shooting night.
(Photo credit: Wisconsin athletics)
Filed to: Wisconsin Badgers