The Minute After: Wisconsin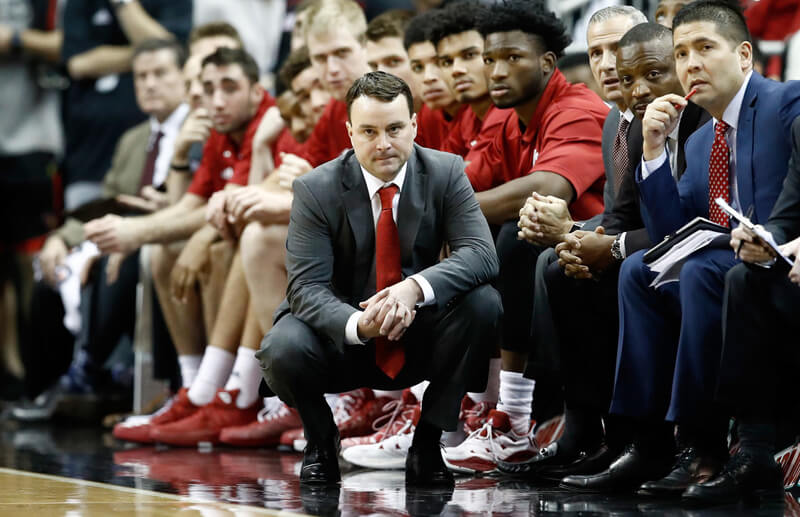 Thoughts on a 71-61 loss to the Badgers:
Another year, another trip to the Kohl Center, another lackluster performance from Indiana leading to a loss.
New coach, new system and it didn't matter — Ethan Happ remains an enormous thorn in the Hoosiers side … on both ends of the court. Happ took this seriously depleted Badgers squad — one playing walk-ons in the rotation and that's already lost three at home by double digits — and put them on his back this evening. He willed them to victory with every post move, post bucket, pass, block, steal and defensive denial. His line for the evening: 28 points, nine rebounds, four assists, two blocks and four steals.
Whenever the junior had the ball, good things happened. Stay one on one with him? He'd use his superior footwork and maneuvering to blow past the likes of De'Ron Davis and Freddie McSwain. They had no chance.
Shuffle down on a double team? Happ often found the open man on the same side of the court who'd ring in the 3-pointer. Indiana has been poor for most of the season recovering out to the perimeter on shooters and tonight was no different. Wisconsin hit 46.7 percent (7-of-15) from beyond the arc this evening.
Indiana's post entry work this year has been solid and it's allowed Juwan Morgan to shine on the block. The Hoosiers have been best on offense with an inside-out approach as its shooting has struggled. But Wisconsin — and particularly Happ — made it difficult for Indiana's big men to get established, though Morgan got it going later in the game to finish with 17. Davis had just two points. McSwain had none in 12 minutes of action.
It wasn't all bad, as the Hoosiers looked like they might be able to get out of town with a victory after leading 33-30 at the break despite Morgan and Davis being in foul trouble. But Indiana's performance in the second half was awful. It all came down to effort. Happ and the Walk Ons brought it. The Hoosiers didn't. At all. Their effort and energy was low and they didn't even seem to care as the game slipped way. There was no pride and little communication.
And so despite having much more talent on the court, Indiana was outworked by Wisconsin, as it gave up 1.28 points per possession in the second half and was outscored 15-4 in second chance points for the contest.
Collin Hartman pumped in a career-high 18 points for the Hoosiers. The fifth-year senior hit four 3-pointers. The other nine Indiana shot? None dropped, leading to a 3-point percentage of just 26.7 percent. With each passing game the Hoosiers shoot poorly from distance, it gets harder to envision a scenario in which they ever recover. They're one of the worst teams in the country (now 315th) in 3-point shooting.
With Wisconsin's thin roster, the Hoosiers had a golden opportunity to pick up their first win at the Kohl Center in nearly 20 years.
But a team with more experience and talent was bested by Wisconsin, a troubling sight to see.
Filed to: Wisconsin Badgers