News and notes from Archie Miller's radio show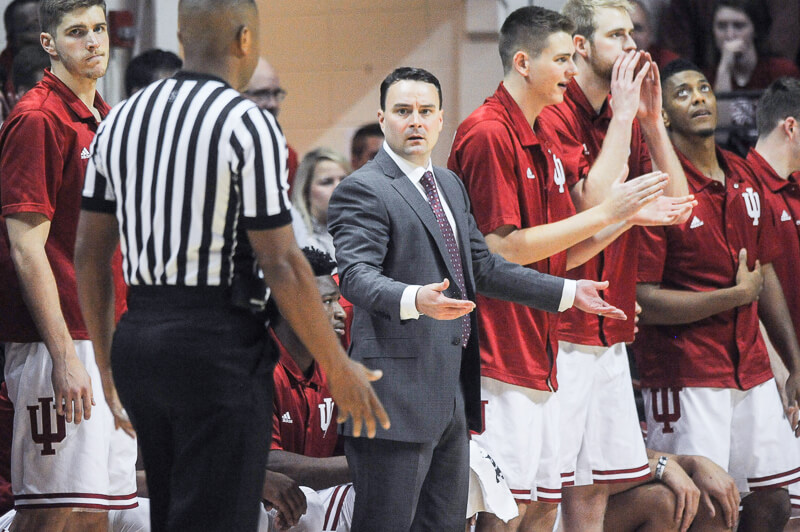 Inside IU basketball with Archie Miller was live on Thursday evening at the Holiday Inn in Bloomington. Freddie McSwain was the player guest in the show's final segment.
Below are news and notes from Miller:
· Miller said that it was nice to get a few days off to spend with family and added that since everyone has been back on campus, the team has had "really good energy."
· Indiana's players were off Friday, Saturday, Sunday and Monday and returned to practice at 6 p.m. on Tuesday. "I think it's really important for those guys to have an opportunity to enjoy Christmas."
· Miller said Indiana "played a lot harder" against Tennessee Tech than it did against Fort Wayne and he was happy with how the team was able to string together long stretches of good effort.
· Miller said Juwan Morgan's performance against Notre Dame was "one for the ages for him."
· Miller also said one of the major bright spots in the Notre Dame win was the hustle play of Zach McRoberts. "It just goes to show you if you play really hard, good things can happen."
· On the 12 first half turnovers against Fort Wayne: "The turnovers were the kind of turnovers you'd watch in an AAU or a pickup game."
· On the lack of size on this season's roster: "I think if you look at our team in general, and it's one of the things that really has been an adjustment for us as we prepare for some of these teams, we're small in the backcourt with three perimeter guys out there a lot. And De'Ron (Davis) and Juwan (Morgan) are good size guys and they play above the rim and have length, but as we continue to come in from the bench, we come in with undersized guys or we're coming in with young guys … We have no room for error in certain areas of the game whether it is rebounding or 50-50 balls. You almost have to get every one of them."
· On whether the players on this team understand their roles: "We've hit a lot of peaks and valleys. Sometimes we have had a rotation go and we've gotten some things out of it, but then the rotation has been inconsistent so we search for another one. I think that's happened probably three or four times. But like I tell these guys, you have an opportunity every day to improve and you have an opportunity to compete on film in front of the coaches every day. If you give great effort and are really trying to improve, most of the time good things will happen for you. We've seen a lot of different guys have moments during the season. There's a hope that the consistency and the chemistry continue to evolve. Like I told them today, there are certain teams that enter conference play and really haven't found their niche, but they can find it at a certain point in time and they hit their stride."
· On the type of players the coaching staff likes to recruit: "One thing that stands out is competitiveness and a winning background. Guys that have played against a high level of competition, guys that have been under the bright lights so to speak and play for winning teams. They're used to winning and that's what they're accustomed to doing. Winning is a very big part of it and understanding how important that is."
· On Robert Phinisee's play this season: "He's had a lot of pressure on him. He's on a different team than he's had in the past. But Robert is off to a great start. He's had a tremendous start to the season in terms of point production and just production overall. When we were with Rob multiple times this fall, one of the things he's really spent a lot of time on is his outside shot. I think him being able to shoot the ball right now is really helping him because he's always had the ability to get into the paint. He's a tremendous kid. He's a competitive kid. He's smart. I think physically, he's a lot different than he's going to be in college. I think he's going to be a sturdy guy who can defend the ball and push the ball for us. We're really pleased. Rob's off to a good start."
· On roles for Clifton Moore and Justin Smith: "There's always opportunity. I think you're always constantly trying to find a way to get those guys an opportunity. Really the way you improve is getting an opportunity to play in the games. I've really been encouraged with Justin. Especially post-Christmas as he's gotten back. He's probably had three of the best days that he's had as an Indiana player, which is always a good sign as you head into conference play. Clifton's got to keep working towards that same thing. Finding a way to assert himself in practice. They're both great kids, they work extremely hard."
· Miller said he views the Big Ten as having two stud teams this season with Michigan State and Purdue.
· On IU's 3-point percentage defense: "We have a lot of problems. In some of our coverages and some of our stuff, we're just not as good as we need to be. Transition defense is always a challenge and we seem to be getting a little better there. The one thing that will start and stop as we get into Big Ten play is our 3-point percentage defense. Is it coming down? I think we took a step in the right direction against Tennessee Tech."
· On redshirt freshman Race Thompson: "Race is about as improved a player as we have on our team."
· Miller said there are no minutes restrictions on anyone right now.
· On cutting back practice time as the season moves along: "Once you hit January, in our opinion, you shouldn't be practicing more than an hour and a half to an hour and 45 minutes. In many ways, that would be your long day. If you're playing on a one-day turnaround, you're not going to be on the floor any more than 45 to 60 minutes."
Filed to: Archie Miller