Five takeaways from Indiana's loss at Louisville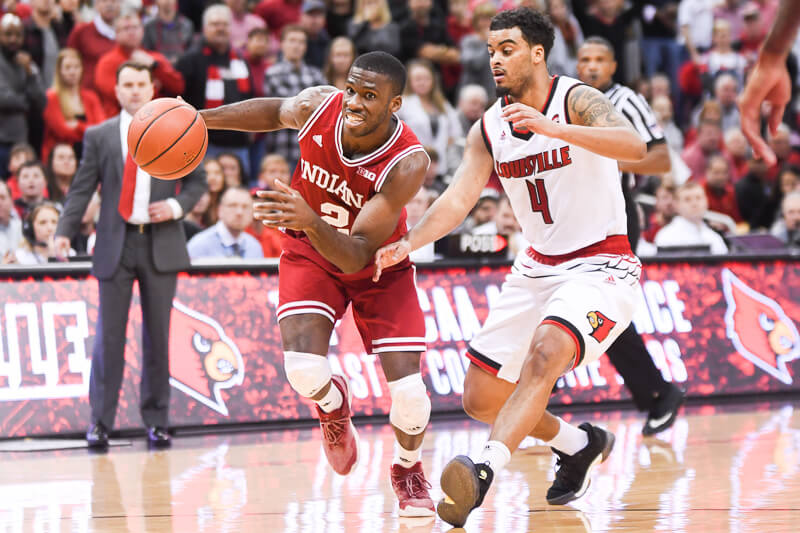 LOUISVILLE, Ky. – Indiana dropped to 5-5 this season with a 71-62 loss to Louisville at the KFC Yum! Center on Saturday. The loss dropped the Hoosiers to 0-3 in road games this season.
Here's a look at five takeaways from the loss to the Cardinals:
· 3-point shooting woes continue: The Hoosiers have struggled to hit 3-pointers all season, but Saturday's performance was the worst of the season so far.
Indiana hit just 5-of-23 on 3s in the loss to the Cardinals, including 0-of-12 in the second half. In losses this season, Indiana is 22-of-87 on 3s (25.2 percent) compared to 38-of-99 in wins (38.2 percent).
Some of that can be chalked up to playing against better competition in the losses, but some of it also just missing good looks, as was the case on Saturday.
"We had some decent looks, just didn't go down, especially early in the second half," Archie Miller said postgame. "I thought we had three or four really good ones that didn't go in. We've got to get that going. We've been an inconsistent shooting team from the perimeter."
· Another stellar performance from Juwan Morgan: Through ten games, junior Juwan Morgan has been Indiana's best player. And it really hasn't been close.
Morgan was terrific again on Saturday as he finished with a game-high 17 points and nine rebounds in 23 minutes. Morgan and De'Ron Davis combined to play just 15 minutes in the first half because of foul trouble, which was a big reason Louisville was able to make a run late in the half.
Morgan's numbers as a junior are up nearly across the board, including offensive rebounding and block percentage. On a team that hasn't found much reliable perimeter scoring, Morgan has emerged as the team's most important player.
· Hoosiers have some slippage with turnovers: Indiana had been solid lately in taking care of the ball, but the Hoosiers had some costly mistakes on Saturday that had a major impact on the outcome.
Indiana had 15 turnovers in the loss for a turnover percentage of 22.3, their highest mark since Seton Hall. Louisville turned IU's 15 turnovers into 17 points.
Miller was especially disappointed with some of the late turnovers that allowed Louisville to pull away in the game's final minutes.
"When it comes down to the last six minutes, four minutes, we just had some really tough turnovers which kind of broke the game open," he explained. "Give them credit. They're really long. They've got a big team."
· Starting guards shoot a combined 5-of-21: We've already mentioned the woeful 0-of-12 3-pointing shooting performance in the second half, but when you dig into the numbers of IU's three starting guards, it's hard to believe the Hoosiers were even in the game late.
Al Durham went 0-of-3 from the field, Josh Newkirk was 4-of-12 and Robert Johnson was 0-of-6. The trio combined for just 15 points in 91 minutes and Newkirk had 13 of the 15.
While Johnson struggled with his shot, Durham and Newkirk had issues with ball control. Durham had five turnovers in the loss and Newkirk had four.
· Davis regains free throw stroke: After some tough free throw shooting performances, Davis looked much better at the line on Saturday.
Davis went 4-of-6 from the line in the loss and afterward, admitted that his issues have been "100 percent" mental.
"Like I've said before, that's not really my big concern right now," Davis said. "I know I'm a good free throw shooter. I've just got to step up and knock them down and have confidence in my shot."
Filed to: Juwan Morgan, Louisville Cardinals