What to expect: Louisville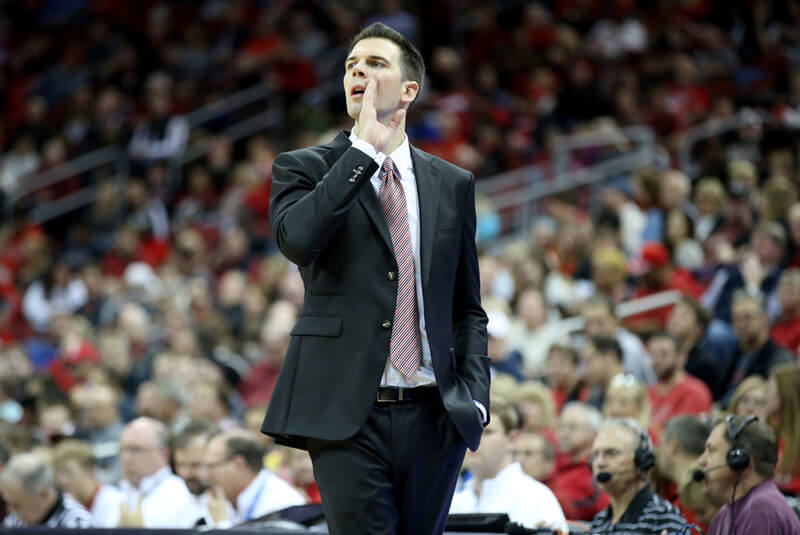 Indiana is back on the road Saturday afternoon as the Hoosiers travel south to the KFC Yum Center to take on Louisville. The Cardinals are 5-2 and are coming off of an 86-60 win over Siena on Wednesday night.
The game will be broadcast at 2 p.m. ET on ESPN with Dan Shulman and Jay Bilas on the call:
Plenty has changed with the Indiana and Louisville programs since last season's New Year's Eve tilt in Indianapolis.
Indiana fired Tom Crean last March after nine seasons and hired Archie Miller. But that shakeup seems minor compared to everything that has gone down in Louisville. So far, no program has been more impacted by the FBI scandal than the Cardinals.
As a result of alleged payments to five-star recruit Brian Bowen's family originating from adidas, Louisville fired Rick Pitino earlier this fall and also dismissed Kenny Johnson and Jordan Fair from the coaching staff. Longtime athletic director Tom Jurich was also removed from his post. With little time to search for a suitable replacement for Pitino and the potential for additional NCAA sanctions, Louisville stayed in-house and elevated David Padgett to acting head coach.
The 32-year old Padgett is the youngest head coach in Division I and has handled a nearly impossible situation admirably so far. The Cardinals are ultra-talented, but replacing a Hall of Fame coach with an assistant still cutting his teeth in the business was a landscape changing event. Louisville was a legitimate Final Four contender in the preseason with Bowen in the fold, but the Cardinals are already out of the top 25 just a few weeks into the season.
MEET THE CARDINALS
Louisville has struggled offensively through seven games as just one Cardinal, Deng Adel, is averaging in double figures.
The 6-foot-7 Adel is averaging 16 points per game on 50 percent shooting from the field, but he's just 4-of-20 on 3s. The strength of Adel's game offensively through seven games has been transition scoring. According to Synergy Sports, Adel is scoring 1.17 points per possession in transition, which ranks in the 67th percentile nationally.
Starting alongside Adel in the backcourt are sophomore wing V.J. King and senior point guard Quentin Snider. Both players are currently struggling, but it's also to important to note that Adel and Donovan Mitchell were in a rut entering the Indiana game last season. Adel went for 5-of-10 from the field for 17 points and Mitchell, now with the Utah Jazz, exploded for 25 points against the Hoosiers in an easy 77-62 win.
A former 5-star prospect, King has regressed offensively in his second season. He's shooting a woeful 33.3 percent on 2s and has a turnover percentage of 21.4. King has really struggled to finish on the break as he ranks in the fifth percentile nationally in transition situations, according to Synergy Sports, with .57 points per possession.
Snider has also struggled as he's just 9-of-35 on 3s and has been dreadful in pick and roll situations as the ball handler, per Synergy Sports. In 27 such possessions, Snider has generated just 10 points, which ranks in the bottom five percent nationally.
Freshman Darius Perry is the backup point guard and another freshman, Jordan Nwora, is the team's best perimeter shooter. Perry has struggled to take care of the ball (24.4 turnover percentage) and is just 5-of-20 on 3s. Nwora, meanwhile, is 10-of-20 from distance and his efficiency numbers present a compelling case for more minutes. His effective field goal percentage – 66.7 – is the highest on the team.
Sophomore Dwayne Sutton is another option off the bench for Padgett. Sutton, who transferred from UNC Asheville, averages 4.1 points and four rebounds in 13.4 minutes.
Senior Anas Mahmoud is an elite shot blocking presence in the paint and is great at defending without fouling. Mahmoud is making 56.5 percent of his 2s and owns a block percentage of 16.2, which is seventh nationally.
Junior Ray Spalding is a high usage, low efficiency offensive player who can defend more than capably. The 6-foot-10 Spalding has just 12 points in 20 post-up possessions and is making just 46.4 percent of his 2s. However, he's 28th nationally in offensive rebounding percentage, 31st nationally in steal percentage and is in the top 100 in block percentage.
Freshman Malik Williams is 6-foot-11, but prefers to play on the perimeter. He's taken 21 field goal attempts and 12 of them have come from behind the 3-point line. Williams is shooting just 25 percent on 3s and 33.3 percent from the field.
TEMPO-FREE PREVIEW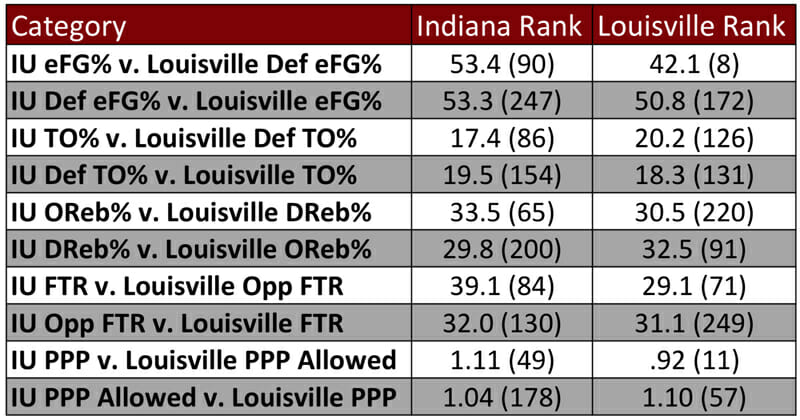 As the numbers show, Louisville is still an elite defensive team without Pitino. The Cardinals are currently eighth nationally in effective field goal percentage defense, eleventh in adjusted defensive efficiency and third in block percentage. Opponents are shooting just 39.4 percent on 2s against Louisville.
Indiana has been slightly better than Louisville offensively and there are a few key areas where the Hoosiers need to excel to have a chance to prevail. Both teams have been poor on the defensive glass, but Indiana simply cannot afford to surrender second chance points in this game.
Indiana also needs to figure out a way to win the free throw battle. Louisville has not been effective at getting to the line despite being an excellent free throw shooting team (78.5). Getting to the line is a strength for IU's offense, but converting has been a different story. Indiana's free throw percentage of 65.2 is 297th in the country.
Turnovers also loom large as both teams (Purdue and Seton Hall) that have beaten the Cardinals have finished with 12 or fewer.
WHAT IT COMES DOWN TO
Louisville enters as a solid favorite as the KenPom line is the Cardinals by 11 with an 84 percent chance of victory. The Sagarin ratings also favor Louisville by 11.
Indiana has failed its first two road tests of the season with a 16-point loss at Seton Hall and more recently, a 14-point loss at Michigan.
"We basically had two clunkers on the road," Archie Miller said on Monday following the win over Iowa. "We're 0-for-2 right now on the road and we haven't played well in either game, really."
It will be interesting to see if Indiana can utilize a larger window to prepare to produce a better performance. The Hoosiers had just two days between games entering their first two road trips, but have four days to get ready for this test. This is the fourth game of a brutal five-game stretch for the Hoosiers that will conclude next Saturday with Notre Dame at Bankers Life Fieldhouse.
With no top 100 wins currently on the resume, this game is basically a must-have for Louisville. The Cardinals will have plenty of chances to build a NCAA tournament worthy resume in league play, but its chances in non-conference play are beginning to run out.
(Photo credit: Andy Lyons, Getty Images)
Filed to: Louisville Cardinals