The Minute After: Iowa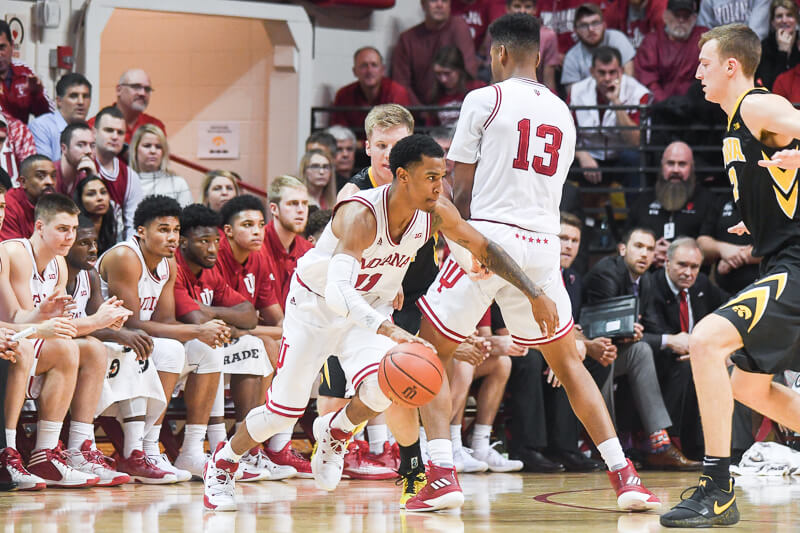 Thoughts on a 77-64 win against the Hawkeyes:
Despite a reeling Iowa squad as the opponent at home this evening, the promise of Indiana's Duke performance and the ensuing egg it laid up in Ann Arbor made for some uncertainty about how this one was going to go down.
It was a better start, for sure, as Indiana didn't dig itself a hole like it had against Michigan. But it was a bit of an ugly affair as the Hoosiers and Hawkeyes slogged it out to a 20-20 tie with 6:25 remaining in the first half.
From there Indiana erupted, throwing down a 21-6 run to close out the half and enter the locker room up 15 points. The Hoosiers got contributions from a host of players on offense and clamped down on defense. Seven Hoosiers scored in the first half. Devonte Green (10 points) – who had the hot hand going like he can on occasion – led the way. Robert Johnson (seven points), Juwan Morgan (six points), De'Ron Davis (five points), Al Durham Jr. (five points), Collin Hartman (five points) and Josh Newkirk chipped in the rest.
But on a day the power reportedly went out inside Simon Skjodt Assembly Hall, Iowa snapped back to life after the break and quickly got back into the contest. As they did up in Ann Arbor, Indiana left shooters open beyond the 3-point arc and Iowa made the Hoosiers pay. Iowa sunk three 3-pointers over a quick 16-2 run in just under the first four minutes of the second half to pull within one point at 43-42. The Hawkeyes were the aggressor and playing with confidence.
But a little later, the pendulum swung back in a big way for the Hoosiers. A De'Ron Davis layup at the 12:52 mark put the Hoosiers up 55-50, a lead that eventually ballooned up to 21 points (71-50) after a Zack McRoberts bucket with 7:15 to go.
From there, Indiana pretty much rode it out to its 13-point victory, a three-game losing streak and falling below .500 averted.
Morgan has now scored double figures in five of Indiana's last six contests and his double-double (15 points, 10 rebounds) tonight marks his second of the season. The junior's consistency over the last several contests in terms of both effort and stat-stuffing production has been a long time coming.
"I think you're seeing a guy blossoming into one of the better players in our league," Archie Miller said on the Big Ten Network broadcast after the game.
De'Ron Davis shot just 3-of-9 from the line tonight, banking one of those makes in as he airballed another attempt in the second half. Davis was a solid free throw shooter a season ago, but appears to be having some issues this season – though for now it's not keeping him any less agressive on the offensive end (13 points, 5-of-11).
Despite some defense lapses, the Hoosiers still held Iowa to under a point per possession (.89). And their turnover percentage of 14 was quite good, helping them beat Iowa 22-10 in the points off turnovers department. The Hoosiers are now 81st in the country in turnover percentage (17.4) per KenPom. Indiana only finished in top 100 once by season's end in the Tom Crean era (2014-2015, 61st, 17.2 percent).
It wasn't the prettiest win and the start of the second half was a little concerning, but in the end the Hoosiers still won by 13. With tough games ahead against Louisville and Notre Dame, they'll surely take it.
Filed to: Iowa Hawkeyes