Bracketology: A closer look at the Big Ten's non-conference struggles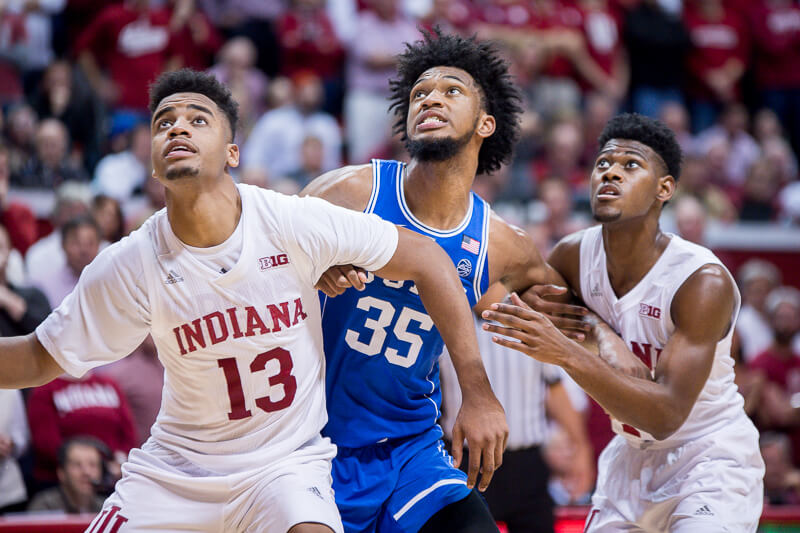 By virtually any measure, the Big Ten has not fared well early this season, culminating in their 11-3 beatdown in the Big Ten-ACC Challenge this week. Sure, some of that can be chalked up to matchups, which teams got home games, and the fact that Pitt didn't participate, but the performance in those games is undoubtedly a red flag for the league's NCAA tournament prospects this season.
I don't have plans to do a set of bracket projections until after the first of the year, but given the Big Ten's struggles and the fact that league play starts this weekend, it seems like a good time to take stock of how non-conference profiles are shaping up so far. In most cases, it's not pretty, and what's worse, there aren't a ton of opportunities to pick up marquee non-conference wins from here on out.
Before the season, somewhere in the neighborhood of seven bids seemed reasonable with some projections even more bullish than that. But if the tournament started today, I have a feeling you might see just four or five. Still, it's a long season and plenty can change, but the overall strength of the league matters, and some of the poor performances we've seen are the kind of thing that will ultimately cost a team multiple seed lines.
Need some numbers to show just how bad it's been? At this point it's too early to use RPI (although some of you might say anytime is too early to use RPI), so I'll stick with KenPom for now.
As a league, the Big Ten ranks fifth behind the Big 12, ACC, SEC, and Big East. Against those four conferences as well as the Pac-12, Big Ten teams are just 13-23 with three of those wins coming against DePaul (twice) and Pitt, both of which are expected to finish at or near the bottom of their respective leagues.
Against teams currently in the Top 75 on KenPom, the Big Ten is just 8-22. That gets even worse against the Top 50 with a 6-18 mark. Michigan State, Purdue, and Minnesota boast eight of the league's nine best wins, which lines up well with how those teams were projected preseason and confirms their status as the league's top teams.
Here's a team-by-team look at the league so far. Please note the records do not include victories over non-DI teams.
Illinois (5-1)
Heading into Tuesday's matchup with Wake Forest, the Illini were undefeated but had yet to play on the road and had just one win over a team in the Top 200 (DePaul). Illinois dropped that game to a Wake team that had already lost to Georgia Southern, Liberty, and Drake.
The remaining non-conference slate features neutral court games along with three winnable home games. Of those opponents, Missouri is the only team harboring at-large hopes, which means the rivalry game will take on increased meaning for the Illini.
Ultimately I was never really sold on Illinois as a potential bubble team and the early results have done little to suggest otherwise. Perhaps they can change that perception by playing well in their upcoming Big Ten games at Northwestern and home against Maryland.
Indiana (4-3)
The Hoosiers got blown out by Indiana State in the season opener but have shown solid improvement since, culminating in Wednesday's game against top-ranked Duke where the Hoosiers played a strong 35 minutes before struggling down the stretch. That improvement bodes well for the future but hasn't resulted in any top-end victories so far this season.
Indiana is in the midst of a tough stretch with the next four games coming at Michigan, home against Iowa, at Louisville, and versus Notre Dame in Indianapolis. A split there would be a huge boon heading into the final three non-conference games, all of which are home dates with opponents IU should beat.
Failure to win one of the last two marquee non-conference games would leave the Hoosiers' at-large hopes in a hole that may prove tough to dig out of.
Iowa (4-3)
Life in the post-Peter Jok era has not gotten off to a good start for the Hawkeyes. After beating up on three of the nation's worst teams, Iowa dropped its first two games in the Cayman Islands to Louisiana-Lafayette and South Dakota State. The Hawkeyes did salvage a victory over UAB in the seventh place game, but any goodwill earned there evaporated on Tuesday night when they were outscored 41-17 in the second half at Virginia Tech.
Three of Iowa's six remaining non-conference games come against sub-250 teams with another coming against Drake, who was projected by most to finish at or near the bottom of the Missouri Valley. The other two games take place away from home with a trip to an Iowa State team that struggled early on and a neutral court game against Colorado.
Even if the Hawkeyes win all of those games, they have still done some serious damage to the at-large case they hope to build in Big Ten play, which opens against Penn State on Saturday followed by a road trip to Indiana on Monday.
Maryland (6-2)
Home victories over Butler and Bucknell are Maryland's only triumphs against Top 100 KenPom teams, the latter of which required a furious comeback to even pull off. Both of those wins should hold up well, but neither opponent projects as an at-large lock.
The Terps' first loss came on a neutral court to St. Bonaventure, who played without injured star Jaylen Adams. The defeat also cost Maryland a shot at TCU in the final, instead leaving them to face a New Mexico team unlikely to finish in the top half of the Mountain West.
Poor late-game execution contributed to this week's loss at Syracuse, which was the last meaningful game on the non-conference schedule. The Terps have just four games left against D-I opponents, with Ohio the only team inside the Top 200. Maryland doesn't have an easy pair of league games coming up though, as they host Purdue on Friday before traveling to Illinois on Sunday.
Michigan (5-2)
A loss to LSU in the opener of the Maui Invitational will ultimately hurt Michigan's strength of schedule, as it led to games against Chaminade and VCU instead of some combination of Notre Dame, Wichita State, and Marquette. Throw in Wednesday's blowout loss at North Carolina and there's not much to like on Michigan's at-large profile so far.
The good news is that opportunities are still there with upcoming games at home against UCLA and on the road at Texas. The Wolverines will first need to bounce back from the UNC loss when league play opens against Indiana at home and on the road at Ohio State.
Michigan State (6-1)
Thursday's 18-point win over Notre Dame was one of few bright spots for the Big Ten this week, and the Spartans have done little to suggest they aren't still the favorite to win the league. They have picked up a pair of Top 15 victories already and the lone blemish on their record is a loss to Duke in the Champions Classic.
Michigan State has six non-conference games remaining with a neutral court game against Oakland the only one that might be remotely close. And with their first two Big Ten games at home against Nebraska and on the road against Rutgers, don't look for Sparty to lose any games the rest of this month.
Minnesota (7-1)
With wins at Providence and on a neutral floor against Alabama, Minnesota was in a better position than most to absorb a loss in the Big Ten-ACC Challenge and they did just that by falling to a talented Miami team at home without starting guard Dupree McBrayer.
The Gophers have just one meaningful non-conference game left with a road trip to Arkansas coming on the heels of two winnable Big Ten games against Rutgers and Nebraska. At this point, Minnesota has established itself as one of the top three contenders in the league and boasts one of its best non-conference profiles.
Nebraska (6-2)
The Huskers provided what turned out to be one of just three wins in the Big Ten-ACC Challenge by knocking off Boston College at home. To date, that's the only notable win for Nebraska.
A difficult four-game stretch starts on Sunday with a trip to Michigan State, which will be followed by games against Minnesota, on the road against Creighton and at home against Kansas. It's hard to see the Huskers winning any of those games when you consider they've lost by a combined 32 points to the two best teams (St. John's and Central Florida) they've played to date.
Northwestern (4-3)
A last-second loss at Georgia Tech on Wednesday places a ton of importance on Northwestern's trip to Oklahoma on December 22nd. The Wildcats are currently just 4-3 with all three losses coming against tournament-caliber teams. Obviously the 36-point beatdown at the hands of Texas Tech is ugly, but what's more concerning is that they simply don't have any good wins right now.
Five non-conference games remain against D-I teams, but only the aforementioned road trip to Oklahoma and maybe a home date with Valparaiso give them a chance to move the needle. Matchups with Chicago State and Brown at home plus a road trip to DePaul are games Northwestern simply can't afford to lose at this point.
The Wildcats open Big Ten play on Friday against Illinois before Sunday's matchup at Purdue. They have to find a way to at least split those games.
Ohio State (5-3)
Like so many other Big Ten teams, quality wins are hard to come by when you look at OSU's profile with the only candidate a win over Stanford in the PK80. That story would be different had they hung on to beat Butler in their PK80 finale last Sunday or even if they took care of business against Clemson at home on Wednesday night.
As it stands, the only tough game left on the non-conference slate comes on a neutral floor against North Carolina, but it's extremely difficult to see them prevailing in that situation. Ohio State opens Big Ten play with a trip to Wisconsin and a home date with Michigan.
Penn State (6-2)
For the Nittany Lions, the non-conference season will end without anything close to a marquee win. Sure, they played well against a tough Texas A&M team in the Legends Classic, but they wound up losing by double digits. Penn State also got off to a hot start on Wednesday and jumped out to an 11-0 lead against North Carolina State before falling by seven on the road.
Next up are Big Ten games at Iowa and home against Wisconsin before five imminently winnable games to close out the non-con. I expect the Nittany Lions to be in the thick of things in what is shaping up to be an extremely crowded middle of the league, but this lack of quality non-conference wins may come back to haunt them.
Purdue (6-2)
Despite losing their first two games in the Battle 4 Atlantis to Tennessee (in overtime) and Western Kentucky, Purdue has still managed to put together a solid trio of victories. The Boilers won by 15 on the road against Marquette, salvaged their trip to the Bahamas by crushing Arizona and got the Big Ten on the board in the Big Ten-ACC Challenge by knocking off Louisville on Tuesday.
After opening league play with a trip to Maryland and a home date with Northwestern, Purdue still has two Top 100 teams on the non-con slate. They host currently unbeaten Valparaiso on December 7th and take on Butler in the Crossroads Classic later in the month.
Things were looking bleak after the loss to Western Kentucky and while that loss may still sting a bit come Selection Sunday, the Boilers have a great opportunity to close out the non-conference with a profile that won't cost them multiple seed lines.
Rutgers (5-1)
With five cupcakes on the early schedule plus a matchup with CC of New York, Rutgers' undefeated start was essentially smoke and mirrors. Their first test came at home against Florida State on Tuesday and the Scarlet Knights came up short in a five-point loss.
Things don't get any easier as their Big Ten schedule opens with a trip to Minnesota on Sunday and a home game against Michigan State early next week. After what should be a 0-2 start in league play, six games remain on the non-conference slate. Five of those six come against teams ranked 190th or lower on KenPom and the sixth is a home date with Seton Hall that feels like a guaranteed loss.
Wisconsin (3-4)
The good news for the Badgers is that none of their four losses are bad with those defeats coming at home against Xavier, on the road against Virginia and on a neutral court to Baylor and UCLA. The bad news is they haven't picked up any great wins though, as Yale and Milwaukee are currently their two best.
The remaining non-conference slate features what should be three sure wins as well as home games against Marquette and Western Kentucky and a trip to Temple. Marquette and Temple are both Top 60 teams and should be in the at-large discussion when it's all said and done and Western Kentucky played well in the Battle 4 Atlantis. If the Badgers can run the table, their profile will be solid albeit unspectacular.
Wisconsin hosts Ohio State to open Big Ten play on Saturday before traveling to Penn State for what should be a tough game on Monday.
Filed to: Bracketology